Here's our list of the absolute best indoor playground for kids and families!
Last update (Jan 2023): updated list
There are plenty of indoor play venues available in Singapore for families! It let's the kids run riot and expense the additional energy, for parents to take a breather in a safe and enclose area, and also great for creating family fun and memories too! 
But what if you need help deciding where to go? Let us round up some of the best and our favourite indoor playgrounds and play venues in Singapore! 
Indoor Playgrounds
Amazonia

Kidz Amaze (Toa Payoh)

Kiztopia

Play! by Kinderplay

SMIGY PLQ Mall

Snow City 

SuperPark Singapore

Splash@Kidz Amaze

T-Play (Khatib)

The Joy of Toys

Waka Waka 

Kidodo Playground

SMIGY Tiong Bahru

SMIGY United Square

Pororo Park
Other Play Venues
AIRZONE

Future World @ ArtScience Museum

HeadRock VR

Katapult Trampoline Park

Keppel Centre for Art Education

NERF Action Xperience
Play Events / Limited Time Play Venues
Masak Masak @ The Artground

Mega Carnival @ D'Marquee Downtown East
Bay Spring Carnival
Mattel Playhouse at Let's Play Marina Square
Need more play ideas? Check out the following list that might be for you too!
Amazonia Playground
Location: 1 Kim Seng Promenade, #03-113 Great World, Singapore 237994
Popular indoor playground Amazonia was not on our list until its recent revamp in 2019. With the revamp, the playground takes up an artic-theme has become much brighter, cheerier and happier. With the in-house bistro, parents can take a break while the kids run riot! 
The famous 4-tier blue slide is still a highlight at the playground! It is super fast and very high - so for the first-timers do be prepared! 
Kidz Amaze Toa Payoh
Address: SAFRA Toa Payoh, 293 Lor 6 Toa Payoh Singapore 319387

Located within SAFRA Toa Payoh, Kidz Amaze Toa Payoh boasts an incredible12,700 sq feet (that's approx 2.5 basketball courts) on play area, and a built-up space with up to 3 floors of play space! It is also one of the few indoor playground that has a separate toddler space that keeps the little ones away from the older kids. 
In 2019, Kidz Amaze Toa Payoh was also voted by our readers as the top indoor playground in Singapore! 
Get Tickets: Klook
Kiztopia
Location: Marina Square, 6 Raffles Blvd #01-09 Singapore 039594
Probably the largest indoor playground in Singapore with a massive 18,000 sqft of play space packed with 18 play zones and serviced by a Kith Cafe too! Playgrounds cannot come any bigger than Kiztopia!
It is conveniently located at Marina Square, and highly popular with families since its opening in mid-2019! And because size matters - Kiztopia made our list as one of our absolute favourite places to go, and to recommend! 
Read More
Get Tickets: BYKIDO | Klook | KKday
Play! by KinderPlay
Location: Changi Airport Terminal 3, 65 Airport Boulevard #B2-14/15/16/17
Located at Changi Airport Terminal 3, Play! by KinderPlay is a Cartoon Network-themed indoor playground where you will find elements of Ben 10 and the Powerpuff Girls around the playground. 
Our favourite part about Play! is it's venue. Play! is located at Changi Airport Terminal 3 Basement 2, the community space ST3PS is located just next to th playground and you will also find many F&B options when you visit too. The venue of the playground makes it a great place to visit and plan an entire family day! 
SMIGY PLQ Mall
Location: Paya Lebar Quarter Mall, 10 Paya Lebar Road #03-05/06 Singapore 409057
SMIGY opened to huge fanfare and proved to be one of the most popular playgrounds in the East. Located at PLQ Mall, we have families sharing that they have travelled from Punggol and even Jurong to just visit the playground - so many people can't be wrong about the playground! 
We visited the playground when it first opened, and were drawn to the playground's use of pastel colours across the playground, from play equipment to the balls in the ball-pit, the entire playground followed a consistent, magical-like colour theme. The colours also make the playground look bright and cheery, adding a sense of happiness! 
Snow City
Location: 21 Jurong Town Hall Rd, Singapore 609433
This is the only place that snows in Singapore! While it is not your usual indoor playground, it will be a mistake not to include Snow City in this list given its unique offering where families will get to experience snow and play at the various snow play sections. 
Don't miss the 60-meter snow slope where kids and families can zoom down in excitement, this is definitely a highlight of any visit!
Read More
Get Tickets: Compare ticket prices
SuperPark Singapore
Location: Suntec City Mall, 3 Temasek Boulevard #02-477 (North Wing) Singapore 038983
SuperPark Singapore, located at Suntec City (North Wing), is an all-in-one activity park for families to enjoy! It spans across 2 floors at the mall, and is filled with activities suitable for both parents and kids to have fun at! 
It is great not just for the kids but also for parents to have fun too! Many of the activities will excite the young AND young at heart. With so much fun for the entire family, there is no way we would have left this out of the list! 
Read More
Get Tickets: Compare ticket prices
Splash@Kidz Amaze 
Photo Credit: safra.sg
Location: SAFRA Punggol, 9 Sentul Cres Singapore 828654
Another Kidz Amaze makes the list! Splash@Kidz Amaze is located at SAFRA Punggol and it is not just an indoor playground but a water play venue too! How can we ignore an indoor water playground that allows us to get wet while having fun and not worry about the weather because it is sheltered! Is there any reason not to include the playground in this list?
Maybe if you don't like to get splashed by a huge bucket pouring a massive amount of water on you!
Read More
Tickets: Compare ticket prices
T-Play at HomeTeamNs Khatib
Location: HomeTeamNS Khatib, 2 Yishun Walk, Singapore 767944
One of the newest indoor playgrounds to open in Singapore, T-Play at HomeTeamNS Khatib is the first Peranakan-themed play venue, offering families a fun-filled experience with multiple slides, a ball put, climbing structures and vibrant colours! 
We absolutely loved the full length glass windows and high ceiling that allows light into the entire play area and making the place very bright and welcoming!
Read More
Get Tickets: Compare ticket prices
The Joy Of Toys
Photo Credits: The Joy Of Toys
Location: 6 Eu Tong Sen Street #03-51 Clarke Quay Central, 059817
Often recommended for younger kids, The Joy of Toys, is an indoor play space located at Clarke Quay Central. Here, you won't expect running around or massive play equipments. Instead, kids will find different type of toys to engage in creative and pretend play. The venue offers a conducive, fun and releaxing venue for all families and to be away from the usual hustle and bustle of life. 
We often see it recommended on social media and forums for younger kids! 
Waka Waka, Annex@Furama 
Location: Annex@furama, 407 Havelock Rd #05-01 Singapore 169634
A Safari-themed indoor playground, Waka Waka, houses several play areas for kids to get excited - from the junior area for toddlers to the rope course for adventurous ones, there is something for little ones of all ages! 
Parents will also be excited to know that Waka Waka boasts a huge dining and cafe area for parents to rest their tired feet while the little ones run riot! While the play area is great, the cafe is  probably one of the main reasons to include Waka Waka on this list of best indoor playgrounds! 
Kidodo Playground
Venue: City Square Mall, #02-19A
Located at Level 2 of City Square Mall, Kidodo Playground opened in July 2021 to bring fun and joy to parents in the vicinity. The playground is small compared to the mega playgrounds but it is packed with different types of play elements! The owner shared that his daughter loves indoor playgrounds, and they have included all her favourite play elements in the Kidodo. This includes a massive ballpit, slides, trampolines, simulated sand play and more! 
SMIGY Tiong Bahru
Venue: Tiong Bahru Plaza, #02-115A
While the SMIGY Tiong Bahru is smaller compared to it's PLQ mall outlet, it doesn't lose on any fun factors!  The playground boast a massive ballpit that children can climb into or for the adventurous ones, you can slide into the pit too! The ball pit includes many other play elements, including a rocking horse, a swing, slides, an interactive wall and air-guns to shoot the balls too! 
Circling the playground is a "race track" for the kids to go zooming around! Simply sit on one of the mini-race cars available and they can go on an adventure around the carousel, under a bridge and all around! There are even hidden corners at the back of the playground to be explore!
SMIGY United Square
Venue: United Square Level 1, Opposite Information Services
The newest SMIGY Indoor Playground brings its signature pastel coloured play elements to one of the most kids-friendly mall in Singapore, United Square! 
Younger kids will be excited by the huge ball-pit filled with pink and white balls. From throwing the balls at the interactive wall to filling up the "space" ball picker. we are sure the young ones (and older ones too) will get stuck in this zone for quite some time! 
There is an exciting tube slide where kids can sit on a rubber tube and slide down the slide - a little warning, the ride is really fast!  After going on the slide, kids will probably spend the rest of their energy at the trampoline park. You will not just find just simple trampolines but also an interactive trampoline where your actions will interact with the projections as well as a Velcro Spider Wall - put on the Velcro suit and "stick" yourself onto the wall! 
Pororo Park
Venue: 6 Raffles Boulevard, Marina Square, #02-29, Singapore 039594
Themed after Korea's favourite animated show "Pororo," the 11,000 sq ft park is one of the largest in Singapore and is packed with different attractions and play areas. After closing for refurbishment in September 2021, the newly enhanced Pororo Park Singapore is finally ready to welcome the public once more!
The new play area boast a expanded gym area. new obstacle course, interactive wall at the ball pit, and a toddler play area! Popular features like the train ride are still available! 
Read More
Tickets: Compare ticket price
AIRZONE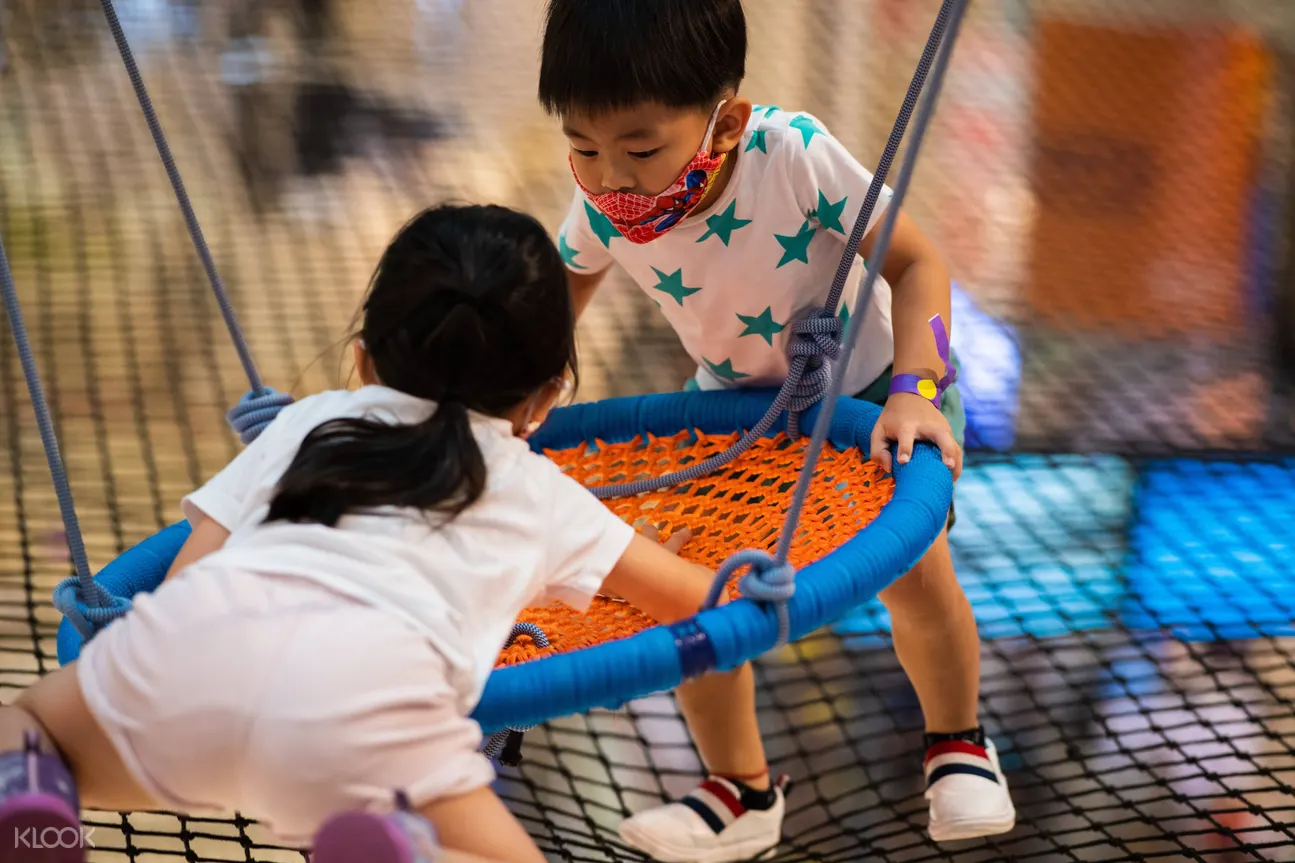 Photo Credit: Klook
Location: City Square Mall, 180 Kitchener Road #02-K4/K10 Singapore 208539
Imagine being suspended in mid-air between stories of a mall, bouncing on a cargo net without a care (or maybe some concern), that is the experience at AIRZONE located at City Square Mall! 
This unique experience lets you and your little ones enjoy a trampoline-like experience but in mid-air. The experience is exciting, fun and also tiring. Participants may also slide down between each level and experience different types of play too. Given the unique experience, we definitely had to include AIRZONE in the list! 
Read More
Get Tickets: Compare ticket prices
Future World @ ArtScience Museum
Location: 6 Bayfront Ave, Singapore 018974
Future World @ ArtScience Museum is a totally immersive experience where the family will interact with art, science, magic and metaphor through a collection of digital installations! It is one of the most interactive and child friendly permanent exhibits in Singapore museums and we highly encourage you not to miss it. 
The entire experience is a mixture of exploration, education and fun, with lots of photo opportunities to be captured for memories. 
Read More
Get Tickets: Compare ticket prices
Headrock VR 
Location: 26 Sentosa Gateway, #01-38/39, 098138
There is no other play venue like Headrock VR in Singapore! Located at Sentosa, this virtual reality playground gives you and your family the opportunity to experience different VR games and sets in a single location! You can virtually swing from tree to tree, go on a snow sledge rides, fight monsters and robots, and even defuse a bomb from the top of an high-rise building! Expect lots of screams and laughter when you visit Headrock VR. 
*Headrock VR is currently closed and moving to a new location at Sentosa. 
Katapult Trampoline Park
Location: 81, 01-11 Lor Chencharu, ORTO, 769198
One of the largest trampoline parks in Singapore, Katapult Trampoline Park is located at the family-friendly venue, ORTO. We really love that the venue has an air-conditioned viewing gallery that allows parents to watch their kids in comfort. Parents who wish to join in, should still go ahead to! 
Another reason for including Katapult is that families can explore the various activities at ORTO after their session. With the many child friendly activities and F&B options, families can easily spend an entire day at ORTO!
Read More
Get Tickets: Klook, KKday
Keppel Centre For Art Education

Location: 1 St Andrew's Rd, Singapore 178957
Housed in our favourite museum, the National Gallery Singapore, the Keppel Centre for Art Education is an immersive space for children. While it is not your usual indoor playground, the gallery provides a lively line-up of programmes for youth, children and families all year round. The theme of the gallery also changes regularly to keep the experience fresh and for kids to keep coming back for more! 
We absolutely loved every experience a the Keppel Centre for Art Education, in fact, every experience at the National Gallery Singapore!
NERF Action Xperience
Location: 6 Raffles Blvd, #01-208 Marina Square, Singapore 039594
A fun-filled experience awaits at NERF Action Xperience where your child can participate in multiple themed activity zones. Take part in exciting challenges - like fighting zombies, conquer the obstacle course, and more! We are including this as a place for kids to shoot their NERF guns freely and safely! 
However, we have heard that the experience can be mixed, and perhaps you can share your experience with us too! 
Get Tickets: Compare ticket prices
Masak Masak @ The Artground
Location: The Artrgound, 90 Goodman Road #01-40 Blk J, Singapore 439053
The Artground revamps its art space, and the latest installation, Masak Masak is a food-themed play and art space where kids are encouraged to play with their food! 
Expect larger-than-life food items where you can play on, including hopping on an egg tart trampoline and sliding down a melting ice cream! How about climbing into a bowl of chendol and to scale a biscuit climbing wall! There will also be pretend play opportunities for the little ones too! 
Have Massive Fun At The Mega Carnival, Downtown East
Venue: Let's Play @ D'Marquee, Downtown East 1 Pasir Ris Close, Singapore 519599
Dates: 19 Nov 2022 - 5 Feb 2023
Admission: from $28 
Happening at D'Marquee Downtown East is the Mega Carnival where families can expect over 20 stations of games, rides, activities and booths for a massive fun time! 
Come play at the dinosaur-themed attractions, jump on the colourful inflatables, explore the virtual reality stations and enjoy delicious food at the food trucks! Entry is by sessions and sessions available are at least 210mins on non-peak periods and 150mins on peak ones.  
Read More | Get tickets from Trip.com
Bay Spring Carnival
Venue: Bayfront Event Space
Dates: 13 - 29 Jan 2023
Admission: Free admission, fees apply for games and rides (Check pricing here)
The Bay Spring Carnival is back, and it's bigger and better than ever. This Lunar New Year, The Show Master invites you to this rejuvenated festive playground that features an enchanting Cherry Blossom Garden blooming with fairy lights and complemented by illuminated inflatables to usher in the Year of the Rabbit.
With over 30 Uncle Ringo carnival rides and games, in addition to Ice Magic: The Great Fantasy On Ice, and scrumptious fairground treats, Bay Spring Carnival is set to be one of the largest carnivals of the year.
Read More | Get tickets from Trip.com
Mattel Playhouse @ Let's Play Marina Square
Venue: Let's Play, Marina Square #03-208/209
Dates: 13 Jan - 9 Apr 2023
Admission: From $28 (Get tickets from Trip.com)
The Mattel Playhouse event at Let's Play at Marina Square is an all-new, family-friendly event with multiple beloved Mattel brands, providing a diverse and immersive atmosphere for young kids and families to play and have fun together across 12 activities and splendid photo opportunities!
Families will have the opportunity to experience a wide range of activities and games at Mattel Playhouse, including Hot Wheels iconic orange track and Barbie's creative play opportunities, where children can become a pop star, gymnast, painter and more. Also, families can enjoy a great time with the Biggest Friends of All - Thomas the Tank Engine and his friends in The Island of Sodor, take a train ride and enjoy three Thomas the Tank Engine themed arcade machines.
Read More | Get tickets from Trip.com
There we go! Our selection of the best indoor play venues and playgrounds for you! What do you think? Did we miss something that you feel should be included? 
Tell us in the comments or simply follow us on social media for more!