We put together our favourite kids-friendly restaurants and cafés in Singapore with playgrounds, and kids' activities for families! 
Looking for the best kids-friendly restaurants and cafes to bring the family to? Perhaps one that the little ones can run riot and have fun, while you continue to have a nice meal? 
Here's a list of 30+ F&B venues with a kids' play area - you will find bouncy castles, playgrounds, sandpits or simply an open space! 
1. Novotel Singapore on Stevens
Venue: La Terrasse (Outdoor Lawn), Novotel Singapore on Stevens, Orchard District , 26 - 28 Stevens Road, , Singapore 257878
Opening Hours: Every Sunday, 3 pm - 8 pm
Admission: $10 per pax, free for kids below 12 years old
Looking for a great way to spend a relaxing Sunday afternoon with your family? Sunday @ Stevens is a fun carnival experience happening at Novotel Singapore on Stevens that is perfect for the whole family!
Every Sunday from 3 pm to 8 pm, the hotel's outdoor lawn, La Terrasse, will be transformed into the perfect spot to enjoy a chill afternoon with live music, delicious barbecue, bar bites, refreshing beverages, and exciting kids' activities. For just $10 per person, you can enjoy a gourmet burger, hotdog, wine, or beer, and take part in all of the fun activities. And, if you have children under 12 years old, they can enter for free (accompanied by an adult)!
The kids will love the bouncy castle, bring home a balloon sculpture and enjoy plenty of other activities to keep the whole family entertained! And, if you were at the Sunday Brunch (starting from $88 per person), your family can join in the fun for free.
So, if you're looking for a great way to spend a Sunday afternoon with your family, be sure to check out Novotel Singapore on Stevens. This fun carnival experience is the perfect way to relax and enjoy family fun together.
2. Splash Tribe
Venue: Palawan Beach, Sentosa
Opening Hours: 10 am - 7 pm (Mon - Thu), 10 am - 10 pm (Fri - Sun, PH)
Fees: $10 cover charge for 5 years and above, min. spend applies for booking daybeds, gazebos or sun loungers
Located at The Palawan @ Sentosa, a 183,000 sqft lifestyle destination for families, Splash Tribe is one of eight play experiences that families can discover at this exciting venue at Sentosa! 
Soak up some sun and splash up an adventure at Splash Tribe! Discover a sandcastle-themed play zone with slides, water features and giant water sprouts for a fun filled family fun time! If you are looking to chill in the pool, there is also an infinity pool at Splash Tribe. Pool depth ranges from 0.5m to 1.2m, suitable for both young ones with parents or the older ones to splash around. 
Food and drinks are served at Splash Tribe, including a selection of mains, burgers, snacks and sides as well as beers, wines, soft drinks and milk shakes! 
3. Little Spot
Venue: 1H Cluny Road, Jacob Ballas Children's Garden, #01-K1, Singapore 259569
Opening Hours: 9 am - 5 pm (Tue - Fri), 8.30 am - 5 pm (Sat & Sun), Closed Mon
Located within Jacob Ballas Children's Garden, Little Spot (previously Food for Tots) is an extremely toddler friendly café! The cafe's 40-seater eco-conscious café features an upcycled colander light installation, themed recycling bins and a potted herb wall – all to instill a love for nature in its visitors. 
The cafe offers an all-day brunch menu filled with plenty of options for kids - you will find pancakes, spaghettis, sandwiches and more! 
Its intimate space boasts an interactive play area complete with a little reading nook as well as colouring sheets to keep little ones occupied. The cafe is also conveniently located next to a sand play area for kids to have plenty of play time too!  
4. Restaurant Espoir 
Venue: 70 Amoy Street, Singapore 069889
Opening Hours: 11:30am – 10pm (Mon – Sun)
Restaurant Espoir – a beloved Muslim-owned restaurant that is now offering family friendly dining on weekends! Be prepared for gourmet cuisine mixed with a kids-centric environment for the best family weekend meal EVER! 
Every weekend, families a specially set-up indoor play area where kids can be
entertained with activities such as colouring, watching a movie, or pretending to be a chef, while parents get to dine in peace. There will also be periodic kids-centric activities, from trial classes to storytelling sessions, to keep the kids entertained too!
That's not all! Every weekend, families can also enjoy a kids eat free promotion too! Available the whole day, kids eat for free with every mains purchased! So come fill up your tummies and hearts while keeping your wallets intact too! 
5. Tiong Bahru Bakery Safari
Venue: 130E Minden Road, Singapore 248819
Opening Hours: 8 am to 6 pm (Daily)
Tiong Bahru Bakery Safari, as the name suggest is a safari-style glamping cafe serving coffee (from 8 am), amazing pastries and bread, as well as breakfast bowls and sandwiches. 
The "tent" is pitched in-front of Open Farm Community (see above) and shares the same sandpit play area. You will also get to enjoy a 3,000 sqft edible garden too!
6. Huber's Bistro
Photo Credits: Huber's Butchery
Venue: 22 Dempsey Road, Singapore 249679
Opening Hours: Tue - Fri (11 am - 10 pm), Sat, Sun & PH (9.30 am - 10 pm)
Complementing the award winning Huber's Butchery, Huber's Bistro is a casual dining venue at the Dempsey area with an amazing shaded outdoor playground nearby for the kids to run wild! The playground is gated, so that adds a level of safety if you are dining and watching them from afar. 
The menu is quite meaty (from the butchery) with various sausage dishes and burgers, and definitely wash it all down with nice cold beers too. 
7. AT feast
Venue: Block 16A Dempsey Road, Singapore 247695
Opening Hours: Tue - Fri (9 am - 6 pm), Sat & Sun (8.30 am - 6 pm)
AT feast (taking over The Pantry) offers all-day dining and overlooks a small wooden playground visible from the alfreco tables. The cafe sits within the lush greenery of Dempsey Hill, and also offers a nice space inside for kids to do colouring too! 
If you have seen pictures of a massive wooden treehouse playground at the Dempsey area and is searching for it, we are sorry to disappoint you that the space is no longer accessible to the public and will become a member's area for b_together members. 
8. Seared
Venue: #B1-01 Tanglin Place, 91 Tanglin Road, 247918
Opening Hour: Sun - Thu (11.30 am - 10.30 pm), Fri, Sat & PH (11.30 am - 12.30 am)
Seared Grilled House is known for their grilled specialties, and tomahawks. Located at Tanglin, offers an outdoor play area with a bouncy castle, spinning bucket seats and a tricycle. You will have full view of the kids from the outdoor seating as they zoom up and down the open space. 
9. Café Melba Mediapolis
Venue: 1 Star Avenue, #03-01, Singapore 138507
Opening Hour: Mon – Sun (8 am – 10 pm)
Cafe Melba at Mediapolis is a super kids-friendly cafe offering a wide open space for kids to run and scoot around! You don't even have to worry if it is too hot or if it drizzles as the area is partially sheltered too! One of our favourite, sitting inside the air-conditioned area and being able to watch the kids through the glass windows! 
In addition to the space, kids will even get to enjoy a bouncy castle from 9 am to 4 pm on weekends and public holidays! Cafe Melba offers a kids' menu, and on kids eat free on Mondays! 
10. Café Melba Goodman Arts Centre
Venue: 90 Goodman Road, Goodman Arts Centre, Blk N #01-56, Singapore, 439053
Opening Hour: Mon - Fri (10 am - 10 pm), Weekends & PH (8.30 am - 10 pm)
Cafe Melba at Goodman Arts Centre boasts a huge lawn with a large bouncy castle that is available on weekends and public holidays from 9 am to 4 pm. With so much space available, it is common to see little ones come with balls and other sports equipment to play at the lawn too! 
Kids eat free on Mondays, and families can easily head over to The Artground to enjoy a free indoor play time with their kids before or after their meal! 
11. Jimmy Monkey Cafe @ PLQ Parkside
Venue: 2 Paya Lebar Rd #01-10 Park Place Residences at PLQ, Singapore, 409053
Opening Hour: Mon - Sun (8 am - 10.30 pm)
Located beside the very fun PLQ Parkside playground AND serving great food, Jimmy Monkey Cafe at PLQ Parkside deserved to be mentioned in this list of cafes with playgrounds! You can choose the seats nearer to the playground and watch the kids play while having a meal or sipping your coffee. 
While it is located within the vicinity of the massive PLQ Mall, it is in a rather obscure area that (1) might be a little hard to find, but (2) provides the opportunity to get away from the hustle and bustle that is just metres away. 
12. Brewerkz @ Singapore Indoor Stadium
Venue: 2 Stadium Walk #01-06/07 Singapore Indoor Stadium, Singapore 397691
Opening Hour: Mon - Thu (5 pm - 11 pm), Fri & Eve of PH (5 pm - 12 am), Sat (12 pm - 12 am), Sun & PH (12 pm - 11 pm)
Located along the Kallang River, Brewerkz at the Singapore Indoor Stadium offers an alfresco dining area that overlooks an open space for the kids. The spot is perfect for bicycles and scooters, there's even a small play area in the indoor seating area to keep the kids entertained too. You can easily watch over your kids from the dining table too!  
The restaurant is also pet-friendly. After the meal, you may even take a stroll down the river with the entire family! 
13. Fusion Spoon @ Singapore Botanic Gardens
Venue: Singapore Botanic Gardens, 1 Cluny Road, Tanglin Gate, #B1-00, Singapore 259569
Date: Mon – Sun: 7 am – 10 pm
Housing not 1 but 2 play areas, Fusion Spoon is a hidden gem at the Singapore Botanic Garden. Its location also means that there will be lots to do and see before and after your meal too! 
Here, you can choose from a wide selection of affordable food and beverages from various cuisines, such as Western, Asian and Japanese. Muslim families will also be please to know that this is a halal-certified eatery too! 
14. Bee's Knees Petite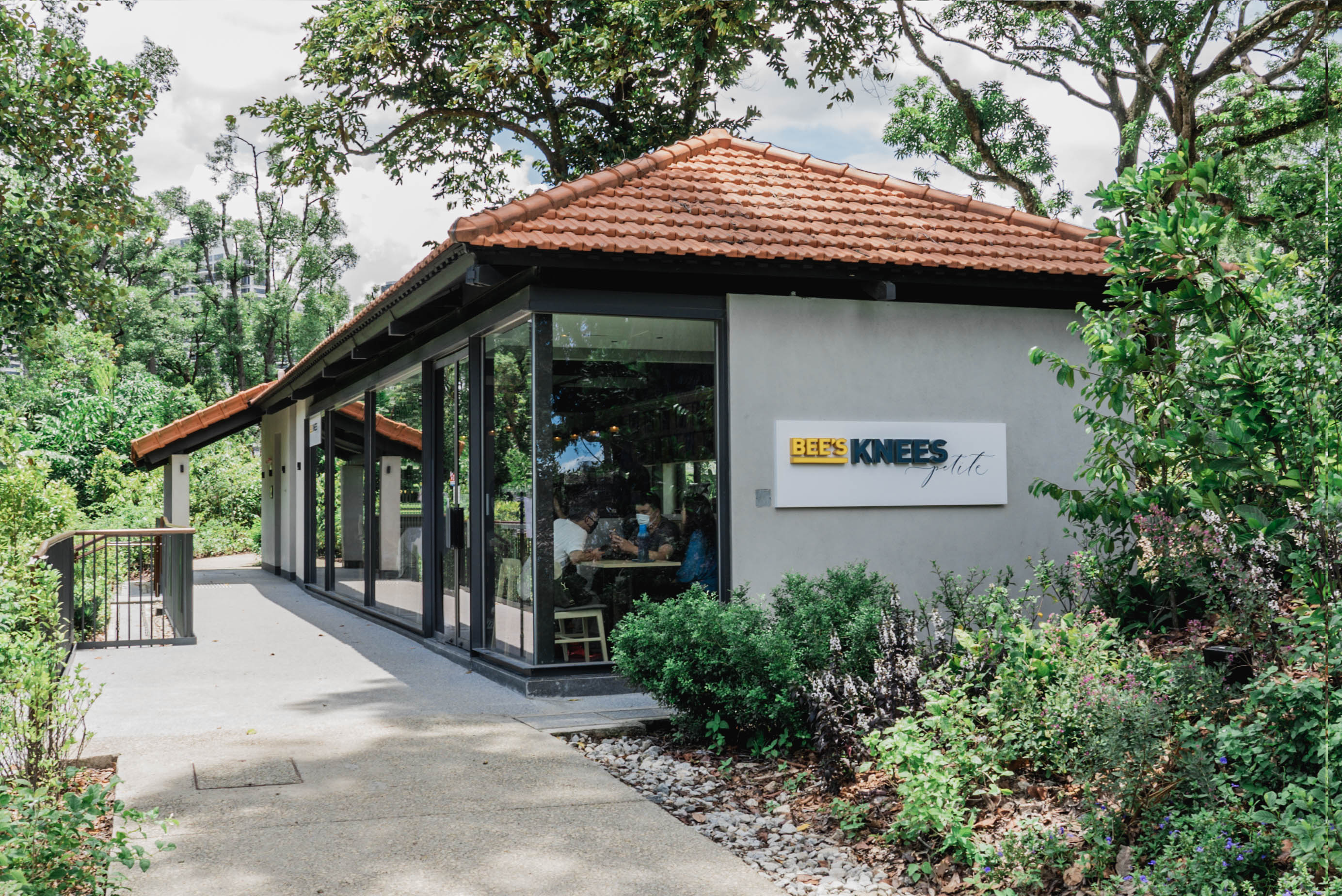 Venue: Annexe at Gallop Extension, 10-minute walk from Gallop Entrance
Opening Hours: 8 am - 6 pm (Weekday), 8 am - 7 pm (Weekend)
Bee's Knees Petite may not have a playground of its own, but it is located a stone's throw away from the COMO Adventure Grove, and that is why it cannot be missing from this list! It is perched atop the slope surrounded by the Forest Discovery Centre @ OCBC Arboretum and the Botanical Art Gallery
This grab & go kid-friendly outlet at the heart of Gallop Extension serves comforting all-day-dining fare. You can expect kids breakfast, lunch options and refreshing fruity beverages! Bee's Knees Petite serves an array of breakfast options, eggs, sandwiches, house made fruit bowls, croissants as well as salads and pastas. There's also pastries and desserts to end your meal for the sweet tooth! 
15. Three Buns Quayside
Photo Credit: URA
Venue: 60 Robertson Quay, #01-01 Singapore 238252
Opening Hours: Mon to Thu: 5pm - 12am, Fri: 12pm-12am, Sat: 10am - 12am, Sun: 10am - 10pm
Also beside a playground is Three Buns by Potato Head. Located next to the mini playground at Robertson Quay, kids can play as parents watch them from the restaurant. Known for its grass-fed Australian burgers, adults will be busy with The Bun DMC or locally inspired Red Man Burger, while kids' meals include mini beef burgers or a hot dog and a portion of fries with a little milkshake on the side.
16. District 10 Bar & Restaurant @ UE Square
Venue: 81 Clemenceau Avenue #01-15/16/17 UE Square Shopping Mall Singapore 239917
Opening Hours: Mon - Thu (11.30 am - 11 pm), Fri & Eve of PH (11.30 am - 12 am), Sat, Sun & PH (11 am - 11 pm)
District 10 Bat & Restaurant @ UE Square might sound and look "un-family", don't let it deceive you as there is a bouncy castle setup at the open area in-front of the restaurant every weekend (currently suspended due to the pandemic). Parents who choose to sit outdoors can easily watch their kids while they play, it serves comforting (and yummy) pizza and pasta, and is a great place to start your weekend family fun! 
17. Wheeler's Estate 
Venue: 2 Park Ln, Seletar Aerospace Park, Singapore (798386)
Opening Hours: Tue - Sun 
Located at the very quaint Seletar Aerospace Park, Wheeler's Estate serves breakfast, Australian style steaks, fish and chips and burgers, as well as picnics in their outdoor space - with a LIVE band. Pre-covid, you will even have the opportunity to catch a free movie screening while having your meal too. 
While the restaurant does not have a its own playground, kids can head over to the aviation-themed playground to swing and run around! While it is just around the corner, you will unfortunately not get a full view of the playground from the restaurant.
18. Hangar66 Cafe
Photo Credits: Hangar66 Cafe
Venue: #01-01, WOA Aviation Hangar66, 66 Seletar Aerospace View, Singapore 797509
Opening Hours: 11 am - 10.30 pm (Sun - Fri, Closed Tue), 9 am - 10.30 pm (Sat)
Another must-visit cafe is Hangar66 Cafe! While it does not have a playground, the unqiue cafe is located with a aircraft hangar where you can get up-close to private aircrafts with stunning day and night views of the private jet runway at Seletar Airport too! 
Kids will feel like they are at an airport where there is even an actual Gyrocopter parked right inside the café
19. Wildseed Café / Bar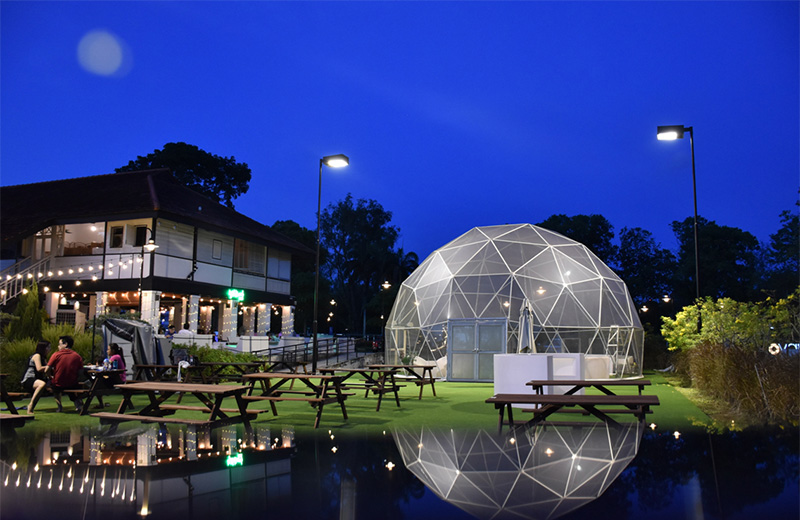 Photo Credit: The Summerhouse
Venue: 3 Park Ln, Seletar Aerospace Park, Singapore (798387)
Opening Hours: Cafe: 8 am - 5 pm (Daily), Bar: 5 pm - 10.30 pm (Daily)
Located at the ground level of The Summerhouse is Wildseed Café – a floral café and patisserie. Wildseed Cafe offers freshly roasted coffee, delectable sandwiches, floral cakes, pastries, hearty weekend brunches and casual, all-day fare. It is decked in a myriad of potted and hanging plants that create a nursery-like environment.
Wildseed offers spacrious and open alfresco areas nestled within The Summerhouse edible garden. You will find a little lawn where the kids can run around - it was common to see weekend events happening at the lawn pre-covid as well (and we can expect them to be back soon)! 
20. Rider's Cafe
Venue: 51 Fairways Drive, Singapore 286965,
Opening Hours: Tue - Sun (8 am - 9 pm)
Riders Café is a restaurant serving delicious contemporary comfort food in a casual and relaxing space that exudes a lovely old world charm. You can expect high ceiling, large white walls and ceiling fans as you enjoy your brunch. While there is no play area, it proximity to the kids' pony rides at the Saddle Club makes it a great weekend spot to bring the kids! 
21. Bayswater Kitchen
Venue: 2 Keppel Bay Vista, Marina at Keppel Bay, Singapore 098382
Opening Hours: Tue - Sat (6 pm - 10 pm), Sun & PH (11 am - 3 pm & 6 pm - 10 pm)
Offering a casual and happy seafront dining experience, families who visit Bayswater Kitchen will also be surprised by a small playground near the alfresco seating (currently closed until further notice). The menu is seafood-centric with whole fish, Seafood Risotto, Fisherman's Feasts, oysters, daily specials & more.
We heard that there is a ping pong table and foosball table too! Anyone visited yet - can you tell us if this is true! 
22. Prive at Keppel Bay
Venue: 2 Keppel Bay Vista, Singapore 098382
Opening Hours: Mon - Fri (9 am - 10.30 pm), Sat, Sun & PH (8 am - 10.30 pm)
Can't get a seat at Bayswater Kitchen (above)? Check out Prive Keppel Bay, they are next to each other (and the same owners) and share the same playground! But they don't share the fun kid's corner with television airing cartoons, story books and fun kids colouring activities to entertain your little ones.
23. Coastes @ Sentosa
Venue: 50 Siloso Beach Walk, #01-05 Sentosa, Singapore 099000
Opening Hours: 9 am - 10 pm daily
Coastes is a beach bar & restaurant situated along Sentosa's Siloso Beach. It offers a rustic charm with a laid-back beach vibe. Sunbeds and deck chairs are along the beach and children can play on the beach as parents have their meals within view. While there is no playground, the beach is everyone's playground! 
In terms of food, families can expect a range of alcoholic options for parents and for kids, they will enjoy the pizzas, pastas, desserts and more! 
24. Ola Beach Club
Venue: 46 Siloso Beach Walk, Singapore 099005
Opening Hours: Mon-Thu: 10am-9pm, Fri & Eve of PH: 10am-10pm, Sat & PH: 9am-10pm, Sun: 9am-9pm
Also located along Siloso Beach at Sentosa, Ola Beach Club offers families with access to the sandy beach with the additional benefit of a pool for the kids to jump into! Older kids (and adults) can have fun on the waters with a variety of watersports such as  Banana Boat, Kayaking, Stand-Up Paddleboard, and Donut Ride!
25. Sandbank
Venue: 920 East Coast Parkway, #01-28/32 Parkland Green
Opening Hours: Mon (5 pm - 11 pm), Tue - Fri (12 pm - 11 pm), Sat, Sun & PH (10 am - 11 am)
Sandbank is a casual restaurant and bar located at Parklane Green, East Coast Park. Not only is it located at the very family-friendly East Coast Park, the restaurant has a private 15m plunge pool (currently not operating due to the pandemic) for diners. 
The restaurant also offers an open space at the front of the restaurant for kids to play at too!
*If you need more ideas for play at the park, do refer to our Family's Guide to East Coast Park!
26. Señor Taco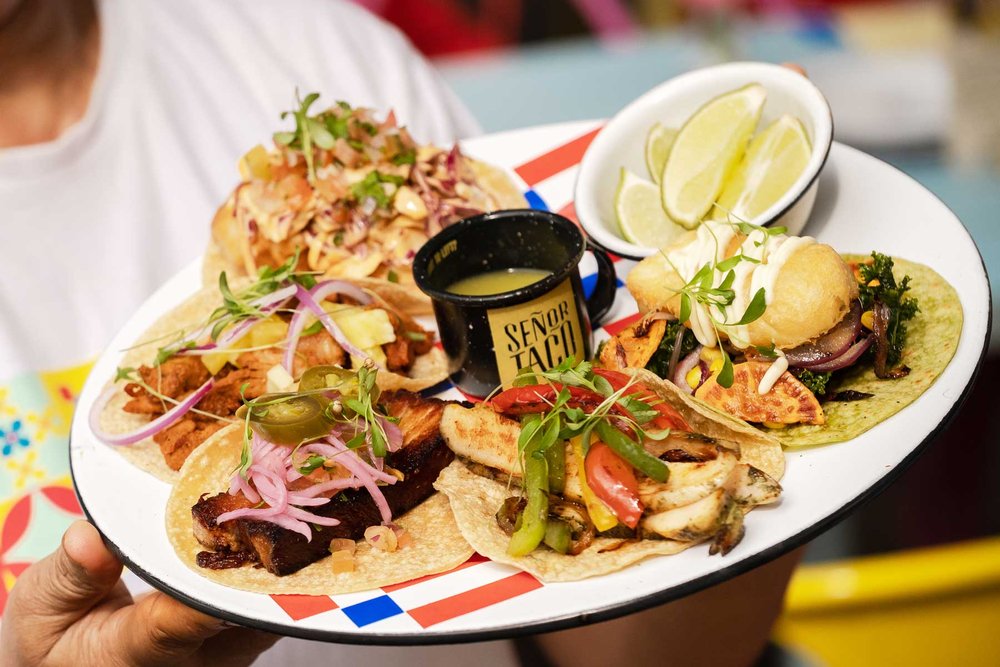 Venue: 30 Victoria Street #01-19, CHIJMES, Singapore, 187996
Opening hours: Mon - Thu (12 pm - 3pm and 5 pm - 10.30 pm), Fri - Sun (12 pm - 10.30 pm)
While there is no playground at Señor Taco, it occupies a lovely space in CHIJMES with a small lawn at the front for kids to play and monkey around! You can watch the kids from the dining table AND the Mexican restaurant runs a kids eat free promotions every weekend from 2 pm to 5 pm on Saturdays and 12 pm to 10.30 pm on Sundays! 
27. 
Marché Singapore
Venue: 313@somerset (Level 1), Suntec City (Tower 3 East Wing, Level 1), VivoCity (Level 3)
Opening hours: Differs for each outlet
A popular self-service / food court styled restaurant, Marché is super popular for group meals serving rosti, pizza and other western food but did you know that the restaurant also offers a play area for parents to enjoy their meals while keeping the kids entertained?  
So head down to Marché at Suntec City, 313@somerset, and VivoCity where you will get to experience the play areas! 
28. Beauty in the Pot, KINEX
Photo Credits: parklab.com.sg
Venue: 11 Tanjong Katong Road, KINEX #03-38, Singapore 437157
Opening Hours: 11.30 am - 3 am Daily
Known for its soup bases and fresh ingredients, our first experience with Beauty in The Pot at KINEX where we were utterly impressed by the dedicated outdoor playground! Apart from the 3-storey high slide for the older kids, the playground also includes a smaller slide and other play equipment suitable for the young ones! 
The playground is outdoors with glass panels separating the air-conditioned dining space, at certain tables, this allows parents to continue having your meal in comfort while watching the little ones. There will even be a minder at the playground to watch the kids too! 
29. Open Farm Community
Venue: 130E Minden Road, Singapore 248819
Opening Hours: Mon - Fri (12 pm - 3 pm & 6 pm - 11 pm), Sat & Sun (11 am - 4 pm & 6 pm - 11 pm)
Open Farm Community (OFC) is Singapore's pioneering urban farm and restaurant concept - it is set within the lush green edible garden and shares a kid-friendly sandpit play area and open space green garden with its neighbour, Tiong Bahru Bakery Safari. 
The venue offers a nice event space (which used to host many events) as well as both an indoor and outdoor seating area with a kids menu that offers the same farm to table items too. 
30. Beauty in the Pot, VivoCity
Venue: 1 Harbourfront Walk VivoCity #03-08A Singapore 098585
Opening Hours: 11.30 am - 3 am Daily
Spanning over 10,600 square feet, Beauty In The Pot at VivoCity boasts 400 seat and a pretty pink play room for the kids! Foam padded, slides, climbing structures monkey bars - while not as big as the playground at OneKM (see above), what more can the little ones ask for? 
31. Lions Den @ Waka Waka Indoor Playground
Venue: Waka Waka Playground,  Annex @ Furama, #05-01, 407 Havelock Rd, Singapore 169634
Opening Hours: Mon - Sun (10 am - 8 pm) - subject to changes
Instead of a cafe with a play area, Lions Den at Waka Waka is an indoor playground with a cafe! If you are looking for a place to have a meal where the kids can play, you definitely want to consider visiting Waka Waka, a massive Safari-themed playground with similarly huge dining space for parents to take a break and for the kids to "drop-in" for their meals!
32. Kith at Great World
Venue: Great World, 1 Kim Seng Promenade, Unit 02-152/153, Singapore 237994
Opening Hours: 8 am to 10 pm daily
Located right beside the Great World's transport-themed playground, Kith is another great family-friendly cafe where parents can have a meal while watching their kids play at the playground. Kith @ Great World has a space-themed interior and serves a family-friendly menu. A glass panel separates you and your little ones, allowing you to enjoy the cool air-conditioning (while sipping a fun selection of natural wines) and still keeping an eye on them at the playground. 
33. Kith at Marina Square / Kiztopia
Venue: 6 Raffles Boulevard, Level 1, Marina Square, #01-10, Singapore 039594
Opening Hours: Sun - Thu (10 am - 8 pm), Fri - Sat (10 am - 10 pm)
Located beside the popular indoor playground, Kiztopia Marina Square, families who visit Kith at Marina Square will get to play at the indoor playground while enjoying a meal at the family-friendly cafe before or after play-time! 
34. SMIGY @ United Square
Venue: United Square Level 1, Opposite Information Services
Opening Hours: 10 am - 8 pm (Mon - Thu), 10 am - 9 pm (Fri - Sun)
Located next to SMIGY @ United Square is a cafe area for parents to rest and have their meal too. This Taiwanese cafe allows parents unobstructed view of the play venue so that parents can watch over the kids from a distance. The cafe and playground will be connected by a door too.
35. Merry Haus @ Oasis Terrace
Venue: Oasis Terraces, Blk 681 Punggol Drive #01-34/35, S820681
Opening Hours: Mon - Fri: 12pm - 9pm, Sat & Sun: 11am - 9pm
A popular play space for parents staying in the area, Merry Haus is connected to a little café that allows parent's "me-time" while the little ones play. Playtime is in 2-hour sessions with discounts for larger packages.  Envisioned by owner and mummy, Mavis, to be a space where "we-time" becomes "me-time", mummies can sip coffee at the cafe while watching their kids or even purchase an Art Jamming & Play package to paint while the kids play!