An aviation-theme playground, whimsical dining options and open spaces - this is what Seletar Aerospace Park has to offer families! 
Photo Credits: The Oval
Seletar Aerospace Park was developed in 1923 as a British Royal Air Force station. To house RAF personnel and their families, numerous black and white colonial bungalows were built. Many of these have been conserved and redeveloped as part of The Oval, a lifestyle enclave with numerous restaurants spas, and shops. 
Popular restaurants in the area include Wheeler's Estate and Summerhouse, as well as lots of other activities for families. So let's take a look at what makes Seletar Aerospace Park a great family venue for your next weekend fun!
Things To Do at Seletar Aerospace Park
You may have heard of the many popular restaurants and cafes in the vicinity, but Seletar Aerospace Park is much more than just a F&B enclave! Let's take a look what families can do here too!
1. Plane Spotting At Seletar Airport
Photo Credits: The Oval
Seletar Airport operates as a general aviation airport for chartered flights and training purposes. Stroll down the boardwalk at The Oval to spot these private jets - the boardwalk runs parallel to the airport and is stroller friendly. Even if you get tired, you will find lots of little benches that look like origami paper planes around too. 
You probably won't spot many planes taking off, but it will be quite a sight if you do catch one from up-close! 
2. Visit Hampstead Wetlands Park
Photo Credits: NParks
Venue: 1 Baker St, Singapore 799977
The 3.23 hectare Hampstead Wetlands Park is a green sanctuary and a place for rest and recreation, and a great place to visit as part of a visit to the Seletar Aerospace Park. A former marshland area, the park has been revamped and now has a garden and pond with observatory decks for birdwatching. As you stroll along the scenic boardwalk, enjoy nature up close at the viewing decks and look out for a variety of interesting flora and fauna.
There is no carpark located here, and you will have to park at the nearest carpark at 2 Park Lane and walk 50m (5mins).
3. Enjoy the Open Space
Photo Credits: Mothership.sg
The restaurants and buildings sit on lush green spaces with lots of open space for families to enjoy. Pre-covid, these open spaces were regularly used for outdoor movie screenings and other events (and we look forward to that happening again soon).
Otherwise, a stroll around Seletar Aerospace Park is a nice relaxing way to start your visit or to end the evening before or after a meal at the many restaurants in the area. 
4. Play at the Aviation-themed Playground
The wonderful aviation-themed playground is located between Wheelers Estate and The Summhouse - and makes it a great place for the kids to play while waiting for the food to arrive! It features 2 play areas to accommodate both toddlers and older children.
At the main play area, you will find a colourful propeller plane play structure and an air traffic control tower with slides. From the top of the tower, you may even try to spot any of the planes taking off from Seletar Airport too! There are swings and merry-go-round too! 
For the younger ones, they may play at the smaller jet plane. You will also find an interesting life-sized Aeroplane Chess game met that you can play on the ground - with you as the chess pieces!
From a colourful propeller plane play structure, to air traffic control tower slides to a helipad merry-go-round and swings; the Seletar Aerospace park playground is bang on theme being next to Seletar Airport. 
*Photos were taken before COVID.
Restaurants and Cafes at Seletar Aerospace Park
Featuring a quaint cluster of refurbished colonial bungalows, The Oval is a family and lifestyle destination combining heritage charm and verdant greenery. It features a selection of restaurants and cafes for families to enjoy a quiet evening or to spend the weekend at. 
Wheeler's Estate
Photo Credits: Wheeler's Estate
Venue: 2 Park Ln, Seletar Aerospace Park, Singapore (798386)
Opening Hours: Tue - Sun 
If the name sounds familiar, that because Wheeler's Estate is connected to the popular (and highly instagrammable) Wheeler's Yard at Balestier. Not to be outdone by it's sister cafe, Wheeler's Estate is located within a the two-storey colonial bungalow with a stunning expansive lawn. 
You can choose from 2 experiences, one at the alfresco atmosphere decked with woven rattan chairs and garden tables that lead to the open terrace - here you may also enjoy Live Music (currently stopped due to COVID measures). If you are celebrating, you may wish to head to Cinder Steakhouse upstairs where you will experience having premium cut steaks in the living spaces for high ranking British officers during the 1950s
The Summerhouse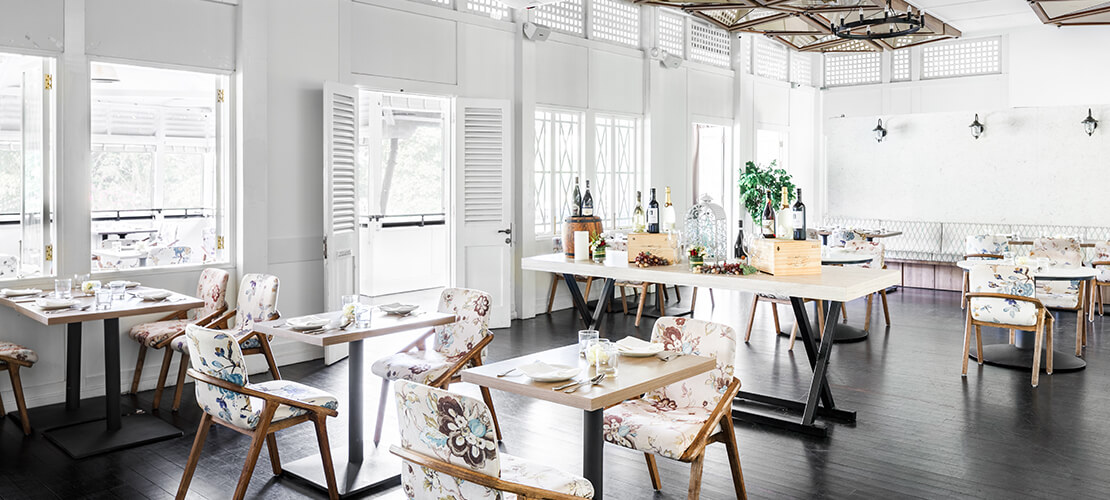 Photo Credits: The Summerhouse
Venue: 3 Park Ln, Seletar Aerospace Park, Singapore (798387)
Opening Hours: 
Sat, Sun & PH 11:30AM to 3PM

Mon, Wed to Sun, Eve of & PH 6PM to 10PM
The Summerhouse offers weekend brunch, drinks and dinner. Families can choose to dine at The Summerhouse French Dining Room, a farm to table restaurant on the upper storey or at The Summerhouse Garden Domes, an immersive dining experience amidst our lush edible garden.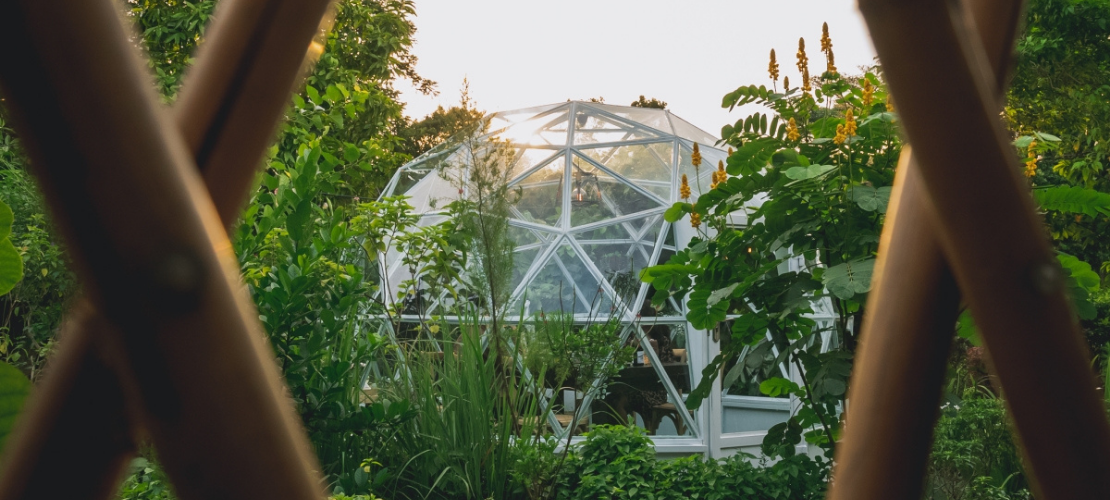 Photo Credits: The Summerhouse
A dinner at the highly popular Garden Domes is definitely the place to wow your significant other, prices start at $380++ per couple for a 2 hour seating and is only available from Wed to Sun. 
Wildseed Cafe / Bar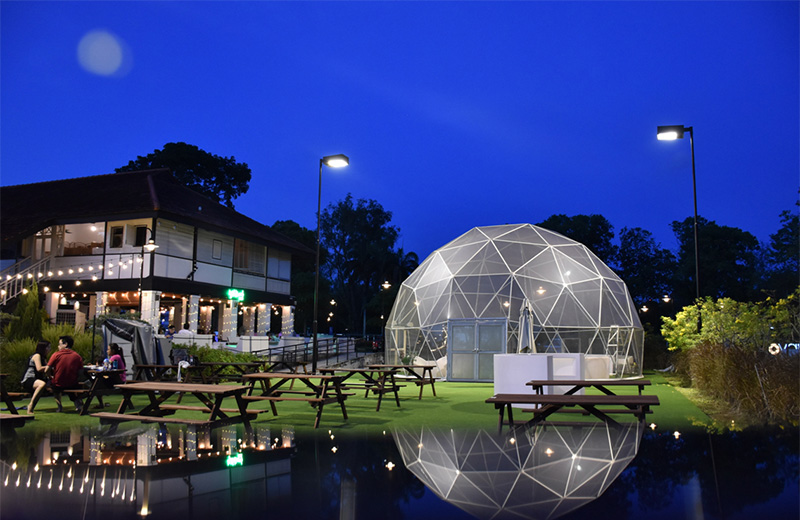 Photo Credits: The Summerhouse
Venue: 3 Park Ln, Seletar Aerospace Park, Singapore (798387)
Opening Hours: 
Cafe: 8 am - 5 pm (Daily)

Bar: 5 pm - 10.30 pm (Daily)
Located at the ground level of The Summerhouse is Wildseed Café – a floral café and patisserie. Wildseed Cafe offers freshly roasted coffee, delectable sandwiches, floral cakes, pastries, hearty weekend brunches and casual, all-day fare. It is decked in a myriad of potted and hanging plants that create a nursery-like environment.
Head outdoors to discover the Wildseed Bar with spacious and open alfresco areas, nestled within The Summerhouse edible garden. A casual atmosphere for dinner, drinks and just to let the kids run around! 
5 by Sans-Façon
Photo Credits: 5 by Sans-Façon
Venue: 5 The Oval, The Oval @ Seletar Aerospace Park, Singapore (797863)
Opening Hours: 11.30 am - 10.30 pm (Mon - Fri), 9.30 am - 10.30 pm (Sat & Sun)
A hidden gem in the heart of Seletar Aerospace Park, 5 by Sans-Façon services French cuisine at a serene ambience that you would not find in the bustling city. The restaurant offers both an indoor and alfresco experience at the black and white colonial building it is housed in.
YOUNGS Bar & Restaurant
Photo Credits: YOUNG Bar & Restaurant
Venue: 3 Hyde Park Gate, The Oval @ Seletar Aerospace Park, Singapore (799531)
Opening Hours: 11.30 am - 10.30 pm (Mon, Thu, Fri), 9.30 am - 10.30 pm (Tue & Wed), 8.30 am - 10.30 pm (Sat & Sun)
The 241-seater bar and restaurant situated at The Oval in Seletar Aerospace Park sets itself apart with its signature style of presenting quality Modern European cuisine with a laid-back cosy ambience surrounding.
 Away from the stress of the urban city, YOUNGS Bar & Restaurant is the idyllic and laid-back locale for delectable food and luscious drinks amidst a view of green lawns and rolling hills.
Di Wei Teo Chew Restaurant
Photo Credits: Di Wei Teo Chew Restaurant
Venue: 1 The Oval, Seletar Aerospace Park, Singapore (797859)
Opening Hours: 11.30 am - 2.30 pm, 5.30 pm - 10 pm (Daily)
If you are seeking a local taste, you may wish to drop by Di Wei Teo Chew Restaurant that serves authentic Teochew cuisine, including the Teochew Cold Crab, Teochew Fried Rice Noodles with Preserved Radish, and Yam Paste with Gingko Nuts or Pumpkin.
Soek Seng 1954 Bicycle Cafe
Photo Credits: Soek Seng 1954 Bicycle Cafè
Venue: 80 #01-01 MAJ Aviation Building, Seletar Aerospace View
Opening Hours: 10 am - 11 pm (Closed Mon, Kitchen closed 3 pm - 5 pm Daily)
Located near The Oval, you'll find even more cafés and watering holes. With bicycles, art and other cycling paraphernalia decorating its walls, Soek Seng 1954 Bicycle Cafè serves a mix of Western, Japanese and local food like sirloin steak and katsu don, a Japanese dish of deep fried pork cutlet on rice. The café is also a great vantage point for watching planes take off from Seletar Airport in the distance.
Hangar66 Cafe
Photo Credits: Hangar66 Cafe
Venue: #01-01, WOA Aviation Hangar66, 66 Seletar Aerospace View, Singapore 797509
Opening Hours: 11 am - 10.30 pm (Sun - Fri, Closed Tue), 9 am - 10.30 pm (Sat)
Another spot to visit around the area is Hangar66! A unique and cosy Cafe located within an Aircraft Hangar to get up close with real private aircrafts and stunning day/night views of the private jet runway at Seletar Airport! 
Photo Credits: Hangar66 Cafe
The entire place looks like you are at an airport and there is even an actual Gyrocopter parked right inside the café
What To Bring When Visiting Seletar Aerospace Park? 
Depending on your plans, you may wish to bring a picnic mat and other picnic essentials. Otherwise, we will highly recommend that you bring along insect repellant (even if you are planning to dine indoors) as well as enough water (especially if you are just going to the play areas). 
Wet wipes, a little towel and change of clothes will be helpful if you are visiting the outdoor playground so that the kids can clean up and change after play. 
How To Get To Seletar Aerospace Park?
Photo Credits: The Oval
Due to its location, the easiest way to get to the park is by car while cycling to the park has also been gaining popularity. 
Car: Simply search for Seletar Aerospace Park on Google Maps. Parking is chargeable and limited. On weekends, it is common to see cars parked along the side of the roads too. 
*Parking used to be free from 5pm, but we believe this has been removed. 
Bus: Take Bus 103 or 117 and alight at the at 'After/Before Baker Street' bus stop.