The Gallop Extension is an 8-hectare addition to the Singapore Botanic Gardens and includes the newly opened COMO Adventure Grove Playground!
Photo Credits: NParks.gov.sg
Venue: Gallop Extension, Singapore Botanic Gardens
Opening Hours: 7 am - 7 pm
Admission: Free
The COMO Adventure Grove, a nature playgarden, is set within nature for children to connect with through play and exploration. The playgarden draws inspiration from the trees found within the garden, and recreates the experience of tree-climbing and "monkeying" around! 
Biophilic playgrounds have been popping up around Singapore, and if you are familiar with the playgrounds at Jurong Lake Garden or Jubilee Park, Fort Canning, you may know what to expect. 
Otherwise, let us share what you may expect when visiting this biophilic wonderland! 
Banyan Tree Tower - The Weeping Fig
A 5.8-metre tall Banyan Tree Tower takes center-stage at the new play venue, with as many as 13 "roots" and "branches" extending across a giant sandpit. 
Equiped with climbing ropes, swings, and hammocks, children can swing, slide and climb on these structures resembling the aerial roots of the Weeping Fig - while the structures are made of steel, they have been hand-textured to look like the bark of a tree. 
Climb Up For A View
Go up the Banyan Tree Tower to take a different perspective of nature, from 5.8-meter of the ground! Not only will the kids get to expense their energy, but they may just spot a nesting bird or squirrel from up here! 
2 Times The Sliding Fun
Two long tube slides at 4m and 2.1m, lets kids exit the canopy with an exhilarating ride. Designed for speed and excitement, we are sure it will keep the little ones coming back for more! 
*Note: as the tubes are made of metal, it may get hot in the afternoon sun. Do come dressed appropriately! 
Giant Seeds & Fruits
A nature-inspired play area is available at the COMO Adventure Grove, with giant saga seeds and a giant jackfruit (or cempedak). Not only does it complement it's surrounding, but are also great additions for the little ones to climb and jump!
Amenities At COMO Adventure Grove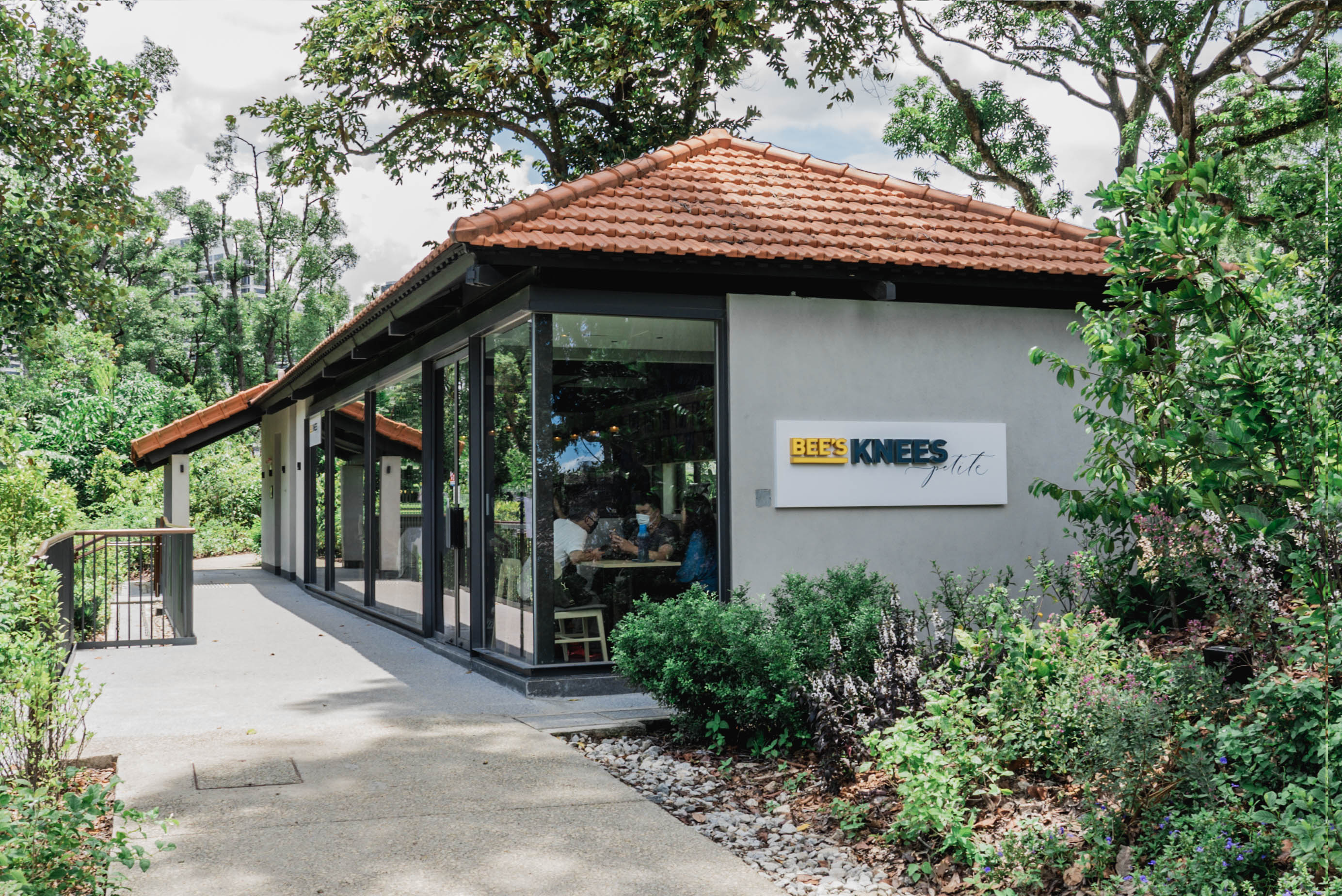 Photo Credits: NParks
Follow the stairs at the back of the playground and you will find washrooms and Bee's Knees Petite at the top. 
Bee's Knees Petite is grab & go kid-friendly outlet where you will find an array of breakfast options, eggs, sandwiches, house made fruit bowls, croissants as well as salads and pastas. There's also pastries and desserts to end your meal for the sweet tooth! It is open from 8 am and closes at 6 pm (weekdays) and 7 pm (weekends). 
Getting To COMO Adventure Grove
Como Adventure Grove is located at the Gallop Extension @ Singapore Botanic Gardens. It can be found on the opposite side of Tyersall Avenue. 
To reach the COMO Adventure Grove, enter from the Gallop Extension and follow the signboards on the path past the OCBC Arboretum. The above video will show you part of the way there. 
*Photo Credits: Playpoint, unless otherwise stated
What do you think of this new playgarden? Tell us in the comments or share your photos with us on our social media channels too!