Located at Suntec City (North Wing), SuperPark Singapore is an activity park packed with 24 different activities for fun and excitement! Great fun for kids and parents too!
Location: 3 Temasek Boulevard, Suntec City Mall (North Wing), #02-477, Singapore 038983
Opening Hours: 
Weekdays: 11.30 pm - 9 pm
Weekends, PH and Sch Hols: 10 am - 10 pm
Admission: From $19.90
*Updated in Apr 2021 following SuperPark's reopening.
SuperPark Singapore, located at Suntec City (North Wing), is an all-in-one activity park for families to enjoy! It spans across 2 floors at the mall, and is filled with activities suitable for both parents and kids to have fun at! Find out what to expect on your family's visit! 
Before that, here's a short video of our last visit! Remember to subscribe to our YouTube channel for the latest updates too! 
Activities At SuperPark Singapore
The park is divided into 3 zones (The Adventure Zone, Game Arena and Freestyle Hall ) with 24 different activities for all ages! Imagine an all-in-one venue with a trampoline park, indoor playground, toddler's play venue, skate park, wall climbing zone, futsal pitch, basketball court, obstacles course and more! 
8 Activities Not To Be Missed At SuperPark Singapore
There is so much to share at SuperPark, and we will highlight the best ones for families and kids to have fun at! Visit SuperPark's website for details of all 24 activities!
Kid's Trampoline, Valo Jump & Trampoline Platform
Kids and adults will be bouncing at the 3 different trampoline zones at the park. Those below 120cm will be bouncing at the Kid's Trampoline, while those above 120cm may choose between Valo Jump & Trampoline Platform! The Kid's Trampoline is restricted to kids below 120cm and provide a safer environment for the younger ones to jump. 
Valo Jump is a game-based trampoline, where digital sensors are used to track movement, and jumpers will jump to catch items or avoid obstacles in an interactive mission-based game. The Trampoline Platform allows the kids and parents to free-style their jump to unleash their acrobatic and creative side (and to show-off too)! 
Participants will first watch a safety video before entering the trampolines and we highly encourage parents to watch their kids to avoid unnecessary injuries too. 
Pedal Car Track
A favourite at the park! The Pedal Car Track allows all ages to go around the track in pedal cars or tricycles! Families can go together as there are no height restrictions. Those above 100cm will get to go on the Pedal Cars that come in 2 different sizes, while those below 100cm will go on the tricycles. 
You are not allowed to overtake each other, so this is not a race! 
Note, kids above 100cm will not be allowed on the tricycles. In our opinion, those between 100cm - 120cm may need assistance on the pedal cars. Parents are allowed on the tracks to assist or to take photos!
Skate & Scoot World
An indoor skate park, and air-conditioned! At the Skate & Scoot World, kids above 120cm can take on the humps and slopes with skate scooters or skateboards provided, you may also bring your own too!
Note that you will need to wear your covered shoes in this zone (and you probably left them at the entrance too), so remember to grab them before heading over! On weekdays, Skate & Scoot World only operates an hour for each session. 
Kid's Adventure City
The popular Kid's Adventure City is an indoor playground that sits within the SuperPark. Expect lots of climbing, crawling and whee-ing down the slides! There's no height restrictions to play, so this is not just for kids, but parents may join in the fun too!
Parents, you need to know that there is an exit from the playground to the 2nd floor. So if you have not seen your kids for awhile, they may have "escaped" to the other level.
Tube Slide
The concept is simple - climb up the hill, place yourself in an inflatable tube and zoom down the hill, and that's enough for the kids to have fun! For safety reasons, only 1 person is allowed in the tube and the activity is only suitable for those above 120cm. 
Prior to the reopening, the Tube Slide was a place for lots of screams (and scare). The speed of the tube has been slowed down but in our opinion, may have been overdone. Management has heard the feedback and perhaps it may change over time. 
Ninja Track
There are 3 difficulties along the Ninja Track that tests the child's (and your) agility, strength and endurance. Stage 1 and 2 are pretty easy, but stage 3 is a real test! There are no height restrictions here, so are you game enough to give this a try? 
Flying Fox
An indoor flying fox is an absolute brilliant idea! Kids above 100cm may go on the flying fox, and we are pretty sure that they will not be satisfied with just one ride! 
Kid's Gym
We adore play venues that put aside dedicated space for babies and toddlers to have fun at. The Kid's Gym is a play area restricted to kids below 100cm. Young kids can hone their motor skills as they explore this brightly coloured open space in safety and away from the older ones.
Parents may also steal a break here too! Have other tips to share with us? Join our social media (FB/IG) to share and learn more!
Things To Note
Here are a couple of pointers that you may need to take note of to make your experience better!
Covered Shoes are required at Super Climb and Skate & Scoot World. It is likely that you have left them at the entrance so bring them along if you are heading to these zones. 
SuperPark grip socks are required and are not part of ticket prices. They are available at $3.50 a pair or bring along your own if you have them from previous visits. 
Lockers are provided for each ticket, so you may use them to store your bulky items.
Please arrive 15mins before your session. No-show without notification after 20mins will result in forfeiture of your session. 
There are no restrooms in the park, the nearest ones are within Suntec City Mall just outside of SuperPark
Water Bottles are allowed into the play venues (previously this was not allowed). 
There are 2 vending machines, 1 on each floor, within the play venue to purchase drinks. 
Ticketing Details
Tickets may be purchased in 2-hr sessions. Sessions run from 11.30 - 1.30pm, 2 - 4pm, 4.30 - 6.30pm and 7 - 9pm on weekdays, and 10 - 12pm, 12.30 - 2.30pm, 3 - 5pm, 5.30 - 7.30pm and 8 - 10pm on weekends.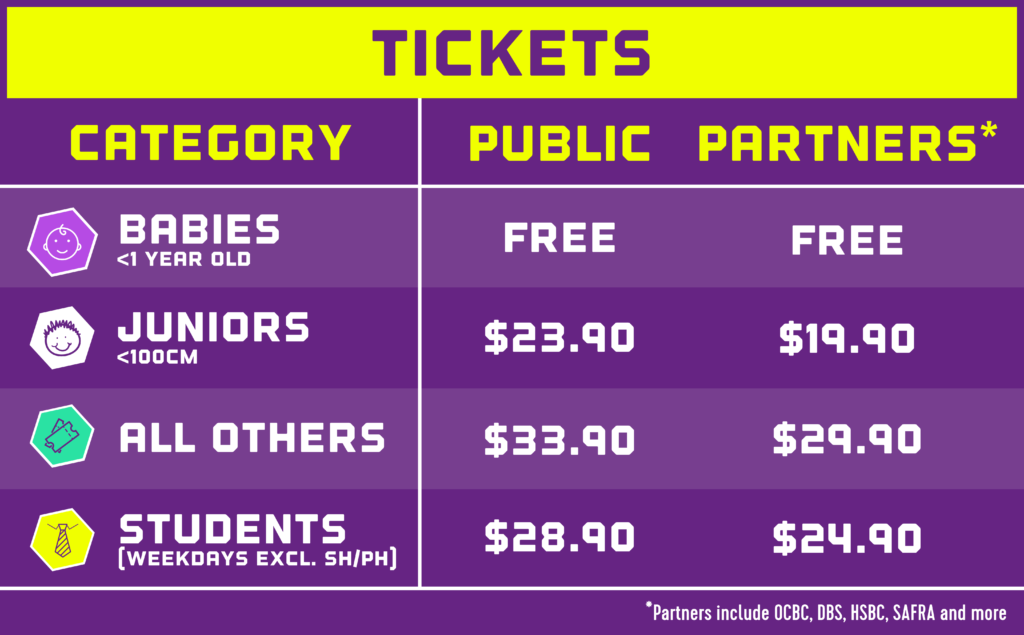 Ticket pricing is age-based with discount for partners of SuperPark. These partners include OCBC, DBS, HSBC, SAFRA and more.  
Babies: Free
Juniors (below 100cm): $23.90 (Public), $19.90 (Partners)
All Others: $33.90 (Public), $29.90 (Partners)
Students (Weekdays, excluding PH and Sch Hols): $28.90 (Public), $24.90 (Partners)
You may also purchase the ticket price for Group of 4 at $110! More ticketing details available here. 
What do you think of this massive play venue! Have you been before? Share with us your experience and join our community on our social media too!