Imagine the kids having space to enjoy themselves while the adults have their meals. Here's a list of restaurants with open spaces for the kids to go amok while adults enjoy a leisure meal! 
With kids, mealtimes can be a struggle at times and parents may simply wish to have a nice meal while the kids are entertaining themselves. We got you covered with the following restaurants that offer open spaces for the kids to have fun while parents dine-in! 
1. Brewerkz Singapore Indoor Stadium
Located along the Kallang River, Brewerkz at the Singapore Indoor Stadium offers an alfresco dining area that overlooks an open space for the kids. Come with the bicycles and scooters, and the kids can play around while the adult watch over them from the dining table. 
The restaurant is also pet-friendly. After the meal, you may even take a stroll down the river with the entire family! 
Location: 2 Stadium Walk, #01 - 06 / 07, Singapore 397691
Website
2. Coastes at Sentosa

Image Credit: Coastes
If it is the sun, sand and sea that you are looking for, head down to Coastes at Siloso Beach! Ask for a seat by the beach and watch the little ones as they play in the sand and sea.
In the evenings, you may even catch the sunset at your table too! Check out the other happenings at Sentosa before or after your meal to make it an entire day out! 
BYKIDO's Tip: Remember to bring sun block, insect repellant and come dressed appropriately for the beach! 
Location: 50 Siloso Beach Walk, #01-05, Sentosa, Singapore 099000
Website
3. Cafe Melba @ Mediapolis

Image Credit: Cafe Melba
If getting outdoors and in the sun is not really your thing, Cafe Melba at Mediapolis might be the place you are looking for! With a wide open space that is partially sheltered, the kids can run around and you do not have to worry about the sun or even if it drizzles! 
With the glass windows, you may even stay indoor (and air-conditioned) to watch over the kids! 
Location: 1 Stars Avenue, #03-01, Singapore, 138507
Website
4. Kith @ Kiztopia
If you and your child prefer the comfort of an air-conditioned setting, you will want to head down to Kith at Kiztopia. Combining the kids-friendly menu of Kith and the massive indoor play space of Kiztopia, this is a recipe for a mega-fun day! 
Stay within the dining area while the kids zoom around the play areas of Kiztopia. Even if you are not planning to enter Kiztopia, Kith is available for the public too!
Location: 6, #01-10 Raffles Blvd, Level 1 Marina Square, 039594
Website
5. Waka Waka Indoor Playground
Similar to the above, Waka Waka is an indoor playground with a dining area for tired parents to rest and still be able to keep watch of the children! This jungle-themed indoor playground will sure to delight the kids while parents will definitely be please to have a nice and cosy area to sit, relax and have a meal! 
Location: 407 Havelock Rd, #05-01, Singapore 169634
Website
6. Wheeler's Estate

Photo Credits: Hungrygowhere
The Oval is one of our favourite places to go, and Wheeler's Estate gets a special mention for the open space in front of the restaurant, and it's closeness to the Aeroplane playground. While it is not a "sit-and-watch" distance, it is close enough for parents to make the occasional shuttle between playground and table, just to "check in" on the kids! 
Location: 2 Park Lane, Singapore 798386. Seletar Aerospace Park
Website
7. Sandbank
Located at Parklane Green along East Coast Park, Sandbank is the perfect pit-stop for families cycling along the park or from the play time at the many family-friendly spots at East Coast Park. With open spaces at the front of the restaurant, parents can enjoy a nice cold beer (and away from the heat), while the kids continue their shenanigans outside! 
Location: 920 East Coast Parkway, #01-28/32, Singapore 449875
Website
8. Ola Beach Club
Located along Siloso Beach at Sentosa, Ola Beach Club offers families with access to the sandy beach with the additional benefit of a pool for the kids to jump into! Older kids (and adults) can have fun on the waters with a variety of watersports such as  Banana Boat, Kayaking, Stand-Up Paddleboard, and Donut Ride!
Location: 46 Siloso Beach Walk, Singapore 099005
Website
9. Little Spot
Located within Jacob Ballas Children's Garden, Little Spot (previously Food for Tots) offers access to the vast grounds of the garden, and is an extremely toddler friendly café! The cafe's 40-seater eco-conscious café features an upcycled colander light installation, themed recycling bins and a potted herb wall – all to instill a love for nature in its visitors. 
Location: 1H Cluny Road, Jacob Ballas Children's Garden, #01-K1, Singapore 259569
Website
10. Bee's Knees Petite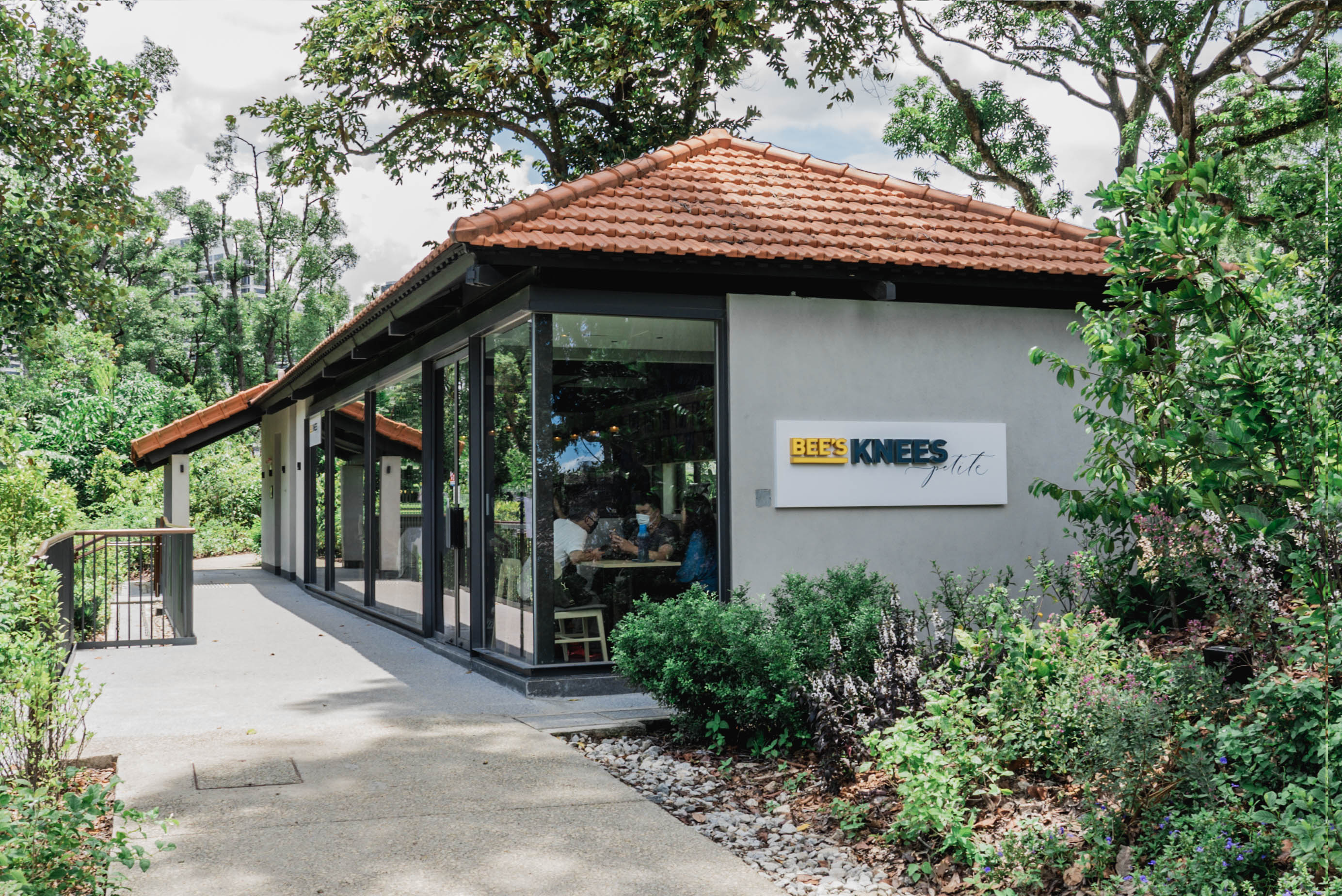 Bee's Knees Petite is located a stone's throw away from the COMO Adventure Grove offering it a massive open space for play.This grab & go kid-friendly outlet at the heart of Gallop Extension serves comforting all-day-dining fare. You can expect kids breakfast, lunch options and refreshing fruity beverages! 
Location: Annexe at Gallop Extension, 10-minute walk from Gallop Entrance
Website
Is there somewhere else that we missed? Tell us your favourite place to bring the kid when you like to have a quiet meal!