Here are 23 free treats to bag on your birthday and make it much more special with the family!

Source: Seyedeh Hamideh Kazemi/Unsplash
Last updated: Jan 2023
Birthdays are special days where you indulge in velvety cakes, surrounded by your loved ones, receiving blessings and heartfelt gifts. It's probably a sweet enough celebration as it is but we thought why not make the day even sweeter? Hence, we've curated a list of places where you can get free perks on your birthday!
1. Free Lobster | Cajun on Wheels
Membership requirement: No 
Head down to Cajun on Wheels Plaza Singaputa to enjoy a a free lobster with the purchase of an Olympian bucket within your birthday month (limited to one per birthday celebrant, while stocks last.)
Just present a valid photo ID before your order to enjoy the promotion!
2. Free Lunch Buffet + Beer + Sushi Cake | Shin Minori 
Membership: Yes - Shin Minori Friends
Where are my Japanese foodies at? This one's for you. You can spend your birthday at Shin Minori and enjoy special birthday redemptions as a Shin Minori friend! Redeem a free lunch buffet and say cheers with a free pint of Asahi Dry Beer and Sushi Cake at Shin Minori on your birthday month!
3. Free Bottom-less Beer + Dessert | Brotzeit
Membership: Yes - Brotzeit STAMMTISCH
Probably one of the best birthday promotions that we found (for beer drinkers). Celebrate your birthday at Brotzeit as a member and enjoy free beer - you will be provided with a birthday beer stein that won't run dry all night! 
Note that you will need to make a reservation for 4 diners or more. While it is not clear, it seems like the promotion is valid for the actual birthday only. 
If that's not enough, you will also receive a free birthday dessert that is valid during the entire birthday month! These promotions are available for Brotzeit members, which is free to join! 
4. Fresh Juice | Boost 
Membership: Yes – Vibe Club
If you're a member of Vibe Club (it's free), be sure to pick up your complimentary choice of Boost juice before heading out for your birthday celebrations (available on the day of, 2 days after and 2 days before your birthday).
To redeem it, on your birthday, just head to your local store with your VIBE card and proof of birth date (Your NRIC or Passport) and you score a free Boost!
And if you're not a member yet, you can become one by first completing Boost's stamp card which can then be exchanged for the member card.
5. Free Drink Size Upgrade, Cake or Drink | Starbucks

 
Membership: Yes – Starbucks Rewards
If you're a regular at Starbucks, you might already know this one but if you don't, Starbucks has a rewards system whereby you can earn Stars when you pay via your registered Starbucks Card. Depending on the stars you earn, your membership, as well as benefits, get upgraded.
Green members can get a free slice of cake with drink purchased in birthday month and Gold members can get both the slice of cake and a free drink on their birthday month!
6. Complimentary Salmon Sushimi | Tanuki Raw
Membership: No
Celebrate your birthday at Tanuki Raw Jewel Changi Airport or Cross Street Exchange and enjoy our special birthday salmon promotion! A complimentary slice of salmon sashimi for every year. Turning 35 years old? 35 slices of salmon sashimi free!
7. Free Lobster | The Boiler
Membership: Yes
The Boiler is treating you to free lobsters on your birthday month and it is available for both dine-in and online delivery. You can enjoy 1 Free Boston Lobster with purchase of a Boiler's Bombdiggity Bag.
8. Free Drink | Mr Coconut 
Membership: Yes
Get a free drink on your birthday month as a Mr. Coconut member! No purchase needed, simply sign-up for membership to enjoy this promotion! 
*We are not sure if this promotion is currently still available. 
9. Free Gyoza | Ikkousha
Membership: No
Update: This promotion may have ended, please check directly with restaurant before visiting. 
Get the number of free gyoza according to your age at Ikkousha Ramen! This is valid between one day before and one day after your actual birthday. You will also need to make an order of min. 4  bowls of ramen! 
While this is only valid for takeaway or delivery, you can choose between frozen or cooked gyozas!
10. Free Buffet | Suki-Ya
Membership: No
Bring your friends along, and you will get to enjoy a free regular buffet at all Suki-Ya outlets (including Suki-Ya Kin). You will just need to have a min. of 4 pax to dine on Sun – Thurs to enjoy this promotion! This promotion is not just on your birthday, but throughout your birthday month! 
11. Complimentary Slice Of Cake from Cedele
Membership requirement: Yes – Cedele Reward$
Cedele Reward$ members are entitled to a complimentary slice of cake, enjoy double rebates and 15% discount on whole cakes and a 15% discount when you dine at Cedele during your birthday month.
12. Free Steamboat Buffet at COCA Steamboat

Membership requirement: Yes – COCA Members
Dine for free on your birthday month when you dine with 3 paying adults as a COCA Member (currently free to sign-up). This is valid for the regular buffet at all COCA restaurants. 
13. 2 Free Medium-Sized Drinks from KOI
Membership requirement:  KOIThélicious membership
The popular bubble tea chain offers its KOIThélicious members a special treat of two free medium-sized drinks during their birthday month. To be a member, purchase a KOI card with a stored value of at least $10 and head over to the website for membership registration. You will be able to redeem 2 free drinks in a single transaction in your birthday month!
14. Free Birthday Dessert and 50% Off 2nd Main at Lawry's The Prime Rib
Membership requirement:  None
Celebrate your birthday at Lawry's The Prime Rib and enjoy 50% off the second main course or a free third main course during your birthday month. Only for dine-in and blackout days apply. 
15. Chicken McNuggets @ 

McDonalds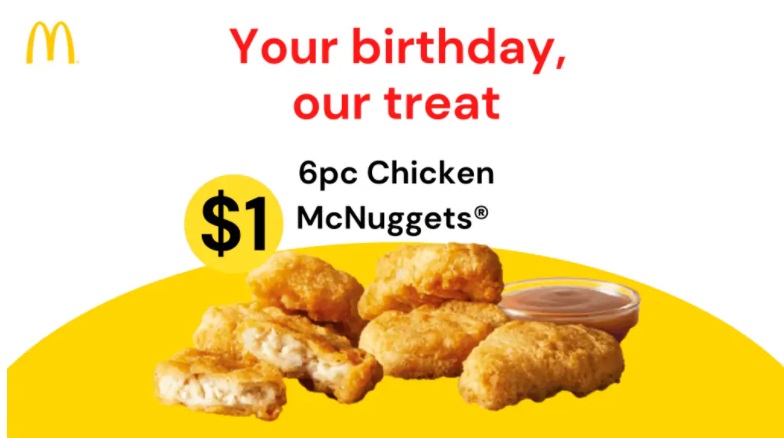 Membership requirement: In-App
We have seen a few different versions of birthday treats on the McDonald's App. This includes $1 for a 6pc Chicken McNuggets and a free 20 pc Chicken McNuggets with min $10 spending. Regardless, you should check your App on your birthday month to be sure! 
16. Dine Free At RockU Yakiniku
Membership requirement: No
With a min. of 3 diners, you can enjoy a free regular buffet on your entire birthday month - valid for dine-in Sun to Thu only. 
17. 20% Off Cakes from Cat & The Fiddle
Membership requirement: No. 
Enjoy 20% off when you purchase your birthday cake from Cat & The Fiddle. Valid for the birthday month - simply show your ID that has your birthday month indicated for verification. Only for retail stores.
18. $20 Birthday Voucher from Spizza
Membership requirement: Yes - Spizza for Friends
Join the Spizza for Friends membership for free and receive a $20 voucher on your birthday month! 
19. Free Dining | Kingdom Food Group
Membership requirement: Yes - Kingdom Food Membership Program
Kingdom Food manages I'm Kim KBBQ, Captain Kim KBBQ & Hot Pot, I'm Kim KBBQ & Shabu Shabu, and Gorogoro Steamboat & Korean Buffet, as a member you will enjoy FREE dining on your birthday month with minimum 3 other paying pax. 
Valid for Mon-Sun Lunch / Sun-Thu Dinner only.
20. $75 Birthday Voucher | Harry's 
Membership requirement: Yes - Download App
Join the Harry's membershp to receive $75 Birthday vouchers to celebrate for the whole month! Membership is free to sign up and all you have to do is to download Harry's app to enjoy the birthday perks.
21. Surprise Gift from kikki. K

Photo credits kikki.K
Membership requirement: Yes – kikki.K Membership
The best thing about kikki.K, not including their collection of stationaries that ranges from classy to adorable, is that their free membership entails a surprise gift on your birthday among other benefits!
22. $5 Voucher On Birthday Month
Membership requirements: Yes - Don Don Donki Members
Members will receive a $5 voucher on their birthday month redeemable via the Don Don Donki Membership App. Download App and join membership for free.
We are not sure if the promotion is still available. 
23. Free Entry To Wild Wild Wet
Membership requirement: Yes, Wild & Wet Premium Member
Premium members can bring a friend to Wild Wild Wet for free as well as enjoy other perks! This birthday deal is applicable for a single free day pass.
Do you know of any other must-share birthday treats? Let us know in our Community Forum or drop us a msg!