Create more family fun with our list of things to do with kids in Singapore this week!
This week's list includes a massive festival to discover the hidden side of Singapore, a new trending sport facility, activities you can do with UNIQLO, the reopening of a popular water play venue and a chance to have fun + win NDP tickets too! 
Read on to find out more and if you need more ideas - don't forget to check out a compilation of our weekly recommendations (updated weekly with experiences that are still available) or join our Telegram group for the most up-to-date sharing too!
1. Get Tickets To An Experience At My Community Festival 2022
Venue: Various Places
Dates: 5 - 21 Aug 
Admission: Depends on activity
My Community Festival 2022 centres on the theme of 'My Home Sweet Home' and will give festival-goers exclusive access to the private spaces of the many communities in Singapore, including their homes, workplaces, places of worship, and communal spaces.
The anchor programme series this year is "My Home, Truly" which pays tribute to the different types of homes in Singapore. Tour participants will get to meet various groups of people ranging from foreign workers, animal shelter workers and students who will take them into the places where they lay their heads in.
Other interesting programmes include
Find My Fixer - meet with people who work on restoring broken items of sentimental value. This includes workshops with a soft toy "doctor", kintsugi artist or teaware design for ceramics, and even a stained glass rescuer.
My Little Singapore - discover how the expatriate communities recreate pockets of their home to form unofficial enclaves like Little Belgium, Little Philippines and Little Taiwan,
What's For Dinner - go into the homes of 20 Singaporean, ASEAN and international families as they serve up cultural dishes ranging from local fare, regional cuisine.
Welcome To My Island Home - follow ex-islanders as they bring you to 

 six offshore islands and hear the stories of their beloved island communities. 

After House @ My Community - join in on a nightwalk around the spaces including Bukit Brown Cemetery that comes alive at night; and get a behind-the-scenes look at the workings of some bustling hotspots including Mandai Wildlife Reserve and Jurong Fishery Port.
2. Try Skimboarding At The Newly Opened Skim Alley
Venue: Heritage Chalet, 125A Pasir Ris Rd, Singapore 519121
Opening Hours: 10 am to 10 pm (weekends)
Admission: from $28
Skim Alley is Singapore's first and only flatland skimboarding pool facility situated in the quiet and rustic venue in Heritage Chalet along Pasir Ris Beach. Not only is it a trending activity for the adults, it is also great for a day of fun for families too! 
At Skim Alley, families can try skimboarding at their purpose-built flatland skimboarding pool facility. Grab a board (provided) and glide across the surface of water that is just a few centimeters high - you will feel like you are skipping across the surface of water as you try to stay balanced!
3. Celebrate at UNIQO's First UT Fans Festival
Venue: Orchard Central Global Flagship Store
Date: 29 Jul to 7 Aug 2022
Admission: Free
UNIQLO first launched its UT brand in 2003, conceived from the idea that T-shirts could serve as a canvas for art and individual expression. This weekend, drop by UNIQLO Orchard Centre to celebrate the 20th anniversary of UNIQLO's graphic T-shirt brand.
The UT Fan Festival 2022 presents a lineup of news and activities in collaboration with some of Singapore's homegrown collaborators to celebrate UT's spirit of culture and expression, including new UT collections and iconic favourites.
Get your favourite UNIQLO T-shirt or eco tote-bag stencilled with UT-exclusive designs by @tobyato.
Learn how to create unique stencils with @tobyato and customise a UNIQLO eco tote-bag of your own.
Enjoy a quirky caricature portrait, doodled by the good folks at @crudddddy.
4. Head Down To Northpoint City's Water Play Area
Location: Northpoint City (Level 4), 930 Yishun Ave 2 Singapore 769098
Opening Hours:  10.30 am - 9.30 pm daily
Fees: Free

Northpoint City's splash pad might not be the Wild Wild Wet but kids will love the water slides here. There is a splash bucket as well as different types of water sprays and fountains, to keep the kiddies entertained. We recently found out that the playground has reopened (click here for more water playgrounds that have reopened) and will definitely bring lots of joy to the families staying around the mall!
If you stay around the mall, you will also be interested to know that Don Don Donki is opening their 13th outlet at the mall in Q4 2022!
5. Win Tickets To NDP2022 & Have Family Fun @ Singapore Discovery Centre
Venue: HomeTeamNS Khatib, 2 Yishun Walk, S767944
Dates: 6 to 7 Aug 2022, 1pm to 7pm
Admission: Free, fees apply for activities
Dazzle together with Singapore Discovery Centre (SDC) this National Day to celebrate the nation's 57th birthday with a slew of brilliant and colourful activities! Groove to the roof with a silent disco party in The Interchange, a geodesic-domed theatric space within Sandbox, our latest gallery experience. Join in the exciting laser tag tournament action at Black Lake Laser Battlefield, savour the tastes of Singapore, have a blast with fun carnival games and more!
Stand a chance to win NDP 2022 tickets when you take part in the SDC giveaway too!
BONUS: Attend A Concert @ Singapore Botanic Gardens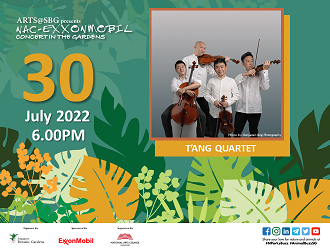 Venue: Singapore Botanic Gardens, Shaw Foundation Symphony Stage
Date: 30 Jul 2022, 6 pm - 7 pm
Admission: Free
Come and celebrate Singapore Botanic Gardens' Heritage Festival with an evening of classical music! Singapore's most celebrated classical string ensemble, the T'ang Quartet, will perform at the Shaw Foundation Symphony Stage featuring familiar classics - excerpts from works of beauty and refinement by great composers such as Mozart, Haydn, Borodin, Brahms, Bizet and more.
This is the first of 2 concerts planned at the Shaw Foundation Symphony Stage over the next 2 weekends!