Happy Lunar New Year - Let's take a look at the various activities and celebrations that you can create family fun at this week! 
Who says Singapore is boring for families? We definitely don't think so - there are lots happening weekly and this week we look at the Istana Open House, a massive cultural event, an exciting glamping opportunity and more!
Had you have a great CNY? Here's to more family fun times in the Year of the Rabbit! 
Need more ideas? This is just a compilation of 5 ideas for the week, for more ideas head over to our weekly updated list of weekly recommendations or join our Telegram group for the most up-to-date sharing too! 
1. Istana Open House - Chinese New Year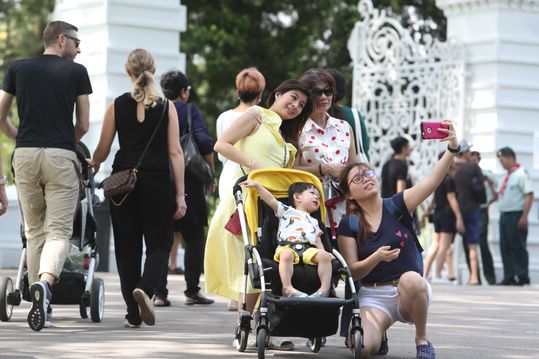 Image Credits: https://www.istana.gov.sg/
Venue: Istana
Date: 23 Jan 2023, 8.30 am - 6 pm
Admission: Free for Singaporeans and PR
The Chinese New Year Istana Open House (IOH) will be held on 23 Jan 2023, 8.30am to 6.00pm. The IOH will be open to all visitors. Families can look forward to new features such as the enhanced Swan Pond with a new viewing deck and garden stream, as well as live performances and activity booths.
There is usually a queue to get into the open house, we suggest packing light and keeping hydrated! 
2. River Hongbao at Gardens by the Bay
Photo Credit: @stanley_chee
Venue: Gardens by the Bay
Dates: 20 - 28 Jan 2023
Admission: Free
River Hongbao 2023 will be back at Gardens by the Bay to celebrate the Chinese New Year Festivities. Come and join the festival's latest mascots, Fu-er and Shou-er to usher in the Year of the Rabbit 兔gether.
Be dazzled by the lantern displays spread across the park, do note that the event is free and no tickets are required, but areas are gated as part of crowd control. You can also expect host of entertainment programmes at the main stage every night where dance and musical performances by Chinese cultural troupes, Getai singers and Mediacorp artistes will be available for all!
3. Glamping at Mandai Wildlife Reserves Parks
Venue: Singapore Zoo or River Wonders
Dates: Till 28 Feb 2023 (on selected days)
Price: From $1,599 per tent (Singapore Zoo), $1,199 per tent (River Wonders)
Wake up to the sounds of the rainforest, get up-close with our animal ambassadors, and so much more as the Mandai Wildlife Reserves offers exclusive glamping experiences for families at its parks.
Connect with wildlife and nature in this 2D1N staycation experience in the heart of Singapore Zoo. Explore the wild and enjoy exclusive, fun-filled wildlife experiences in the day, and wind down in your own luxurious air-conditioned dome tent under the stars.
And at River Wonders, get up-close with the cheeky squirrel monkeys and other special animals. Drift off to sleep with the magnificent manatees in front of you at Amazon Flooded Forest. 
4. Enjoy Free Entry to Sentosa Till 31 March 2023
Photo Credits: National Heritage Board
Extended for the 7th time, families can still enter Sentosa for free until 31 March 2023. You can enter via the Sentosa Express, car or taxi, shuttle services as well as through the Sentosa boardwalk 
However, this seems to be the last extension as admission fees have been announced for entry from 1 April 2023. 
5. Interactive CNY Light Installations at Raffles Place
Venue: Raffles Place Precinct
Date: Till 5 Feb 2023
Head down to Raffles Place for a nice quiet dinner (hopefully with the festive season, no-one is going back to work) and celebrate the festive occasion with a series of brightly-lit installations within the Central Business District. These interactive oriental decorations come alive when you scan the QR code to customise the colour and also make the colours dance to a selected CNY tune! You can find these interactive Instagrammable displays at six locations around the Raffles Place precinct.
Inspired by the designs of Chinese words, chun, 春; fu, 福; and ji, 吉, these installations come together to symbolise new beginnings, blessings and prosperity for all visitors. They are also beautifully lit in red and gold and adorned with cherry blossoms to welcome the Year of the Rabbit – the fourth animal in the Chinese zodiac and said to be the luckiest out of all the twelve animals.