This year's Ramadan will be different as we discover the online and mini bazaars for families to visit!
We might be used to the smells of Ramly Burger, bustling of the crowd and everything associated with a bazaar during the Ramadan period but this year, it will be different, and it doesn't mean we cannot enjoy! Here's a list of offline and online Ramadan Bazaars! 
Paradiso by Hao
Date: Until 12th May 2021
Time: 12PM-11PM, Daily
Venue: The Grandstand, 200 Turf Club Road, #02-06/14, Singapore 287994 
Paradiso by HAO is perhaps the largest Ramadan event you will find! With over 20 food and retail stores to expect at The Grandstand. Expect lots of food from kebabs to Rambly burgers and after all that shopping, head over the retail section for more  shopping, tie-dye clothes, IKEA-print bags and mask-head scarf sets.
ERAT: A Ramadan Open House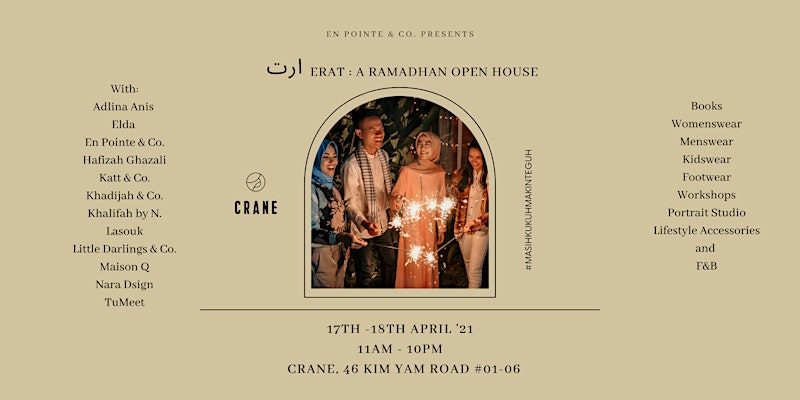 Date: 17 - 18 Apr 2021
Time: 11am - 10pm
Venue: Crane, 46 Kim Yam Road 01-06 Herencia, Singapore, 239351
*The event is fully registered, you may still try to register online. 
Join local fashion brands and food vendors as we welcome the holy month of Ramadan and prepare early for Raya with clothing for the whole family, Raya themed accessories and even footwear available for purchase.
Kampung Glam
Date: Until 12th May 2021
Time: 7 pm - 12 am, Daily
Venue: Kampong Glam – Arab Street, North Bridge Road, Baghdad Street, Kandahar Street and Bussorah Street
Kampong Glam precinct is where many flock to during Ramadan for the Sultan Bazaar. The bazaar will not be happening this year, but there will still be the daily festive light show for families to visit! 
From 7pm each day, the roads in the area, including Arab Street and North Bridge Road, will be illuminated with vibrant lights from now till the end of Ramadan. You will also expected an animated light show on the Sultan Mosque for the instagrammable images!
Other activities happening include tours, live shows and workshops such as printmaking ($30) and tapestry weaving ($45). Find the latest activities available on Visit Kampong Gelam's Facebook page.
Geylang Serai
Date: Until 12th May 2021
Venue (decorative lights): 1 Geylang Serai, Singapore 402001
The annual Geylang Serai Ramadan Bazaar is still happening this year, but will be an online event (Bazaar Kita). The new situation brings about a new experience, and you will still find everything you need to celebrate the festive season with the family. Be prepared to have freshly prepared meals brought straight to your doorstep, or catch livestreams of Ramadan performances and charity drives from home too! You can expect online workout sessions, cooking workshops, health talks and more! 
If you know other Hari Raya Bazaars happening, please let us know in the comments or join us on our socials too!