Swimming is not just a popular sport but also an essential skill! Here's a list of kids-friendly swim schools in Singapore for the kids! 
Help your child develop water confidence and learn how to swim with these kids-friendly swim schools in Singapore! Swimming is not just a necessary skill to learn, it will definitely make play time in the pool safer and more fun too - in case you are keen, you can also read more about the swimming certifications in Singapore too.
So without further ado, let's take a look at our guide to some of the swim schools in Singapore to start your child's swimming lessons!
1. Able Aquatic School 
Website: https://swim.com.sg/
Contact: +65 88082083
Being the longest running swim school in Singapore, Able Aquatic School's team of coaches are very experienced and even developed their own set of swim training program. According to their website, all of their swimming instructors are certified by Sport Singapore, AUSTswim, STA and are qualified to teach the SwimSafer programme, lifesaving programme or Singapore Swimming Proficiency Awards .
Swimming lessons are held in most swimming complexes and condominium pools around Singapore.
2. APS Swim School
Website: https://www.apsswim.com/
Contact: +65 6777 5823
APS Swim School was founded by the OG Singaporean swimmer Ang Peng Siong with programmes covering basic swimming lessons, synchronised swimming classes, as well as competitive swim training too. 
Lessons are currently conducted at ACS(I) and ACJC at $150 per month. 
3. aquaDucks
Website: https://www.aquaducks.com.sg/
Contact: https://www.aquaducks.com.sg/contact-us/
Founded in 1989, aquaDucks offers swimming lessons across multiple locations in Singapore. The aquaDucks programme is a smart blend between the best American, European and Australian teaching techniques and further streamlined to the specific weather conditions and needs in Singapore. 
The programme consists of 18 different levels and is divided into three parts: Babies & Toddlers, Preschool and Learn to Swim.
Lessons are taught at multiple locations across the island - at Dempsey, Kent Ridge, Newton, Queenstown and Turf City. The pools are heated, covered and salt chlorinated, and lessons start from $171.20 per month.  aquaDucks also conduct lessons at two country clubs; Hollandse Club and Swiss Club.
4. Bubs & Tots Swim School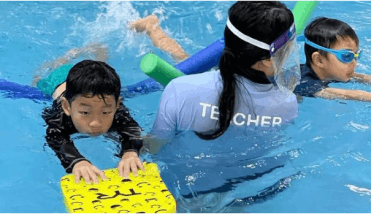 Website: https://mantaplay.com/bubs_tots
Contact:
+65

8518 3202

(HorseCity)

+65

8

010 3000 (SAFRA Punggol)
If you're looking for the perfect place to introduce your little one to swimming, Bubs & Tots Swim School is it!
Our Swim Australia™-trained coaches are certified in Early Childhood Education, Life-Saving, First Aid, and are lauded as some of Singapore's best in kids' aquatic education and water safety.
Classes are available for learners of all ages from 5-months old, up to 6 years old, conducted in our indoor-heated pool. Class slots are divided into appropriate age groups to ensure progression and are available on a first-come-first-serve basis.
Get started now with our Free Trial (worth $50) 
5. Elite Coach Swim Academy
Website: https://elitecoach.com.sg/swimming-lesson-singapore
Contact: https://elitecoach.com.sg/contact
Elite Coach Swim Academy uses the SwimtoFly technique to teach how to swim with confidence in the water, and how to become water safe regardless of the swimming capability of the student. According to their website, the SwimtoFly technique is a proven method using the concept of flying in the water and guarantee step by step results from the first lesson. 
They focus on private lessons and classes are available for little ones from 2 years old at various locations, including Novena, Orchard, Newton, Farrer Road, River Valley, Sentosa & Bukit Timah or at your private pool. Prices start from $55 for 30mins. 
6. FINS Swim School
Website: https://www.safra.sg/fins
Contact: Check website for details
FINS Swim School is a popular swimming school operating at various SAFRA Clubhouses. The school was first established at SAFRA Toa Payoh, and has since expanded to include SAFRA Mount Faber, SAFRA Yishun and SAFRA Jurong. Do note that FINS Swim School is exclusive to SAFRA members, HomeTeam and NSRCC members.
7. Friendly Dolphin Swim School
Website: https://swimclasses.com.sg/
Contact: +65 87483645
With a team of more than 320 expert certified swimming coaches, Friendly Dolphin Swim School provide swimming lessons for all ages and levels, both private and public classes. Classes starts from 1 years old and is conducted across multiple swimming complexes in Singapore. 
8. Happy Fish Swim School
Website: https://happyfish.sg
Contact: +65 6589 8650 (Whatsapp)
This popular swim school offers classes at heated pools at various venues, including premium HOME branches at Bedok and Stevens. Happy Fish offers classes for babies from 4 months old all the way to adults. The price ranges across age and you may check here for the latest pricing. 
9. Isplash Swim School
Website: https://swimminglessonscoach.com/
Contact: +65 8869 0089 (Whatsapp)
Isplash Swim School offers swimming lesson at multiple locations including Isplash @ The Chevrons (Jurong East), ActiveSG Jurong West, ActiveSG Jurong Lake Gardens, ActiveSG Bukit Batok, and ActiveSG Choa Chu Kang Swimming Complex as well as in private pools at your convenience. 
All Isplash Swim School's in-house instructors are certified by National Registry of Coach(NROC), AUSTSWIM and/or Singapore Swimming Teachers' Association(SSTA) and registered with the Ministry of Education to conduct the SwimSafer Programme. Lessons start from $90 for a month and ranges according to venue and age of kids. 
10. Little Fishes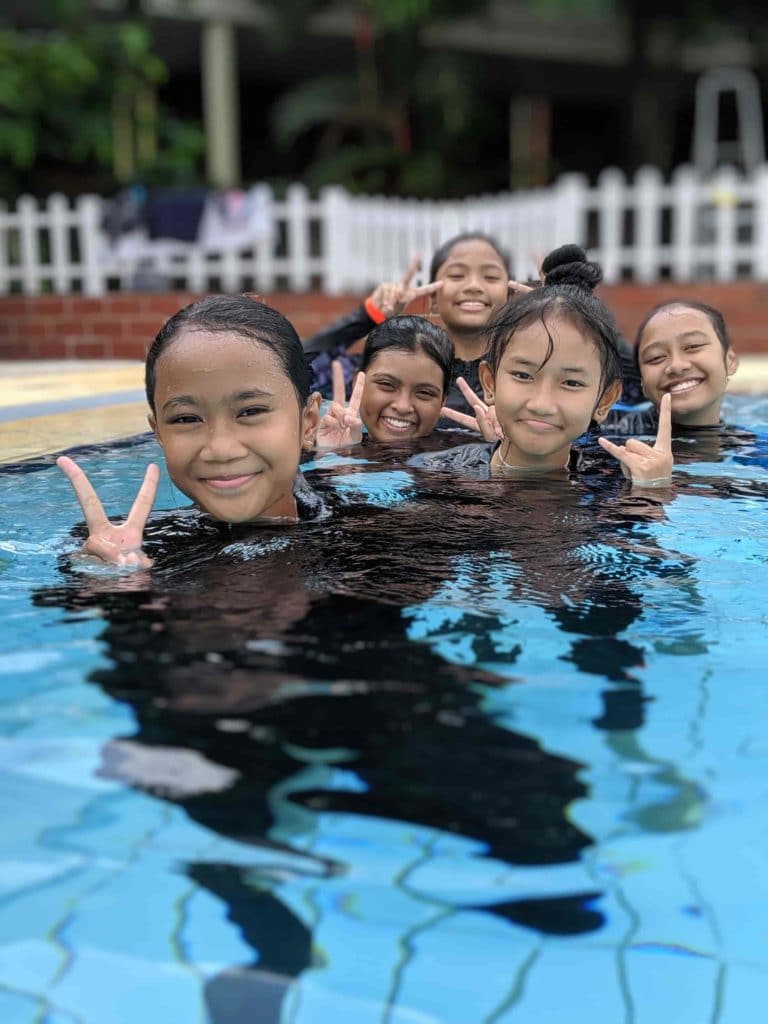 Website: https://swimlessons.sg/
Contact: +65 9643 6331 
Are you searching for baby swimming lessons? Are you interested in teaching your child basic water safety skills or swim safety?  Little Fishes has a suitable swimming lesson for you with classes conducted at various swimming complex. with experienced swimming teachers.
Classes start from $320 for babies to $120 for kids per month. 
11. Little Splashes Swim School
Website: https://www.littlesplashes.com.sg/
Contact: +65 6636 0016
Little Splashes' indoor heated swimming pools are ideal for baby, toddler and children swimming lessons - and are chlorine-free! Their child-centred curriculum has been carefully put together to ensure holistic learning, maximum participation time, constant engagement and social interaction. They also incorporate play and songs into each water activity and every routine practice of a targeted skill. 
They have pools located at Balestier, Yio Chu Kang, King Albert Park, Jalan Selaseh, and Siglap.
12. Little Swim School (Closed) 
Website: https://www.littleswimschool.com/
Contact: +65 6747 5232
With an indoor, temperature controlled saltwater chlorinated swimming pool as its flagship venue, Little Swim School specialises in baby and toddler swimming lessons, as well as learn to swim programmes for kids and children swimming lessons. 
Apart from their own pool at Westway, Little Swim School also conducts swimming classes at Queenstown and Yio Chu Kang public swimming complexes on weekends.
13. Marsden Swim School
Website: http://www.marsdenswimschool.com/
Contact: +65 6909 1436
Marsden Swim School is an internationally recognized swimming school (Gold Standard AUSTSWIM) with over 20 years experience in Singapore. The school offers classes for little ones from 4 months old through to adults. Lessons are conducted at it's flagship covered and temperature controlled pool at The Grandstand as well as pools at the German European School (also temperature controlled), Toa Payoh Swimming Complex and Queenstown Swimming Complex. 
14. Pacific Swim Team
Website: https://www.pacificswimteam.com.sg/
Contact: +65 9856 8280
Pacific Swim Team conduct classes for kids as young as 3 up to adults. Classes are conducted in a fun and supportive environment and they are the only known swim school that employs additional lifeguards during lessons too. Classes are conducted at Tampines Hub and condos around Tampines. 
Students can choose to go the competitive route and join competitions such as the Singapore National Age Group Championships and achieving certifications recognised by SportsSG such as the SwimSafer Program, National School Program, Singapore Lifesaving Society and Singapore Swimming Association.
15. Red Dot Penguins Swim School
Website: https://www.reddotpenguins.com/
Contact: +65 9227 4114
Red Dot Penguins Swim School offers parent and child classes for babies from 6 months old to 2 years old as well as lessons for older kids too. They also conduct a Social Swim Club that is a combination of land and swim training to maintain and improve fitness. Participants of this programme will enjoy a fun environment to socialise, work out, and occasionally take part in fun swim meets.
16. Singapore Swimming Academy
Website: https://singaporeswimming.com/
Contact: https://app.singaporeswimming.com/swimming-lessons-registration/?utm_medium=SingaporeSwimming.com+Footer
Singapore Swimming Academy cater to all public and private pools, bringing classes to every corner of the island. They conduct classes at over 22 swimming complexes and provide private lessons at any condominium. They conduct SwimSafer certifications that is recognised by all MOE schools. Lessons start from $100 a month. 
15. Singapore Swim School
Website: https://www.singaporeswimschool.com/
Contact: +65 9725 0568
Located at Woodlands, Singapore Swim School is one of Singapore's most reputable swimming schools with over 20 years of experience, conducting swimming lessons at beginner, intermediate, advanced and competitive levels.
Swimming lessons for kids are catered to children aged between 4 to 13 years where they are taught the basic aquatic skills: water confidence, water adjustment, water entry/ exit, blowing bubbles, prone floating, gliding and water safety mastery before progressing to the stroke development phase of their learning curves.
17.State Swim
Website: https://www.stateswim.com.sg/
Contact: +65 8123 0103
Did you know that there is a pool at Suntec? State Swim, an Australian swimming school, offers classes for all ages from 6 months old at the location. Classes are small with hands-on coaches that are always in the pool with their students! 
18. SwimRay
Website: https://privateswimminglesson.sg/
Contact: +65 9660 1991
SwimRay is founded by Ray Kua, a former naval diver and Jay Lin, a former competitive swimmer. They offer the first-of-its-kind pedagogy combining survival swimming techniques and competitive swimming skills, to equip students of all ages with effective swimming skills in both pools and open water.
To help value-add the learning experience and build confidence amongst swimmers in open water, SwimRay incorporates accident survival swimming skills to equip children with drownproofing, limb immobility swimming, and shock entry skills. 
19. Swish! Swim School
Website: https://www.swishswimming.com/
Contact: +65 9832 2522
Swish! Swim School is set amongst the lush gardens of Dempsey Hill in Singapore. They have both temperature-controlled indoor and outdoor saltwater chlorinated pools that cater for babies through to pre-squad level! 
They even offer private parties packages with full use of the entire facilities; from the indoor pool to the heated shower facilities on Friday afternons. 
20. Swim Schooling
Website: https://www.swimschooling.com/
Contact: +65 9650 2674
If the name sounds familiar, that's because Swim Schooling is the brainchild of Joseph Schooling. Starting with classes from 2 July 2018 at Our Tampines Hub, the learn-to-swim programme runs a unique 8-stage progressive programme that teaches children aged 3 to 11 years old skills from water confidence, lifesaving to champion's technique for competitive swimming.
21. Swimmingly
Website: https://www.swimmingly.sg/home
Contact: +65 8268 5776
Swimmingly's lessons are structured after Singapore's Swimsafer Syllabus, and incorporate elements of fun tailored to each individual to make sure every lesson is unique and enjoyable for everyone. Coaches are also professionally certified by renowned organisations such as AUSTSWIM, SSI & STA. 
22. The Swim Lab
Website: https://www.theswimlab.com/
Contact: https://www.theswimlab.com/contact
The Swim Lab's swimming lessons are divided into three levels – Toddler (3-4 years old), Beginner (5 years old and up) and Intermediate (6 years old and up). Lessons are conducted at Sports Lifestyle Centre, Hwa Chong Institution and Centre for Movement, NTU@One-North. 
23. The Aquatics Swim School
Website: https://theaquaticsswim.com.sg/
Contact: +65 8892 1192
The Aquatics Swim School offers lessons from as young as 3 years old at Condominiums. The school has been in the swimming industry for more than 10 years and lessons are specially designed and constantly updated to provide more efficient step-by-step progressive learning methods.
24. WESports
Website: https://wesports.sg/swimming/
Contact: +65 9129 9772
WESports offers swim classes for kids wherever is most convenient - this includes at private pools or a public pool closest to you. 1-on-1 lessons are available and can be arranged at your convenience. 
There's our list of swim schools available around the island. If there is a school that was missed (and you really love to recommend them), do drop us a note and we will look into it too!
25. Swim Sentosa
Website: https://www.swimsentosa.com.sg/
Contact: +65 8262 1919
Sentosa Swim Coaching (Swim Sentosa) focuses on delivering quality swim lessons to the residents of the Sentosa Cove enclave, from babies to children and adults!
From parents looking for their babies to be confident and safer around the pool environment, all the way to adults looking to improve their stroke efficiency, Swim Sentosa can help you.
26. Ace Dolphin Swim School
Website: https://www.acedolphin.com/
Contact: +65 91055244 (call/Whatsapp), admin@acedolphin.com
Ace Dolphin Swim School have been turning splashes into smiles since 2008! Our popular classes, led by experienced coaches certified in NROC, Swimsafer, and the Tatsuki (TJAP) methodology, ensure your child benefits from our fun and engaging swimming lessons. With a progressive curriculum and over 6000+ proud graduates, join our community where children "Blaze through Water, Glide like Dolphin". View our availability on LessonPlan and get instant confirmation!
 *Photo Credits: Photos used are from the individual schools. Cover image, Red Dot Penguins Swim School, Little Swim School.