Originally from the Downtown Disney District at Disneyland Resort in Anaheim, California, Pop-Up Disney! A Mickey Celebration makes its way to Asia for the first time ever!
*Updated (19 Nov 2021): Event photos + experience
Venue: Suntec Convention Centre, Level 3, Suntec City Tower 1, Raffles Boulevard, Singapore 039593
Dates: 19 Nov 2021 - 20 Mar 2022, 11 am - 9 pm (Daily)
Admission: $26 (Adult), $21 (Child)
Pop-Up Disney! A Mickey Celebration is a tribute to Mickey Mouse, the icon that has delighted the hearts of everyone across the decades. Come join Mickey in a visually stunning and whimsically immersive experience, where art and selfies come together to make magical memories for everyone!
This magical exhibition celebrates the Mouse that started it all and it is the first-ever international showing outside the United States!
7 Experience Rooms!
Step inside seven different imaginatively themed experiences (over 1,350 sqm) inspired by the one and only, Mickey Mouse. Whether you're cosying up in the "Mickey and Minnie's Love" room or getting lost in an infinity of Mickey ear hats in the "Forever Mickey" room, every moment at Pop-Up Disney! A Mickey Celebration is one worth capturing.
Our Experience 
We have a better understanding of the exhibition after our visit. This is a must-go for the Mickey Mouse fans with lots of photo opportunities and celebrating everything about Mickey! For those who are lesser fans, it is still a worthwhile experience, especially if you are bringing the little ones to have lots of photos taken.
You will be taken on a visit from room to room, each with a different theme. In each room, there are plenty of photo opportunities, even the staff are eager to offer to help you with your photos too! 
Note that you will not be allowed to backtrack, so remember to take ALL the photos that you want before moving on! Let's take a look at each room! 
Mickey & Minnie's Love
The perfect spot to celebrate the cutest couple ever, Mickey Mouse and Minnie Mouse! 
It All Started With A Mouse
Go back in time and step into the pages of Mickey's classic comics! This is a black and white room with opportunities to have your photo taken with classic Mickey! 
Mickey's Friendships
A whimsical gallery created by Minnie, Donald, Goofy and more, inspired by none other than Mickey! You will find different artworks and sculptures done by the other characters of Mickey!
Sorcerer Mickey's Magic
Welcome to a place of fantasy and magic, where your imagination can soar to new heights. It is one of the most magical spots with photos opportunities like no other!
Forever Mickey
Enjoy a futuristic look at Mickey, now and forever. 
Singapore Only Experiences
In commemoration of the exhibition's international premiere, Pop-Up Disney! A Mickey Celebration will unveil several new features available only in Singapore
Pop-Up Disney! Trivia
While making their way through the exhibition, visitors can put their knowledge to the test in a QR-code activated Pop-Up Disney! Trivia, where players who score at least three correct answers stand to win a gift.
Mickey Loves Singapore: Dreamland Carnival room
Dreamed up by homegrown artist WhenIWasFour, visitors will be transported into a whimsical world of play inspired by all things Singapore. From traditional snacks and delicacies, to well-loved childhood games, iconic landmarks and more, get ready to be whisked away on a nostalgic adventure with Mickey and Friends.
Mickey At Disneyland room
The debut of this Disneyland-inspired room has something for everyone. Visitors can receive a hug from their favourite Disney pals, delight in enormous Mickey-shaped treats straight from Hong Kong Disneyland, such as the Mickey Bubble Egg Puff, and dance among giant magical bubbles. Don't forget to make a wish as you picture yourself at the top of the magnificent Castle of Magical Dreams!
Experiential Retail Store: Mickey Mart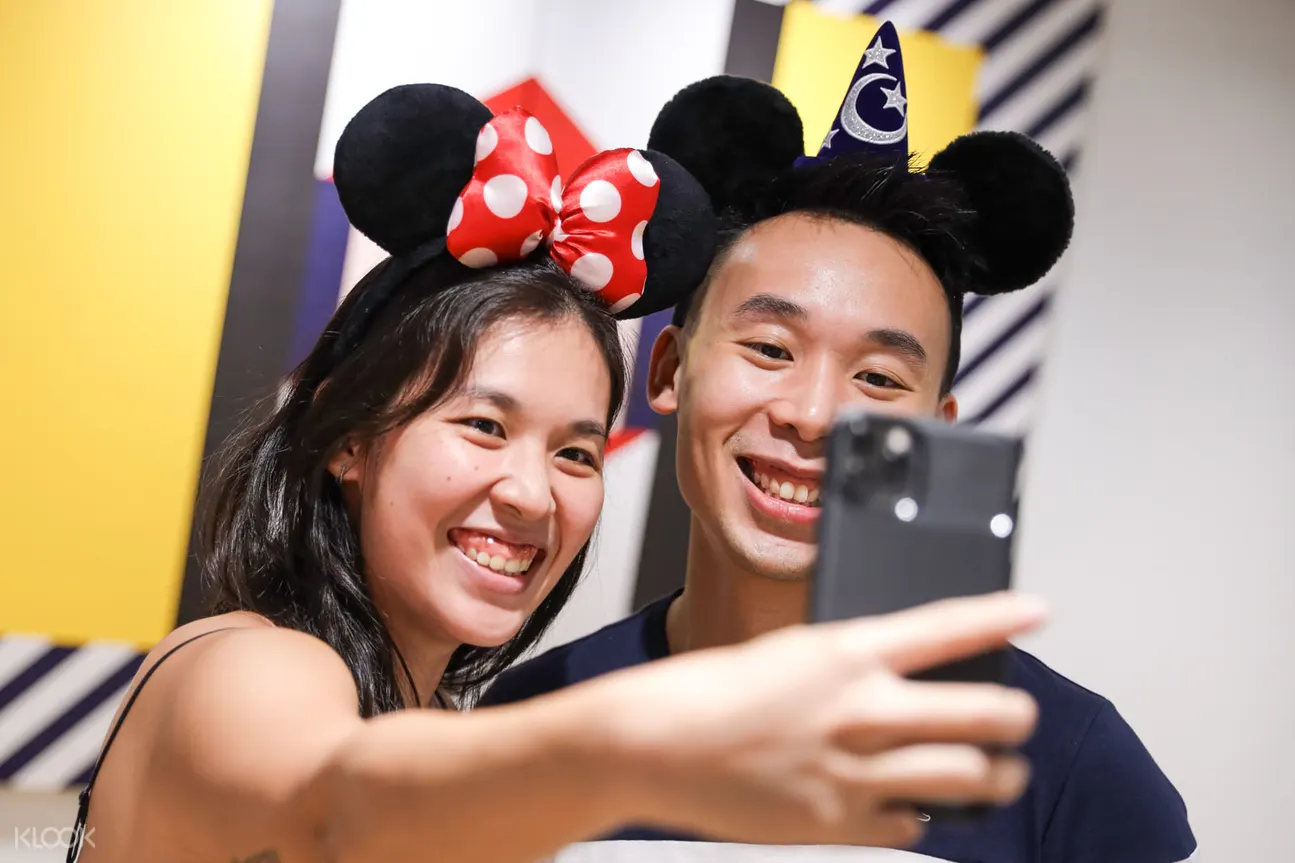 A dedicated retail space with a wide selection of exclusive Singapore-only Mickey merchandise that draws inspiration from the city's historical, cultural and architectural gems! You will also find the Klook Exclusive, Disney's Sorcerer Mickey or Minnie Mouse Ear Headbands!
Mickey Mart is a non-ticketed area, welcoming shoppers anytime during the exhibition opening hours.
Ticketing Details
Tickets are exclusive available on Klook. You will need to purchase a specific date and time for your visit. From what we checked, tickets are available from 19 Nov 2021 to 20 Mar 2022, from 11 am till 9 pm in 10 mins intervals. 
Adult: $26
Child (3 - 12 years): $21
Infant below 3 years: Free
Ticket + 

Sorcerer Mickey or Minnie Mouse Ear Headbands: $35 (no difference for adult or child)
Get your tickets on Klook.
Venue
The exhibition is happening at the Suntec Convention Centre at L3. 
We will be sharing more details as we get them, but what do you think of our guesses of what to expect? Tell us in the forum below!