Here's a list of virtual and on-site summer kids camps to keep the kids entertained throughout the summer holidays! 
From sports to languages, there's still lots to do for kids this summer in Singapore. Read on to find out the various activities that kids can have fun at this holiday! 
SWAGA Gym - Fitness Camp
Photo Credits: Swaga Gym
SWAGA Gym is located at Grandstand and brings together multiple disciplines in a single sports center. This summer, they are offering camps for Gymnastics, Parkour and Kindergym. Camps are available for one day booking or 5-day blocks, and are suitable for kids from 4 to 18 yrs old!
*Note that spaces are limited due to the Phase 2 HA measures. 
Ages: 4 to 18 Years
Dates: 31 May – 13 August 2021
Location: 200 Turf Club Road, 02-14, Singapore, 287994
Prices: $65 – $290
Upwall Climbing - Climbing Workshops
Located at Downtown East, Upwall Climbing is the newest wall climbing facility in the east! They conduct daily instructor-guided rock climbing session to introduce kids to the sport of rock climbing! These sessions are also aptly named, What's Up?! 
Ages: 3 Years and Above
Dates: Ongoing
Location: 1 Pasir Ris Close #01-105, Singapore 519599
Prices: $30
British Council - English Camp
The British Council's Summer 2021 Online Study Camps are intensive holiday programmes aimed at Early Years, Primary and Secondary students aged 4 to 15 years old who wish to develop their English within a safe, fun and supportive environment. Students study a different topic each week, using a unique approach of hands-on experiential learning to ignite interest and improve not only their English skills but their knowledge and awareness of the world around them.
Ages: 4 - 15 Years
Dates: 2 - 27 Aug (Weekly)
Location: Online
Prices: From $552 per week
Our Art Studio - Art Camp
Our Art Studio (OAS) was founded in 2017 for the purpose of forwarding the Arts and Arts education in Singapore. Available throughout the year on weekdays, the art camps at OAS includes hands on activities like snow globe making, clay making, tote bag painting and more! Available in 1 to 5 day options with 3 day advance booking.
Ages: 4 Years and Above
Dates: Ongoing
Location: 10 Paya Lebar Rd, PLQ Mall #04-20, Singapore 409057
Prices: From $120 per day
Fawn Labs - Bath Bomb Workshop
Fawn Labs (a subsidiary of Fawn & Co.) researches and develops wellness products with a focus on Clean Beauty. The Clean Days workshops are conducted by Fawn Labs certified Formulator (Dip. Organic Skincare Formulations, U.K) where participants will master the art of creating their own bath bombs and body wash. This is available as a virtual Live session (min. 8 participants) or as a pre-recorded session for individuals. 
Ages: Kids to Adults
Dates: Ongoing
Location: Online
Prices: From $68 per participant (includes all materials and delivery of materials)
Booking: Live Session | Pre-recorded Session
ARThaus - Art Camp
Focusing on Fine Art based programs, drawing and painting, ARThaus holiday camps are tailored and come in 5, 3 or 1 day options. Camps cover various mediums and are suitable for kids from 5 yrs old. 
Ages: 4 Years and Above
Dates: Local and International School Holidays (Jun - Aug, Oct - Jan)
Location: 901A Bukit Timah Road, Singapore 589619
Prices: From $70 per day
Impressions Art Studio - Art Workshop
Impression Art Studio is running half-day art workshop with themes like Carribean Treasureland, Mythical Underseas, Ultimate World of Fantasy, Irresistibly Cute Pets, and World of Magic and Glitz! Kids (and parents) will be spoilt for choice! Children attending the camp at Horse City will be treated to a pony ride and a special tour to the horse stables, while those attending the camp at Waka Waka will enjoy an hour's play at the super fun safari-themed indoor playground with its obstacle ropes course, themed climbing walls, and even a gravity-defying "Leap of Faith"!
*If you are keen to visit Waka Waka without the art camp, do check out our ticketing promotions at Waka Waka too!
Ages: 4 Years and Above
Dates: Till 27 Aug 2021
Location: Horsecity or Waka Waka
Prices: From $490
Happy Hands Can - Online Floral Resin Art Workshop
Create your own wearable floral resin art through the use of pressed-dried flowers, UV Resin, colour pigments and in the comfort and safety of your own home! The workshop is suitable for 7 yrs and above or 4 - 6 with parental guidance. It will include a quick introduction to the materials followed by a step-by-step live demonstration, where participants can follow along to create their own floral resin art.
Ages: 7 Years and Above (4 - 6 with parental guidance)
Dates: Scheduled Dates in Aug
Location: Online
Prices: $50 per kit
MuzArt Sengkang / Jurong West - Resin Art Workshop
Ever wanted to make your own pendant, earrings, keychain, or hair tie? In this resin project workshop, you will not only be creating these accessories, you will also learn to add a beautiful shine and protection using resin.
*Enjoy 50% Off when purchased on bykido.com
Ages: 6 Years and Above 
Dates: Ongoing
Location: Jurong West ActiveSG Sports Centre #02-01/02/03/04, Singapore 648965 and Sengkang Sports Centre Level 1 Singapore 544964
Prices: $25 per pax
Little Earth Education - Rubik's Cube Workshop
Let your kids beat the heat with this fun-filled cube workshop organised by Little Earth Education where they will master the art of solving the Rubik's cube and Pyramid. This 2-hr workshop is available both online and at their location in Tampines. You may choose to take up the 3-day workshop to complete the cube or simply join for 1 session to pick up the basics!
Ages: 7 Years and Above
Dates: Ongoing
Location: Online or 300 Tampines Ave 5, #05-06, NTUC Income @ Tampines Junction, Singapore 529653
Prices: From $70 per day
The Green Capsule - Terrarium Workshop
The Green Capsule's terrarium workshops are suitable for kids as young as 3 yrs old (with parental guidance). Here's an opportunity to learn about the skill of terrarium making with the guidance of an instructor. Let your little ones explore their crafty side and create their own story jars. This 1hr workshop also inculcates plant care and responsibility.
Ages: 3 Years and Above
Dates: Ongoing
Location: Funan (107 North Bridge Road, #04-11, Singapore 179105) or Great World City (1 Kim Seng Promenade, #02-143, Singapore 237994)
Prices: From $15 per workshop
Singafit - MultiSports Camp
Singafit conducts unique sports at it's 5-day multi-sports camps, including Kinball, Tchoukball, Capoeira, Archery Tag, Laser Tag, Circus and Dance sessions. Available at multiple venues with half-day and full-day options, these camps are flexible to meet your needs! 
Ages: 3 - 13 Years 
Dates: 16 - 27 Aug 2021
Location: Bishan Park and Serangoon Park
Prices: From $240
Cosmo United Football Club - Football Camp 
Do you want your little football stars to learn soccer from professional coaches and experienced players? CUFA's action-packed holiday camps are great for kids aged four to thirteen years old. They'll learn the meaning of teamwork while having fun, making friends and getting busy with problem-solving skills.
Ages: 4 - 13 Years 
Dates: 2 - 13 Aug 2021
Location: Rainforest Sport Hub, Singapore
Prices: From $340
Knightsbridge House Academy - Sports Camp
Knightsbridge House Academy, is a new professional one-stop Sports and Enrichment Centre, is centrally located at Phoenix Park, in the heart of Tanglin Road. Choose from multiple sports, including Football, Rugby, Basketball and Dragonboating this Summer! Camps are organised at both Phoenix Park and Sentosa! 
Ages: 5 - 16 Years 
Dates: Till 27 Aug 2021
Location: Tanglin Road Phoenix Park, and Sentosa
Prices: From $90 per day
Play Tennis - Tennis Camp
Play Tennis Summer Camps make tennis easy to learn and fun for all kids. During the school holidays, we conduct indoor kids camp where children from all backgrounds and abilities can learn how to play tennis and grow to love the game. Camps run for 3 days from Mon to Wed. 
Ages: 4 - 9 Years 
Dates: 6 - 8 Sep 2021
Location: Red Quarters, 26 Jln Benaan Kapal, S(399629)
Prices: $240
Genius R Us - Baking Workshops
Genius R Us is an enrichment centre that offers children a unique learning experiences through a series of baking workshops. Workshops are 2 - 3 hrs with a different theme each week, including favourites such as Over the Rainbow Cupcakes, Bucket of Candies Cake, and more! Workshops are available as Child Only or as a Parent/Child activity.
Ages: 5 - 12 Years 
Dates: Ongoing
Location: HomeTeamNS Khatib or HomeTeamNS JOM-Balestier
Prices: From $35
Booking: Child Only | Parent & Child
Samurai Skill - Scratch Coding Workshops
Skill Samurai Singapore is an Artificial Intelligence, Coding and Robotics school for kids to young adults, helping them develop 21st century skill sets such as real world problem solving, creativity and analytical thinking. They conduct weekly online Scratch lessons for kids and this is available as a 4 lesson beginners package, which great for an introduction during the holidays! 
*Signup via BYKidO to enjoy 1 Free Lesson. 
Ages: 6 - 18 Years 
Dates: Ongoing
Location: Online 
Prices: $150 for 4 Lessons (U.P. $190)
Saturday Kids - Coding Camps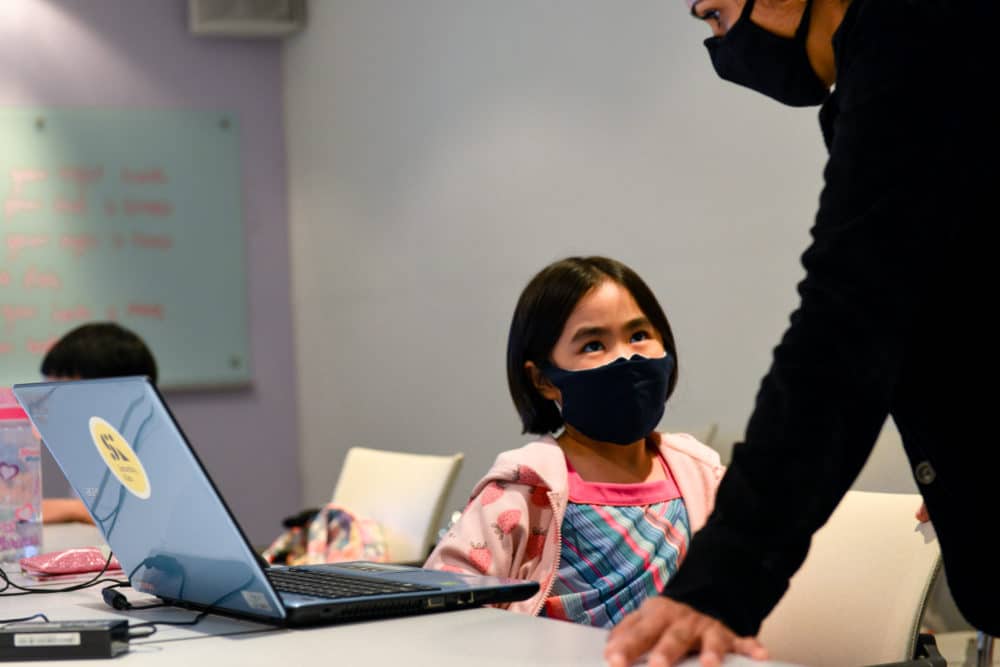 At Saturday Kids, our mission doesn't stop at teaching kids to code; we're here to inspire them to create a better future. And that starts with play, because that's the best way kids learn the skills – hard and soft – that really matter. Rdiscover what it means to play, with code and technology as our medium. 
Ages: 5 - 14 Years 
Dates: Till 20 Aug 2021
Location: Online or Bukit Timah Plaza
Prices: $590
Maker.Sg - Maker Camps
Join the Harry Potter or Hands & Brain Camp by Maker.Sg and kids will learn about Robotics, Coding, Lego EV3, Lego WeDo, Circuit Modelling, 3D Modelling, Engineering, Basic Programming, and Making. The workshops will involve hands-on activities using many tools, such as 3D pens, Chibitronics, Makey Makey, Squishy Circuit, 3D puzzles, Quibits and others
Ages: 5 - 13 Years 
Dates: Till 1 Nov 2021
Location: River Valley Road, Bukit Timah Road & Thompson Road
Prices: From $80 per day
Young Nautilus - Nature Walk Programmes
Explore the coastal backyards in Singapore and take a closer look at the amazing animals! Get your children exposed to science and nature with guides to bring you along these unbeaten paths! Some programmes are suitable for kids from 2 yrs old, or head to a more challenging walk for older kids! 
Ages: From 2 Years 
Dates: Ongoing
Location: Various
Prices: From $36 per pax
The Mindful Camp
The 5-day Mindful camp is a mix of mindfulness practices, social-emotional skills, nature exploration, creative, physical & experiential activities, and heaps of fun! Designed for primary-school-age children (ages 6 to 12), the camp emphasizes social-emotional skills and secular mindfulness practices
Ages: 6 - 12 Years
Dates: 23 - 27 Aug 2021
Location: 100 Turf City Road, and 36 Swiss Club Road
Prices: From $680 per pax