Father's Day is happening on 18 June 2023! If you have been wrecking your brains for a gift idea - here's what we have prepared for you!
Last updated: 15 Jun 2023
You probably already know that Father's Day is coming up. But if the thought of getting your father or the father of your child a gift has your head in a whirl, don't worry, we've done the scouring for you.
Here's our pick of some of the best gift ideas along with some pretty savvy promotions that you can make use of!
1. Send a Beer & Flowers from Lovely Hua!

Source: Lovely Hua Shop
Shop here: Lovely Hua Shop
Price range: $28 - $89

No man (or woman) ever said flowers can only be gifted to ladies. Bright and blooming flowers can make anyone's day brighter. If you're not too sure about the flowers, opt for a different kind of bouquet – Yakult, snacks or go all out with raw vegetables. The Beer Bouquet which has a beer can sitting amidst the flowers is a great choice as well if dad loves to chill out with a cold one. 
2. Make Him Work For His Drink With A Premium HomeBrewer Starter Kit

Source: HomeBrew
Shop here: HomeBrew
Price range: $180 - $185
If your dad loves to unwind with a chilled beer, here's one to consider. HomeBrew offers a series of starter kits, which comes complete with all the tools, brewing instructions, recipe chart, and videos on how to use the kit. You can let your dad try their hands at making their first batch of homebrew beer with these kits, it'll make for a novel experience! 
3. Sign-up For Free Bottomless Beer + Meal (On His Birthday)
Where: Brotzeit
Price range: Free
Sign your dad up for the Brotzeit's membership to enjoy free free-flow beer when dining at any Brotzeit outlets on his birthday. It might not be a Father's Day gift, but at least he has something to look forward to! The promotion is valid for at least 4 pax to dine - so make it an extra family birthday celebration together! 
Here's a list of birthday promotions to consider too!
4. Gift A Unique Cocktail Concoctions

Source: LUMO
Shop here: Bars with Cocktail & Spirit Delivery
Price range: $25 - $$160+
Here's another idea for fathers who love to kick back with an alcohol concoction. You can find plenty of establishments offering a wide range of cocktails and spirits for delivery as well as takeaway in Singapore. Take your pick from unique creations like The Kamasutra, consisting of Kamasutra potion, caramelized pomegranate, and garlic wine, Butterfly Pea Gin, Old Fashioned, Tak Qiu, concocted with Milo Bourbon, stabilized simply syrup and Angostura Bitters, and much more!
5. For The Non-Alcoholic Spirits

Source: Lyre's
Shop here: Lyre's
Price range: $59++
Not too big on alcohol? Here's an alternative that is not too far off. Lyre's presents the finest range of non-alcoholic classic spirits, from absinthe and bourbon to gin and rum, without compromising on the taste. It makes for an ideal gift for dads worried about their alcohol intake as well as dads who do not favour alcohol. If you are not sure, which to go for, we hear The American Malt, a non-alcoholic bourbon, is a crowd-favourite. Each bottle of 500 ml spirit is priced at $59.
Shipping is free for orders above $65 and a flat rate of $6 applies for orders below $65.
6. Furoshiki-wrapped Chocolate Gifts

Source: Hello Chocolate
Shop here: Hello Chocolate
Price range: $17++
What's the best gift for your father who loves popping chocolates into his mouth? It has to be chocolate. Hello Chocolate has a collection of Father's Day gift sets featuring chocolate from around the world. From the 'Chocolate Gift Creator', which allows you to pick and choose the chocolate to go into the gift, to the 'For The Best Dad' set inclusive of alcohol-infused chocolate. And if you want to order a set for yourself on the side, we completely understand.
7. Personalised Leather Stationary From Alskar
Shop here: Alskar 
Price range: $59.90
Something old-school and practical - the 4-in-1 Father's Day Special Personalised Gift Box from Alskar includes an Embossed A5 Personalized Journal, Business Leather Card Wallet, Personalized Exotic Rollerball Pen and Personalized Cowhide Leather Keychain, all in sleek black leather. You'll get to choose between silver, gold or rose gold embossing foil to make the gift extra special. Every product is made to order using the most distinguished quality materials and craftsmanship.
8. Personalised Cushions From Ferns N Petals (FNP) 
Shop here: Ferns N Petals (FNP)
Price range: from $42.00
Convey your heartfelt love for your Dad with a personalised cushion that's sure to bring a smile on his face and make this day even more special!
9. Gift An Experience
Instead of a gift, why not gift him an experience? We have put together a list of experience that fathers may enjoy with their little ones, or even with their buddies too!  
10. Book A Staycation
Perhaps it is just the 2 of you, perhaps it is for the entire family - a staycation is a great way to relax and for daddy to recharge / spend time with the family! Spoilt for choices? We got our top recommendations for family-friendly staycations here! 
11. For The Fitspo Dads - Decathlon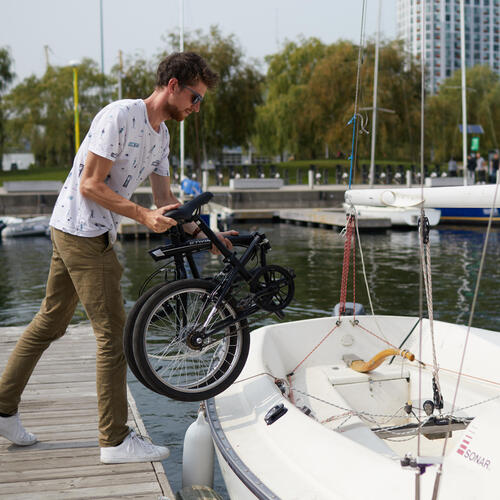 Shop here: Decathlon
Price range: from $12
One of our favourite sports shop is also one of the best places to get a gift for dad! 
Consider getting him a new set of workout outfit. If you are looking for something affordable yet premium quality, look no further than Decathlon Singapore. Comfortable and light-weight, gift your dad the KALENJI Men Running T-Shirt and the DOMYOS Men Fitness Eco-Friendly Shorts – both under $50! 
Or consider getting the BTWIN Tilt 100 20in Folding Bike from Decathlon. Retailing at $220, your dad can cycle around the neighbourhood and burn some calories after a hearty meal at home or simply do a quick errand after work. 
12. Look Good With A New Fragrance 
Shop here: BHG
Price range: $105
Give your dad a stylish upgrade with a new fragrance. Among the other men's perfumes, this perfume will surely let your dad leave a big impact wherever he goes! Rich oriental woody scent, the Tommy Hilfiger Tommy Impact Intense EDP would work great on any occasion, whether formal or informal business meetings or casual gatherings with friends for dinner. 
13. Bring Dad For A Special Champagne Brunch Buffet
Shop here: Estate at Hilton Singapore Orchard 
Price range: $188++ per adult inclusive of chilled juices, coffee and tea, top up for free flow alcohol options
What better way to proclaim one's love for daddy dearest than indulging in a brunch of epic proportions at all-day dining buffet restaurant Estate? On Father's Day, Estate's weekly Grand Sunday Champagne Brunch affair will be amped up with an even wider range of seasonal menu selections and activities for the whole family.
Be sure to stop by the local gin cocktail bar — created in partnership with Singapore Distillery exclusively for Father's Day where diners can enjoy two Singapore-inspired flavours of cocktails – the Cendol, a coconut pandan gin infused with a sweetness of gula melaka, and Bandung, made with Singapore Distillery's Stolen Roses Gin and milk.
All dads will also receive a special upcycled phone holder made from recycled wooden chopsticks as a commemorative takeaway gift.
14. Help Dad Play Hard and Work Smart with Xiaomi
Shop here: Xiaomi Pad 5
Price range: $449 onwards
With a portable workstation, the new Xiaomi Pad 5, dads can play hard and work smart wherever they are. The versatile all-in-one tablet with a large 11" screen is sleek and stylish, and comes equipped with Qualcomm Snapdragon™ 860 with a 120Hz high refresh rate screen for a super smooth user experience. Its extra-large battery capacity offers up to 16+ hours of video playback - ideal for work or entertainment on the go.
15. Gift Him A Limited-Edition Tumbler from Thermos
Shop here: Thermos
Price range: From $63
Classic black, coupled with peace of mind, never goes out of style. The perfect accessory to match any dad's wardrobe, the best-selling Thermos® JNL-755 Ultra-Light One-Push Tumbler's one-push button and lock ring is easy to open with one hand yet stays securely leak-proof in the bag. A removable drinking spout makes cleaning a breeze.
16. Free Beer with Min. Spending at PAZZION Cafe
Father's Day, PAZZION Café is raising a toast to the unsung heroes, the kings of DIY fixes, and the connoisseurs of dad fashion to celebrate the right way – with good company, great food, and a cold brew in hand.
From 1 to 30 June, PAZZION Café is offering a special treat for dads to enjoy a craft beer on the house with a minimum spend of $40. Available at PAZZION Café Takashimaya Shopping Centre and Jewel Changi Airport, spoil pops with endless choices from rice bowls and pasta to burgers and sandwiches to go along with his well-deserved pint.  
17. Give Dad A Creative Edge with Dell's XPS 13 Plus
The XPS 13 Plus is Dell's highest performing flagship 13-inch laptop, ever. It features a four-sided InfinityEdge display with stunning resolution and colour gamut, plus quad speaker design to bring your content to life. Impressively compact, the XPS 13 is also our lightest laptop, designed to provide the ultimate mobility for on-the-go individuals who need a stylish and powerful laptop anywhere, anytime.
18. Wireless Earbuds from Jabra
Jabra's latest entry-level Elite 4 earbuds prioritise comfort, sound quality, and convenience. Experience uninterrupted audio with Active Noise Cancellation (ANC) that filters out unwanted sounds, providing uninterrupted audio. Enjoy the seamless connectivity of Bluetooth Multipoint, allowing effortless simultaneous connection to two devices with smooth switching between them. Pairing is a breeze, with the convenience of Google Fast Pair and Microsoft Swift Pair.
19. A Backpack for the Next Trips
Make travelling a breeze for Dad with TUMI's range of bags, perfect for carrying all his essentials on the go. Whether he's a frequent jet-setter or someone who enjoys weekend getaways, the Renegade Backpack is the perfect travel companion. Made to withstand the elements with unparalleled durability, the backpack carries all Dad needs with ample storage for all his travel and daily pursuits. 
For Dads that love to stay organised while abroad, the Split Travel Kit seamlessly carries all the necessities that dad needs, organised in one place. 
20. R
aise a Glass to Dad this Father's Day 
with Glenfiddich's Limited Edition Hip Flask Gift Sets
The Glenfiddich's Limited Edition Hip Flask Gift Sets (Available from $105, on since1887.com and Lazada) features Finnish artist Santtu Mustonen's exclusive illustrations of the iconic Glenfiddich Royal Stag in a vivid new light, taking inspiration from the brand's commitment to pushing boundaries in the world of whisky.
Accompanying the gift sets are complementary Glenfiddich branded hip flasks, covered in Mustonen's signature brush strokes with the Glenfiddich royal stag in gold foil. 
21. Acer Nitro 5 Gaming Laptop
If your daddy is on the hunt for a gaming laptop that offers an immersive gaming experience at a great value, look no further. The Acer Nitro 5 comes in both Intel and AMD versions, offering a 15.6-inch 1080p FHD IPS display with a 165Hz refresh rate that brings your games to life with vivid, sharp visuals. It also comes with Wi-Fi 6E and 8GB RAM that is upgradeable to 32GB. 
The Acer Nitro 5 is available at Acer's official e-store starting from:
Acer Nitro 5 Intel - SGD $ 1,598
Acer Nitro 5 AMD - SGD $ 1,398
22. Exclusive Father's Day Ultra-luxe Pampering Treatment with Givenchy Beauty
This Father's Day, steer away from store-bought gifts and splurge a little to treat Dad to a spa treatment at the award-winning Fairmont Singapore Willow Stream Spa, in collaboration with Givenchy Beauty.
With two ultra-luxe pampering treatments featuring Givenchy Beauty's premium skincare range, Le Soin Noir, let dad unwind the day away with a comprehensive tailor-made wellness experience that includes a complimentary pre-treatment skincare consultation within the newly decorated treatment.
Le Soin Noir Expert Deep Oceans Signature Face Care ($380++):

 

Designed to promote circulation and aid to rejuvenate the skin's natural barrier and hydration, this 60-minute facial features an efficacious deep cleansing and relaxing facial massage technique.
Le Soin Noir Expert Deep Oceans Signature Face Care with Back Massage and Spa Pass ($430++): Opt for a well-rounded spa experience with this 90-minute package that includes both a facial treatment as well as a restorative body massage to soothe fatigue muscles. This package also provides access to the spa's facilities including aroma steam and sauna rooms, whirlpool areas, and cool plunges.
Dads will also be gifted an exclusive Le Soin Noir face massage tool (worth over $80) with a minimum spend of $200 on Le Soin Noir products available for purchase at Givenchy Beauty Raffles City Boutique. Limited to one redemption per customer, while stock lasts. 
23. 
Marks & Spencer's Father's Day Gifts 2023
Go the extra mile by gifting the men in your life exquisite liquor and chocolates from Marks & Spencer's this Father's Day! Not to mention, from 5 to 18 June, select M&S treats will be on a special "buy 1, get the 2nd at 50% off" promotion – which means you won't have to choose between treating dad and breaking the bank.
24. Get Tickets To Brewnanza Fest by Brewlander
Here's the ultimate solution for a last-minute gift that will make this Father's Day truly unforgettable! 
Presenting the Brewnanza Fest by Brewlander, the coolest beer event, celebrating over 20 of the most innovative local and international craft breweries from America, Asia, Australia, Europe, and the United Kingdom. Happening from 3 to 6 August 2023 at the Bayfront Event Space, festival-goers can look forward to a curated selection of over 100 unique beers, and try never-seen-before brews by overseas breweries! 
Gift Dad the exclusive experience of tantalizing brews, lively music, and the vibrant atmosphere of a beer lover's paradise, perfect for a craft beer-loving dad or just a beer-loving Dad! From now till the end of June, those looking for a good bargain with their Father's Day gift can also secure tickets through the early-bird offer, starting at just $25 (U.P. $30) per ticket, and snag up an epic and unforgettable beer adventure to enjoy with Dad. Completing the experience, ticket holders will also gain exclusive access to week-long partner bar activations, culminating at the weekend festival for even more fun memories to be made with Dad!
25. Lifewear Essentials From UNIQLO 
Photo Credits: UNIQLO
Let Dad rest and relax in comfort and style during his long awaited holiday with Lifewear essentials like the AIRism Short Sleeve Polo Shirt and Chino Shorts from UNIQLO.
Feature image: ExplorerBob/Pixabay