Father's Day is happening on 19 June 2022! If you have been wrecking your brains for a gift idea - here's what we have prepared for you!
Last updated: 10 June 2022
You probably already know that Father's Day is coming up. But if the thought of getting your father or the father of your child a gift has your head in a whirl, don't worry, we've done the scouring for you.
Here's our pick of 8 best gift ideas along with some pretty savvy promotions that you can make use of!
1. Put Together A Gift Box From Happy Bunch
Source: Happy Bunch
Shop here: Happy Bunch
Price range: from $15
We can't believe how time flies. It seemed like we were just celebrating Mother's Day at Happy Bunch, but Father's Day is already here! Whether you're celebrating with him in person or sending well-wishes from afar, send Pa thoughtful gifts, which you can get delivered right to his doorstep!
You can get customisable gift boxes from $15+ where you can curate your own gift box with seasonal options from renowned brands like Brass Lion Distillery, Brewlander, PPP Coffee and more.
2. Send a Beer & Flowers from Lovely Hua!

Source: Lovely Hua Shop
Shop here: Lovely Hua Shop
Price range: $28 - $89

No man (or woman) ever said flowers can only be gifted to ladies. Bright and blooming flowers can make anyone's day brighter. If you're not too sure about the flowers, opt for a different kind of bouquet – Yakult, snacks or go all out with raw vegetables. The Beer Bouquet which has a beer can sitting amidst the flowers is a great choice as well if dad loves to chill out with a cold one. 
3. Make Him Work For His Drink With A HomeBrewer Kit

Source: HomeBrew
Shop here: HomeBrew
Price range: $150 - $170
If your dad loves to unwind with a chilled beer, here's one to consider. HomeBrew offers a series of starter kits, which comes complete with all the tools, brewing instructions, recipe chart, and videos on how to use the kit. You can let your dad try their hands at making their first batch of homebrew beer with these kits, it'll make for a novel experience! 
4. Sign-up For Free Bottomless Beer + Meal (On His Birthday)
Where: Brotzeit
Price range: Free
Sign your dad up for the Brotzeit's membership to enjoy free free-flow beer when dining at any Brotzeit outlets on his birthday. It might not be a Father's Day gift, but at least he has something to look forward to! The promotion is valid for at least 4 pax to dine - so make it an extra family birthday celebration together! 
Here's a list of birthday promotions to consider too!
5. Gift A Unique Cocktail Concoctions

Source: LUMO
Shop here: Bars with Cocktail & Spirit Delivery
Price range: $25 - $$160+
Here's another idea for fathers who love to kick back with an alcohol concoction. You can find plenty of establishments offering a wide range of cocktails and spirits for delivery as well as takeaway in Singapore. Take your pick from unique creations like The Kamasutra, consisting of Kamasutra potion, caramelized pomegranate, and garlic wine, Butterfly Pea Gin, Old Fashioned, Tak Qiu, concocted with Milo Bourbon, stabilized simply syrup and Angostura Bitters, and much more!
6. For The Non-Alcoholic Spirits

Source: Lyre's
Shop here: Lyre's
Price range: $59++
Not too big on alcohol? Here's an alternative that is not too far off. Lyre's presents the finest range of non-alcoholic classic spirits, from absinthe and bourbon to gin and rum, without compromising on the taste. It makes for an ideal gift for dads worried about their alcohol intake as well as dads who do not favour alcohol. If you are not sure, which to go for, we hear The American Malt, a non-alcoholic bourbon, is a crowd-favourite. Each bottle of 500 ml spirit is priced at $59.
Shipping is free for orders above $65 and a flat rate of $6 applies for orders below $65.
7. Furoshiki-wrapped Chocolate Gifts

Source: Hello Chocolate
Shop here: Hello Chocolate
Price range: $17++
What's the best gift for your father who loves popping chocolates into his mouth? It has to be chocolate. Hello Chocolate has a collection of Father's Day gift sets featuring chocolate from around the world. From the 'Chocolate Gift Creator', which allows you to pick and choose the chocolate to go into the gift, to the 'For The Best Dad' set inclusive of alcohol-infused chocolate. And if you want to order a set for yourself on the side, we completely understand.
8. Personalised Leather Stationary From Alskar
Shop here: Alskar 
Price range: $59.90
Something old-school and practical - the 4-in-1 Father's Day Special Personalised Gift Box from Alskar includes an Embossed A5 Personalized Journal, Business Leather Card Wallet, Personalized Exotic Rollerball Pen and Personalized Cowhide Leather Keychain, all in sleek black leather. You'll get to choose between silver, gold or rose gold embossing foil to make the gift extra special. Every product is made to order using the most distinguished quality materials and craftsmanship.
9. Gift An Experience
Instead of a gift, why not gift him an experience? We have put together a list of experience that fathers may enjoy with their little ones, or even with their buddies too!  
10. Book A Staycation
Perhaps it is just the 2 of you, perhaps it is for the entire family - a staycation is a great way to relax and for daddy to recharge / spend time with the family! Spoilt for choices? We got our top recommendations for family-friendly staycations here! 
11. 
1-Seat Recliner Sofa For The King from Nitori.
Shop here: Nitori
Price range: $899.00
Pamper your Dad this Father's Day, with the 1-seat recliner sofa from Nitori. This three-tiered sofa is perfect for anyone to unwind after a long day at work and possibly a good spot to take a quick nap during the day! What's more, this one-seater sofa comes with a USB port, so if your dad is a gamer or loves watching videos on his phone, this is the perfect 'King' chair for all the fancy Dads out there!  
12. For The Fitspo Dads - Decathlon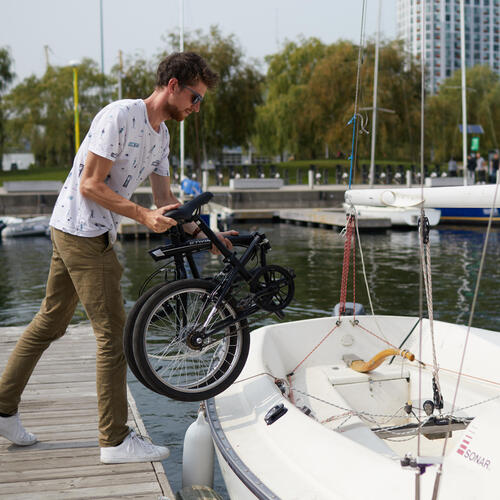 Shop here: Decathlon
Price range: from $12
One of our favourite sports shop is also one of the best places to get a gift for dad! 
Consider getting him a new set of workout outfit. If you are looking for something affordable yet premium quality, look no further than Decathlon Singapore. Comfortable and light-weight, gift your dad the KALENJI Men Running T-Shirt and the DOMYOS Men Fitness Eco-Friendly Shorts – both under $50! 
Or consider getting the BTWIN Tilt 100 20in Folding Bike from Decathlon. Retailing at $220, your dad can cycle around the neighbourhood and burn some calories after a hearty meal at home or simply do a quick errand after work. 
13. Look Good With A New Fragrance 
Shop here: BHG
Price range: $95
Give your dad a stylish upgrade with a new fragrance. Among the other men's perfumes, this perfume will surely let your dad leave a big impact wherever he goes! Rich oriental woody scent, the Tommy Hilfiger Tommy Impact Intense EDP would work great on any occasion, whether formal or informal business meetings or casual gatherings with friends for dinner. 
14. Bring Dad For A Special Champagne Brunch Buffet
Shop here: Estate at Hilton Singapore Orchard 
Price range: $158++ (food only), $188++ (with free-flow drinks)
On Father's Day (June 19), Dad will be given a royal welcome with a surprise door gift, compliments of Estate and an unparalleled feast of the finest ingredients and gourmet dishes, with the option of free-flow champagne and wines. On top of that, look out for a Father's Day special "Gentlemen Trolley" by Head Mixologist Michael Mendoza, doling out Old Fashioned Cocktails (Whisky, Bitters, Homemade Gula Melaka) and Classic Negronis (Gin, Campari and Rosso).
14. Get A Cake Meant For Him!
Shop here: Online boutique store,
Price range: from $72
This Father's Day, 

reminisce the good times spent at the playgrounds or outdoors with dad, with 

ZEE & ELLE's Father's Day Fun In The Sun Series.
Inspired by dad's intrepid explorer personality and their love to always keep things light-hearted and fun, send sweet gift(s) filled with mirth this Father's Day as you show him how much he means to you.
A fun creation dedicated to every dad, take a trip back to the past and celebrate heartfelt memories shared from the thrilling adventures embarked together.
15. A Whiskey-Infused Bon Bon For Dad
Shop here: Mr.Bucket Chocolatier 
Price range: $58
This Father's Day, Glenfiddich has paired up with Singapore-based  chocolaterie, Mr. Bucket Chocolaterie for a second time to create the perfect gift for a deserving dad - an exclusive set of Whisky-infused Chocolate Bon Bons
Each Bon Bons features chocolate origin sourced from farms around Asia and is paired with the Glenfiddich 12, 15 or 18 Year Old whiskies to complement and highlight each of their unique taste profiles. Three different flavours will be available in each set:

Honey Oak - 64% Panchor Dark Chocolate Ganache infused with Glenfiddich 12 and honey. Light, smooth and sweet with notes of floral honey.
Citrus Oak - 80% Anaimalai Hills Dark Chocolate Ganache infused with Glenfiddich 15 and orange peels. Rich, warm and smoky with fruity raisin notes.
Spiced Oak - 72% Calinan Dark Chocolate Ganache infused with Glenfiddich 18 and mild spice. Deep, woody and robust with hints of peppery notes.
16. Help Dad Play Hard and Work Smart with Xiaomi
Shop here: Xiaomi Pad 5
Price range: $449 onwards
With a portable workstation, the new Xiaomi Pad 5, dads can play hard and work smart wherever they are. The versatile all-in-one tablet with a large 11" screen is sleek and stylish, and comes equipped with Qualcomm Snapdragon™ 860 with a 120Hz high refresh rate screen for a super smooth user experience. Its extra-large battery capacity offers up to 16+ hours of video playback - ideal for work or entertainment on the go.
17. Gift A Tumbler with a WOW from Thermos
Shop here: Thermos Shopee Mall
Price range: $59
Symbolising courage and power, the Tiger adds a WOW to this tumbler for dad! The Thermos® JNL-502TG Zodiac Tiger Ultra-Light One-Push Tumbler is the ideal gift for devoted dads who are bold, active and fearless. The limited-edition tumbler is leak-proof, compact and super lightweight (210g), with an innovative one-push button and lock ring and a removable drinking spout.
Feature image: ExplorerBob/Pixabay