Easter 2021 in Singapore falls on 4 Apr 2021 and Good Friday on 2 Apr 2021. Let us help you discover the best family events for the Easter long weekend! 
With Good Friday on 2 Apr 2021, designated as a public holiday in Singapore, many families will be looking forward to a nice and eventful long weekend! If you have not planned anything yet, let us help you discover the most egg-citing Egg Hunts, and other Bunny / Easter-themed events for your family!
1. Bollywood Adventures Easter Hunt
When: 2 – 4 April 2021, 8am – 12pm
Where: Kampung Kampus, 91 Lor Chencharu, Singapore 769201
Cost: $10 (adults are free to accompany children but must register). (Sold out)
Bollywood Adventure's annual Easter egg hunt is back, this time at Kampung Kampus in Sembawang! From 2 - 4 April, from 8am to 12pm, embark on a jungle hunt around a slice of rural Singapore! 
There are more than 300 eggs hidden, find up to 5 eggs (according to game masters rules) and qualify for a sure-win lucky dip! Stand to win delicious banana muffins, bird whistles, chaptehs and more attractive prizes to be won! Inclusive in the ticket price is also an egg painting activity.
A maximum of 50 people will be allowed to hunt during each 1-hour time slot. So better reserve your tickets! 
2. Easter Egg Hunt With Otah & Friends
When: 1 – 4 April 2021
Where: Gardens by the Bay, Bayfront Plaza 18 Marina Gardens Dr, Singapore 018953
Cost: $15 per pax or $60 for 5 pax (discounted tickets on KKDay)
From 1 to 4 April 2021, visitors to Otah & Friends may embark on an egg-hilarating Easter Egg Hunt! Collect the five eggs hidden throughout Otah's home and stand a chance to win prizes!
Those who collect all 5 eggs will get a chance to take part in a lucky dip! Prizes include limited edition Otah & Friends plushies, and discounts at the merchandise store.
3. Easter Bunny & Easter Egg @ 
Hershey's Chocolate Gallery!
When: Over Easter
Where: Changi Airport Terminal 3 
Cost: Free
Hershey's Chocolate Gallery will be at Changi Airport T3! It spreads across the terminal and you may head over to T3 Departure Hall (next to the link bridge to Jewel) to enter the Hershey's Kitchen where you can pretend to cook up Hershey's creations while getting that perfect selfie with a gigantic cup of hot chocolate and a jumbo stack of pancakes soaked in chocolate sauce!
Pose with larger-than-life Reese's peanut butter cups at T3 ST3PS at B1, which can accommodate an adult and a kid in each installation.
Additionally, this Easter, you can look forward to giant Hershey's Kisses installation at the festive horticulture display featuring the Easter bunny and colourful Easter eggs. 
4. Easter-Themed Farm Day Out With City Sprouts!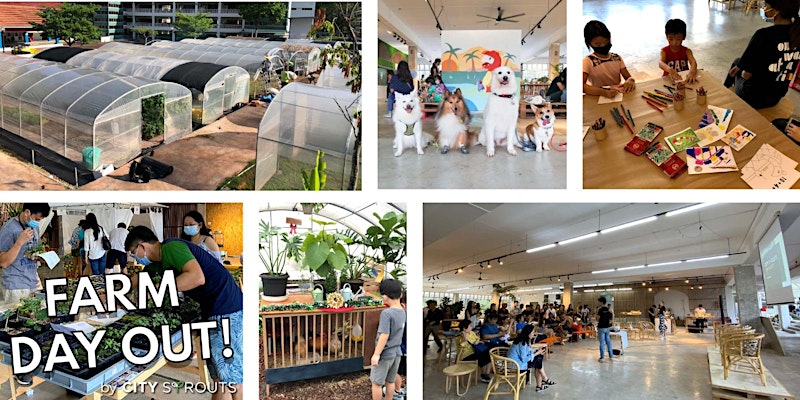 When: 10 - 11 April 2021
Where: Sprout Hub, 102 Henderson Road, Singapore, 159562
Cost: Free
A special Easter-themed edition of City Sprouts' Farm Day Out with an exciting line-up! From retail-based and community-led brands ranging from fresh produce, artisanal food products, beauty, art and sustainable products to activity hosting a plethora of interactive and educational activities like talks, workshops and showcases.
You will get to meet & greet bunnies, learn about composting, worms and brewing kombucha, and so much more! Entry is free but registration is required!
5. 1 Day Farms Discovery Excursion 
When: 4 April 2021
Where: Arranged the pick-up point according to participants' location
Cost: $88 (Adult), $98 (Child)
This Easter in April, Little Earth cooperates with TSI Bee Travel to bring the children to experience the fun of farming in the most relaxing way, and have an unforgettable Easter on a 1-Day Farms Discovery excursion!
You will be visiting the Sungei Buloh Wetland Reserves, Goat Farm, and Bollywood Veggie. Kids above 7 yrs old may join the excursion independently!
6. Go Munching On Easter Brunches
Easter-themed Brunches with egg hunts and other activities will be happening across various F&B outlets! We have compiled a list of the best Easter Brunches for you! So click in, stay hungry, and start planning to have a sumptuous and fun-filled Easter Brunch! 
7. Sakura and Hello Kitty For Easter!
When: Till 11 April 2021
Where: Flower Dome, 18 Marina Gardens Drive, Singapore 018953
Cost: from $12 (SRV Eligible Tickets may be purchased on Klook)
The annual Sakura festival returns to Gardens by the Bay this year with a famous icon, Hello Kitty, making an appearance amongst blooming cherry and peach blossoms. 
The event was supposed to have ended, but have been extended till 11 Apr 2021, and that makes it a great addition to visit over the Easter weekend! What's more, tickets are SRV eligible too! 
8. Extend Easter With A Yacht Trip + Staycation At Sofitel Sentosa Resort & Spa
When: 6 or 7 Apr 2021
Where: 2 Bukit Manis Rd, Sentosa, 099891
Cost: from $784 (exclusive package on bykido.com)
Enjoy 2-full days of fun with a family staycation at Sofitel Sentosa Resort & Spa with breakfast, lunch and dinner for 3, with a yacht trip before check-in and Fort Siloso tour after check-out. 
Go on a 3-hr pre-staycation Yacht trip from ONE°15 Marina to start your experience, and end with a fun and education 2-hr tour of Fort Siloso. While at your stay in Sofitel, breakfast, lunch and dinner will be provided within the hotel's restaurants too!
Specially available for booking on 6 and 7 Apr 2021 for those looking to extend their long weekend with something special! 
9. Go Putting With Your Little One For Free! 
When: 16 Mar till 30 Apr 2021
Where: 80 Rhu Cross, Singapore 437437
Cost: from $15 
Marina Bay Putting Course is an ideal venue for parents to enjoy a rejuvenating day out with your little ones. The putting course features a natural grass putting surface, and with its undulations, careful contouring and varying lengths, it provides a fun bonding experience for the whole family.
Also, from 16 Mar to 30 Apr, families may enjoy a special 1 for 1 promotion when playing at the 6 holes putting course! Weekend games are at $18, that works out to just $9 per person! 
10.
Easter Egg Painting Contest at Hard Rock Cafe! 

When: 1 - 14 Apr 2021
Where: 50 Cuscaden Road, HPL House, #02-01, Singapore 249724 or 26 Sentosa Gateway, Resorts World Sentosa, #01-209, The Forum, 098138
Cost: Free
Let your creativity flow at Hard Rock Cafe this Easter with the Easter Egg Painting Contest! Simply register your interest with Hard Rock Cafe, get your kids to paint and decorate an Easter Egg (let the creativity flow)! 
You can use any base as the Easter Egg, actual egg shell, paper mache egg or even a plastic egg! Submit your completed Easter Egg to either Hard Rock Cafe Singapore or Hard Rock Cafe Sentosa by 14 April (between 11.30 am and 9.30 pm). Drop by Hard Rock Cafe Singapore between 12 pm to 5 pm and you can even enjoy the Kids Eat Free promotion! 
4 winners will be chosen to win 100 dining credits and a cute kid's plush toy worth 
11. Super Golden Jubilee Egg Hunt Edition @ Jurong Bird Park
When: 2 - 4 Apr 2021
Where: 2 Jurong Hill, Singapore 628925
Cost: Admission Fees Apply (SRV Eligible Tickets on Klook)
Jurong Bird Park's signature Easter event returns, with a special golden jubilee edition! This year's egg-stravaganza includes a golden egg hunt, Easter-themed playground, a Jubilee maze amongst other activities, and opportunities to win exclusive limited-edition prizes.
Search for the colored eggs at the Waterfall Aviary on the Easter Golden Egg hunt to redeem a customisable bird mask and Bird Park sticker set. If you find the elusive golden egg, you get to win extra special prizes too! 
That's not all, go on a park-wide adventure via the digital map to find giant JBP50 Easter eggs across the park or play at the Easter-themed playground at Songbird Terrace with a golden wishing tree and giant Instagrammable Easter eggs.
If you get lost, you may be in the Jurong Bird Park maze at Birdz of Play. Better solve those trivia questions about Jurong Bird Park to find your way out!
12. An Egga-licious Easter @ Downtown East!
When: 1 Mar - 4 Apr 2021
Where: 1 Pasir Ris Cl, Singapore 519599
Cost: Free
Head into the Egg-cade Room to capture these adorable and cute life-sized Easter Eggs! Be one of 2 lucky winners of the $50 Downtown East Vouchers! Simply capture yourself with the Egg Tray and tag Downtown East! 
Contest ends 4th April 2021! 
13. Singapore Philatelic Museum Presents Egg Hunt At Fort Canning Park
When: 3 & 10 Apr 2021 (9 am - 10 am or 10.30 am - 11.30 am)
Where: Fort Canning Park (Shelter near the Gothic Gate)
Cost: $10 per child (includes 1 accompanying adult) (Sold Out)
Join the Singapore Philatelic Museum on an Easter Egg Hunt at Fort Canning Park for kids aged between 4 to 10 years.
Mr Bunny lost his way while exploring Fort Canning Park. But not all is lost! Mr Bunny left a trail of eggs to guide him home. Find Mr Bunny's eggs, carry out a series of missions, and lead Mr Bunny home!
14. Easter Week: NERF x KKday Sports Camp
When: 5, 8 and 9 Apr 2021
Where: NERF Action Xperience, 6 Raffles Blvd, #01-208 Marina Square, Singapore 039594
Cost: $49.99 per child (exclusive on KKDay)
Following a successful run in the March holidays, the NERF Sports Camp is back for the Easter week!
Enroll your kids in the fun, collaborative, and character-building NERF Sports Camp brought to you by KKday. Children will enjoy an afternoon filled with activities that stimulate their creative, physical, and collaborative skills, all the while working with teammates to take part in classic NERF games. 
One of our mummy's boy attended the camp, here's what she had to say!
15. Easter Day Art Workshop
When: 2, 3, or 4 Apr 2021
Where: KIDS HAVEN, 25 Playfair Road, Singapore 367990
Cost: $58 nett per child
Join Art D'vent for their Easter Day Art Workshop happening at KIDS HAVEN. The 2.5hr art session includes all materials and take home works. Kids who sign-up will also receive $10 Kids Haven voucher (no min spending), and get to take part in various activities such as an Easter Egg Hunt and a lucky draw too! 
Only 8 slots per workshop. Call 98587899 to make your booking!
16. An Egg-Citing Playground at Capitol Singapore and CHIJMES
When: 2 - 11 Apr 2021
Where: Capitol Singapore, 13 Stamford Rd, Singapore 178905 & CHIJMES, 30 Victoria St, Singapore 187996
Cost: Free
Capitol Singapore's Outdoor Plaza transforms into an exhibition playground with life-sized egg displays of different animals, including the platypus, octopus, clownfish and more. Families can learn more about these animals while capturing photos for keepsake!
Over at CHIJMES, families can expect a playground with neon colourful LED swings, seesaws and comfy beanbags! Try spotting the eggs lighting up in the dark too! 
Take part in the digital egg hunt across both venues. Spot QR codes on eggs hidden in digital screens or at participating outlets! Stand to win prizes such as $5 gift vouchers, $50 dining vouchers and even concert tickets too! Start by checking out the social media pages of Capitol Singapore and CHIJMES for clues!