Easter 2023 in Singapore falls on 9 Apr 2023 and Good Friday on 7 Apr 2023. Let us help you discover the best family events for the Easter long weekend!
Updated: 4 Apr 2023
With Good Friday on 7 Apr 2023 designated as a public holiday in Singapore, many families will be looking forward to a nice and eventful long weekend! If you have not planned anything yet, let us help you discover the most egg-citing Egg Hunts, and other Bunny / Easter-themed events for your family!
1. Caldbury X Mandai River Wonders Easter Egg Hunt

Purchase any Cadbury Easter products above $15 to stand a chance to win tickets to the Cadbury X Mandai River Wonders Easter Egg Hunt on 1st April 2023! Only 100 sets of tickets are available, and participants will stand a chance to win an iPhone 13, Apple Watch, Nintendo Switch, Lego set and more! 
2. Easter Egg Hunt 2023 @ Children's Museum Singapore [Sold Out]
[SOLD OUT]
The ever-popular annual Easter Egg Hunt is back and even bigger this year! Embark on missions as a family around Fort Canning Park and the galleries of Children's Museum Singapore with WonderBot and Becky Bunny this easter. Fantastic prizes sponsored by Children's Museum Singapore, Families for Life and The LEGO Group awaits you! There will also be a meet-and-greet photo opportunity with WonderBot and Becky Bunny at the end of the programme.
3. Go On An Online Scavenger Hunt With TheVirtualBabySitter
Venue: Online
Date: 9 April 2023, 2 pm (3 - 6 yrs old) & 3 pm (7 - 8 yrs old)
Price: $35 per child
Join TheVirtualBabySitter for an hour of Easter Fun this long weekend! Known for providing online programs that keep your children entertained remotely, TheVirtualBabySitter is organising an online Easter Party that will include drama games, movin' n grovin' (dancing) and a scavenger hunt too! 
Conducted be Selma, a trained actor with years of experience teaching drama to kids, the online sessions by TheVirtualBabySitter is aimed at giving parents a break with through screentime that you should not feel guilty about!
4. Scavenger Hunt @ City Sprout Farmers Market
Venue: City Sprouts
Date: 1 April 2023, 9 am - 1 pm
Price: $35 per child
At the City Sprout Farmers Market, families will discover a variety of producers where they can shop the freshest greens of the season, heirloom fruits, aromatic small-batch homebakes, prettiest ornamental plants, and other artisanal crafts. 
For children, join our FREE scavenger hunt! This is a fun activity that celebrates the joy of egg hunting. Kids enjoy hunting down coloured eggs in exchange for chocolate bundles, and the GRAND PRIZE of Seed Bomb workshop will be awarded to children who finds our Golden Egg(s)!
5. Create Your Own Easter Games at Home
Sick of playing Easter Egg Hunt? Check out our video where we came up with 3 + 1 Bonus Easter games that you can play at home with the little ones! We guarantee lots of fun and laughter too! 
Thanks to FairPrice Finest for supporting the video - head down to your nearest FairPrice Finest to discover exclusive Easter goodies! 
6. Easter Egg Painting Contenst @ NTU Alumni Club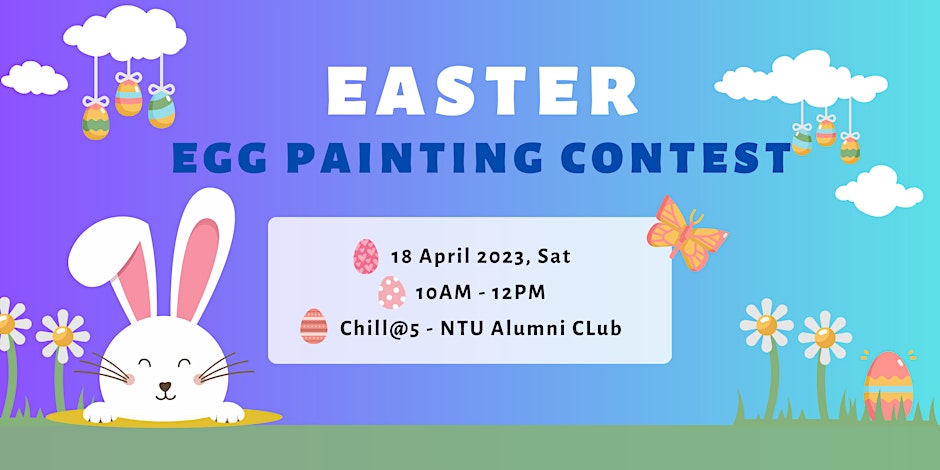 Venue: 11 Slim Barracks Rise Singapore, 138664
Dates: 8 Apr 2023, 10 am - 12 pm 
Fees: $8 members, $15 non-members
Join the NTU Alumni Club for a fun-filled morning unleashing your creativity in this friendly contest as we paint and decorate eggs in celebration of the Easter season. Bring your A-game and show off your eggs-pert creations for a chance to win egg-cellent prizes!
7. Go on a Wild Wetlands Amazing Race with your Child with Wild Space
Venue: Sungei Buloh Wetland Reserve
Fees: $90 per parent / child pair
Dates: 7 April, 3 June & 25 June 2023, 9 am - 11 am
Join Wild Space on a station-based "amazing race" this Easter where children solve puzzles and riddles along the way, Wild Wetlands encourages self-directed learning and is designed to help children explore the largest mangrove wetland in Singapore, Sungei Buloh Wetland Reserve, and to appreciate the flora and fauna found within its ecosystem in a fun and engaging manner.
Join your child on this exciting Wild Wetland Amazing Race aimed at bringing out the Wild Ranger in you and your child and to encourage independent thinking, problem-solving, keen observation and most importantly, teamwork!
8. Kampong Bugis Cosmic Market
Venue: 66 Kampong Bugis Singapore, 338987
Dates: 8 - 9 Apr 2023
Fees: Free
Over at the Kampong Bugis Cosmic Market, you will find a slew of locally grown and made produce and products. Shop fresh produce from Singapore's farms and rack up sustainable goods lovingly designed and made by local craftsmen. There will also be a pop up arts corner showcasing local artists as well small batch independent farmers.
Those looking to celebrate Easter will also find an exciting Easter Egg Hunt too! 
9. Easter Family Day 2023 at The Frontier CC
Venue: The Frontier CC Multi-Purpose Hall @ Level 4, 60 Jurong West Central 3, Singapore
Dates: 9 Apr 2023, 11 am - 2 pm
Fees: $5
Join The Frontier Youth Network for a fun-filled time at the locally inspired themed Easter carnival.  Highlights include: Easter Cookie Decoration Session with Award-Winning Pastry Chef Amber Seah, a wide variety of mouth-watering Local Delights Live Stations and many more... There are also a wide range of family-friendly activities like Old-school Games, DIY Easter Canvas Tote Bag Decoration and Key-Chain Making to keep you and your kids busy and entertained.
10. Sing See Soon Easter Hunt
Venue: 5 Simei Lane, 528710, Sing See Soon Simei
Dates: 9 Apr 2023
Fees: $5 
Come on an egg hunt with Sing See Soon this April & walk away with goodies (worth $20) when you find ALL 3 SSS Easter eggs! A special edition egg is hidden among a pool of eggs, look hard & you might just bring home more than just a goodie bag.
11. Waldorf Easter Bazaar 2023
Venue: 72 Jalan Senang Singapore 418371
Dates: 8 Apr 2023, 10 am - 1 pm
Fees: Free admission, activities may be chargeable
Easter is just around the corner, and what better way to celebrate than by joining the first-ever Waldorf Easter Bazaar! Get ready for a day filled with colourful decorations, mouth-watering treats, and exciting activities that will bring joy to the whole family. Whether you're looking for unique crafts done by our crafting circle, fun activities, or simply want to enjoy the festive atmosphere, our Easter bazaar has something for everyone. So mark your calendars, gather your loved ones, and hop on over to our Easter bazaar for a day full of fun and festivities!
Families can expect Face painting, Egg Relay, Rice Sack Jumping, Egg Painting, Ring Toss and more!
12. For The Adults - Binary Egg Hunt + Brunch
Venue: 390 Orchard Rd, #01-01A Palais Renaissance, Singapore 238871
Dates: 9 Apr 2023, 10 am - 1 pm
Fees: $48++ per pax
As part of its Easter celebration, Binary is hosting a fun and exciting egg hunt from 1 pm onwards. Egg stickers will be hidden in the restaurant – the first two guests to find three stickers and present them to the bar will enjoy a bottle of Louis Roederer 243 Brut (worth $118++) on the house. Two lucky individuals, one guest per dining table, will win a bottle each.
13. Enjoy an Easter Brunch
Many restaurants and buffets are offering tantalising meal options over the Easter long weekend! Check out our updated list here.
14. Easter Party at Wildlings [SELLING FAST]
Venue: Singapore, 27A Loewen Rd, Singapore 248839
Dates: 7, 8 and 9 April 2023, 2 sessions a day (9 am and 11 am)
Fees: $48 per child, $10 per adult
Join Wildlings on their Easter Parties happening across the Easter weekend! But tickets are selling fast with most slot already sold out! So check out the available tickets now! 
15. Egg-cited Easter Egg Hunt at Wheeler's Estate [SOLD OUT]
[SOLD OUT]
It's time to dust off your Easter baskets and stretch those legs, because the egg hunt is back after three long years at Wheeler's Estate! With three sessions at 11am, 1pm, and 3pm, spots are first-come, first-serve for each session so sign-up now!
Win attractive goodie bag when you complete the Egg Hunt. And if you're lucky enough to find The Golden Egg, you might just win another one that's partially sponsored by Clover Soft (worth $35)!
16. Easter Hunt at Super Park
Venue: SuperPark Singapore
Dates: 7- 9 Apr 2023
Fees: Admission to SuperPark applies (compare pricing here) 
SuperPark is hosting a digital Easter Egg Hunt this Easter weekend. Simply visit SuperPark during the Easter weekend and search for the hidden Easter 'eggs' in the form of a QR code. The QR codes can be found at various activity stations throughout the park, and each QR code will contain a clue that will lead participants to the next QR code.
With your clues, you will fill in the form and be the 1st 10 to to win vouchers that can be redeemed for prizes immediately. Prizes include free admission tickets to SuperPark and SuperPark merchandise.
17. Complimentary Easter Activities at Pororo Park Singapore, Tayo Station and Petite Tayo KidsClub
Venue: Pororo Park Singapore, Tayo Station and Petite Tayo KidsClub
Dates: 7- 9 Apr 2023
Pororo Park: 11.45am, 1.30pm, 3.45pm, 5.30pm

Tayo Station: 11.45am, 3.00pm, 6.15pm

Petite Tayo KidsClub: 1.30pm & 3.45pm
Fees: Free, admission to the play space applies
Easter weekend is here and this is the best time to egg-splore your little one's creativity with egg-citing egg colouring activity! You can even choose your favourite play space to visit too!