We have put together a list of easy-to-prepare recipes to help you prepare for breakfasts and snacks with little fuss!
There might not be much time between waking up and getting the kids out of the door once the mid-year break is over and school starts. We have collaborated with FairPrice to prepare a list of easy-to-prepare recipes (and tasty too) so that busy parents (like us!) can still prepare breakfasts and snacks for our forever little ones. 
*Enjoy $10 off with a min. spending of $130 on FairPrice Online before 31 Jul 2022. Get the exclusive promo code at just $1 on bkyido.com! PLUS the first 100 redemptions are FREE! 
1. Potato & Carrot Mash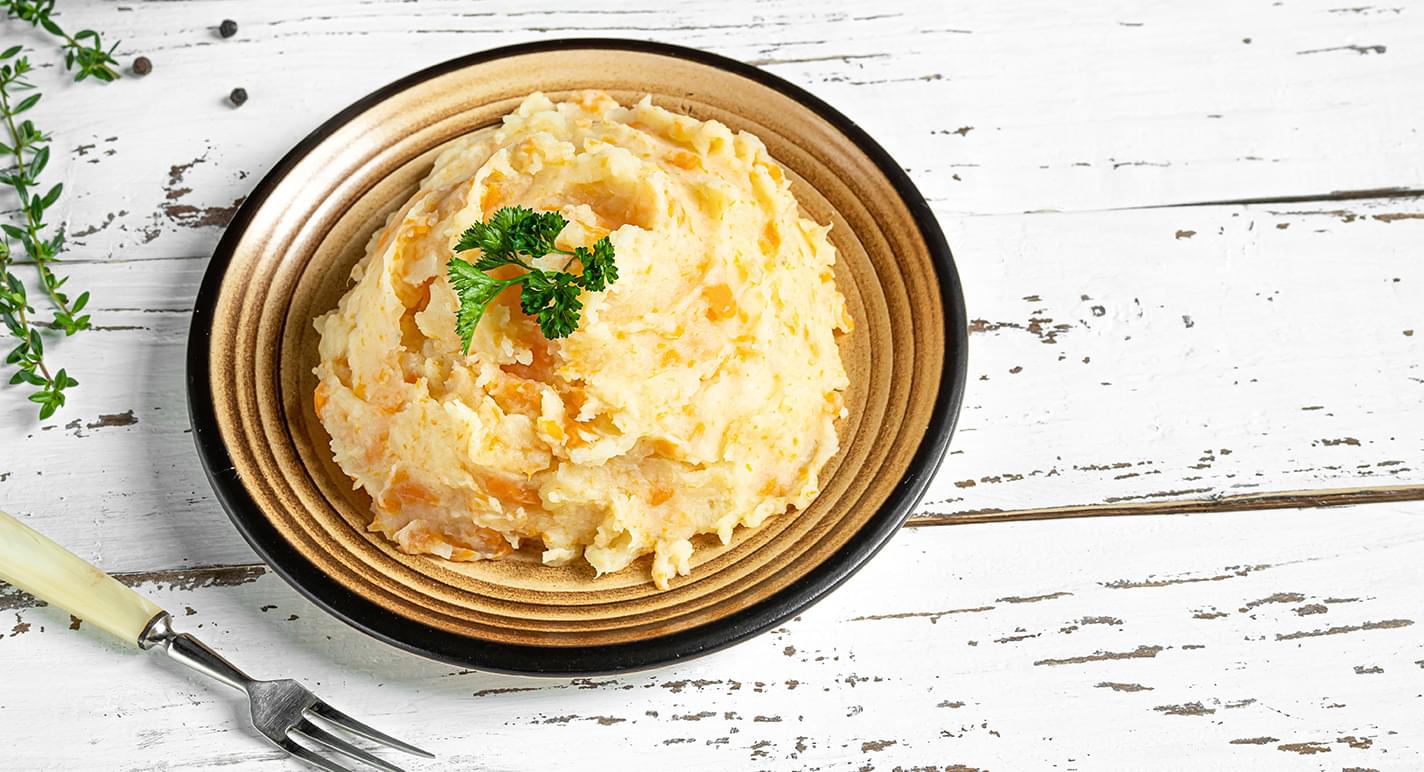 Cooking Time: 20min
Preparation Time: 40min
The Potato & Carrot Mash is an really easy and healthy breakfast item. You can pre-prepare the items the night before and cook it within 20mins in the morning. Have it for breakfast or store it in a warmer as a snack. 
Ingredients
Carrot
Potato
Milk 
Butter
Instructions
Prepare carrots & potato (can be done the day before)
Peeled & cut carrots & potatoes into chunks
Combine carrots & potatoes in a pot, cover with water, and bring to a boil.
Simmer until tender, about 20 mins.
Drain the carrots & potatoes and return them to the pot.
Cooking
In a small saucepan, melt the butter and milk together.
Add to the carrots & potatoes, and mash until smooth.
Season to taste. Enjoy!
2. Pizza with Basilico Sauce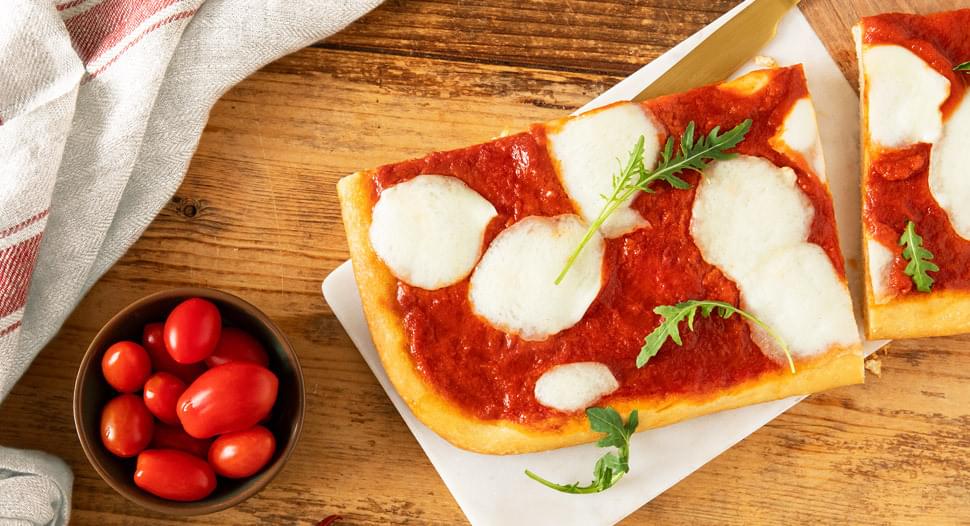 Cooking Time: 37min
Preparation Time: 5min
While the Pizza with Basilico Sauce is best served as a breakfast item after it is prepared, you may also consider preparing it the day before and using the oven the next day to reheat it for breakfast or as a snack in school. 
Ingredients
Barilla Basilico Sauce
Precooked Pizza Bases or Bread
Shredded Mozzarella
Fresh Basil Leaves
Olive Oil
Salt & Pepper
Instructions
Pre-heat the oven to 230°C for 30 minutes.
Put the pizza base or bread on an oven tray.
Top the pizza base or bread with basilico sauce.
Divide the mozzarella equally and top each pizza base or bread with some cheese.
Add the basil leaves, a drizzle of olive oil and seasoning if needed.
Place in the oven and for 5-7 minutes until the cheese is melted.
3. Kellog's Lace Nibbles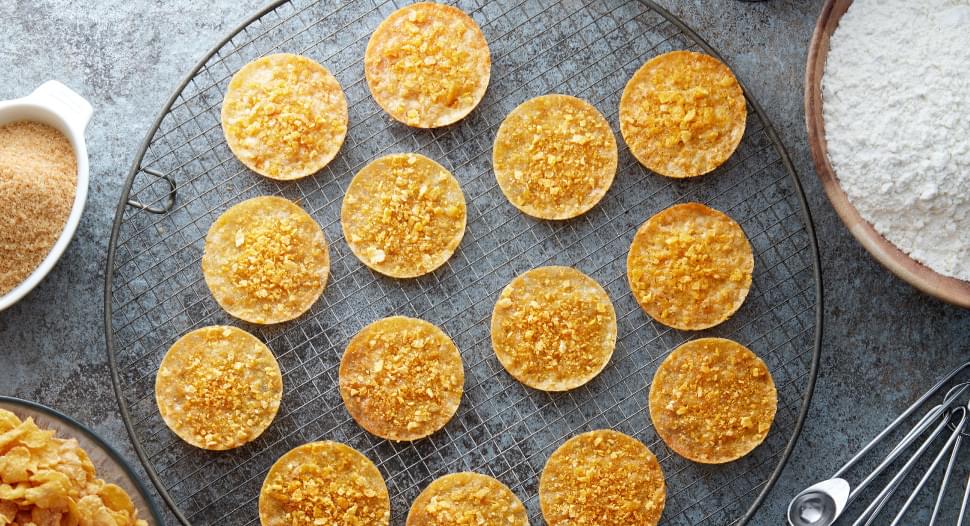 Cooking Time: 10min
Preparation Time: 15min
Using just Corn Flakes, egg and butter as the main ingredients, the Kellog's Lace Nibbles is a quick and easy snack to make. Store it properly and you can even keep it for a couple of days too! 
Ingredients
Corn Flacks (lightly crushed)
Egg
Butter
All Purpose Flour
Cooking Oil
Vanilla Essence
Brown Sugar / Castor Sugar
Salt
Instructions
Prepare mixture
Beat butter, brown sugar and castor sugar until the mixture becomes pale and creamy.
Add vanilla essence and egg. Mix thoroughly.
Add corn flakes, flour and salt. Mix well.
Start baking
Scoop 1 teaspoon mixture onto muffin tray greased with cooking oil.
Bake at 160°C for 7-10 minutes.
Allow cooling on baking tin for 5 minutes.
Use a spatula to transfer the cookies onto a rack to cool completely.
4. One-Pan Mantou Pizza
Cooking Time: 5min
Preparation Time: 15min
Prepare the One-Pan Mantou Pizza in the mornings in a jiffy and let the kids have a hearty breakfast before heading to school! 
Ingredients
Plain Mantous
Ham
Eggs (beaten)
Olive Oil
Black Sesame Seeds
Spring Onions
Instructions
Cut ingredients
Dice plain mantous.
Cut ham into cubes and spring onions into small pieces.
Start cooking
Add the diced mantous into the pan and fry lightly until golden.
Add ham and spring onions into the pan.
Strain the beaten eggs into the pan.
Sprinkle black sesame seeds before covering the pan and cook on low heat for another 5 mins.
*You can get all the ingredients listed here from FairPrice Online. Purchase the exclusive promo code for just $1, and enjoy $10 Off a min. spending of $130.
5. Ham & Cheese Sandwich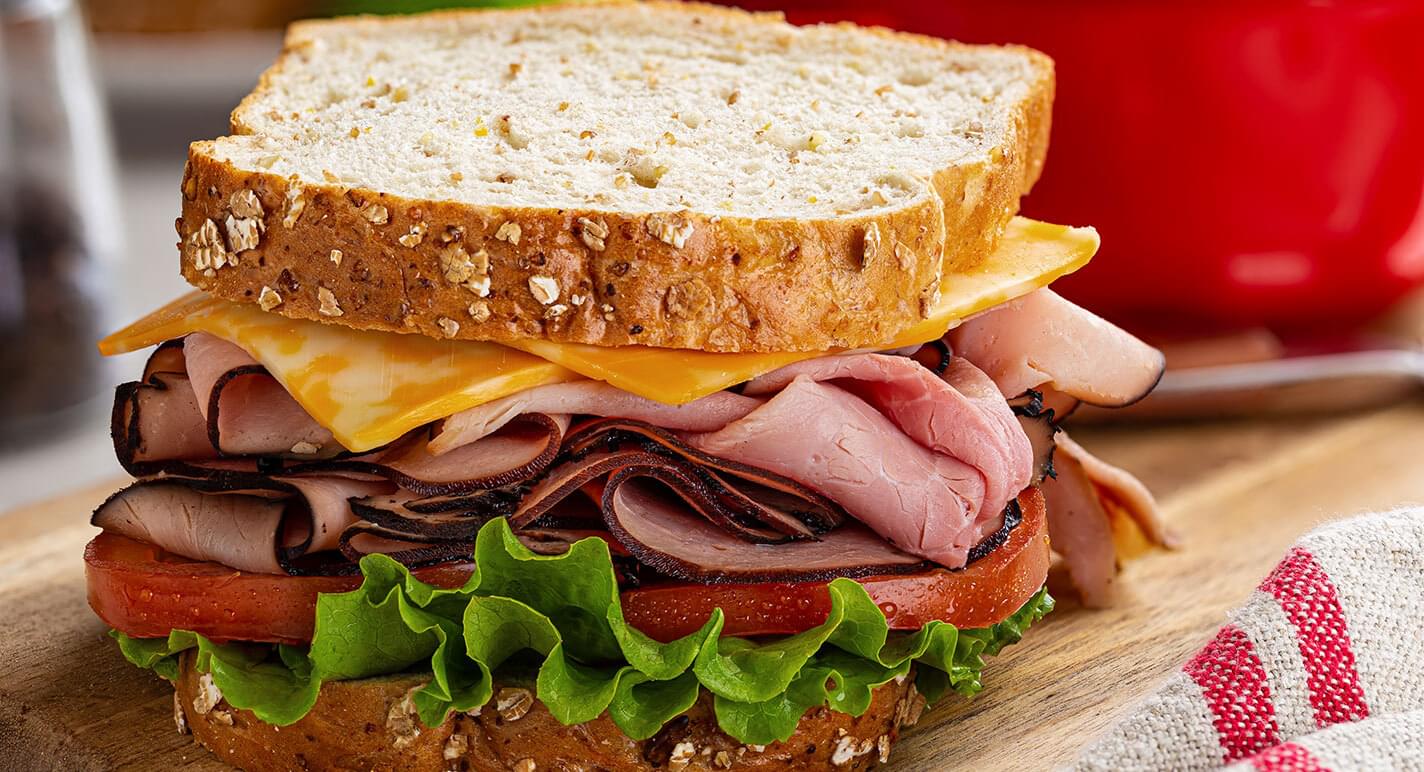 Preparation Time: 10min
There's isn't much to explain - with the Ham & Cheese Sandwich, you can easily put it together in a couple of mins, pop it into a sandwich bag or container, and the little ones will have a great snack ready! 
Depending on your child, you can also create variations which include just ham, just cheese or other ingredients too! 
Ingredients
Bread
Ham
Cheese
Mayonnaise
Instructions
Prepare 2 slices of bread and toast them according to preference (or simply skip this step)
Spread mayonnaise on one side of the first bread.
Lay the ham and cheese on top (add other ingredients accordingly).
Place the other slide of bread over the ingredients

Gently press the sandwich together, and cut it into halves.
6. Mince Chicken Rice Balls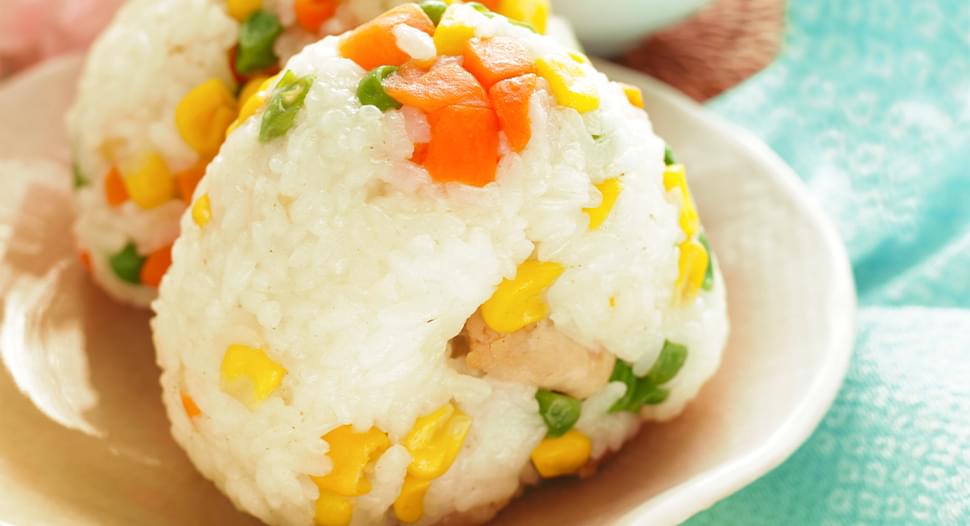 Cooking Time: 7min
Preparation Time: 15min
The Mince Chicken Rice Balls might look like work, but you will be amaze how easy and quick this recipe can be! Pre-cook your rice first to save time!
*You can also prepare this the night before, and wrap it in cling wrap - pop it into the microwave the next day to heat it up!
Ingredients
Sushi Rice
Mince Chicken
Frozen Garden Peas
Sweet Corn
Baby Carrots (finely chopped)
Vegetable Oil
Olive Oil
Teriyaki Sauce
Instructions
Cook rice
To save time, prepare and cook the rice first since it typically takes about 30-45 minutes until it's ready.
Cook chicken & vegetables
In a frying pan, saute carrots with olive oil. Add peas, and corn after 5 minutes. Set aside.
Stir-fry minced chicken in vegetable oil until browned. Set aside.
Assemble & serve
Mix all cooked ingredients together with rice. Shape mixture into balls. You can use cling wraps to hold them in shape. 
Drizzle teriyaki sauce over the rice balls.
*Get your ingredients from FairPrice Online - it's convenient and fast. Use our exclusive promo codes to get $10 off min. spending of $130. Valid for both new and exciting users.  
7. Donut Apples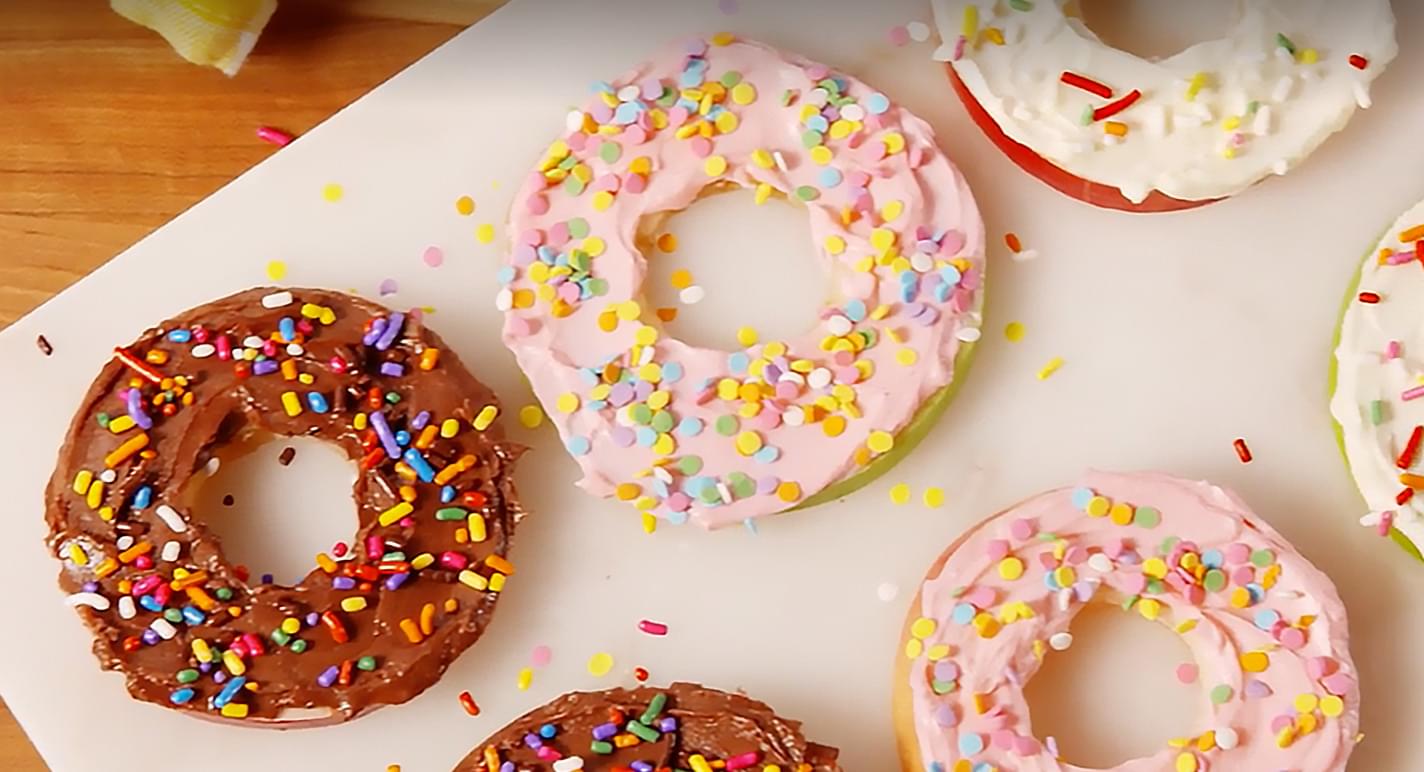 Preparation Time: 35min
These cute Donut Apples will let the kids look forward to snack time in school (and be the envy of their friends). While it takes over 30mins to prepare, it is fairly fuss-free and you can even get the kids to help prepare them the night before and leaving it in the fridge for the next day. No heating up is required too! 
Ingredients
Cream Cheese (softened)
Honey
Melted Chocolate
Food colouring
Apples
Assorted Sprinkles (for decoration)
Instructions
Prepare cream cheese toppings
Divide cream cheese among three small bowls.
In one bowl, add 1 teaspoon honey.
In another bowl, add melted chocolate.
In the last bowl, add remaining 1 teaspoon honey and food coloring. Stir each bowl together until combined.
Prepare the apples and decorations
Slice apples and use a biscuit or cookie cutter to hollow out centers.
Spread toppings on apple slices and top with sprinkles.
8. Kellog's Froot Loops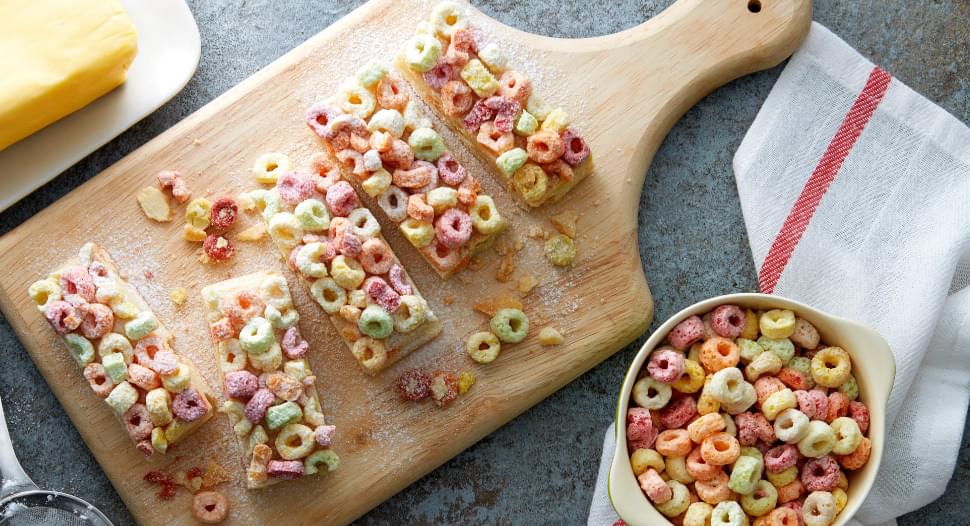 Cooking Time: 25min
Preparation Time: 10min
Another recipe that can be prepared with your child the day before. Kellog's Froot Loops is a easy snack to prepare as a treat ,especially for those with a sweet tooth!
Ingredients
Butter
Cream Cheese
Egg
Froot Loops
Icing Sugar
Plain Flour / Rice Flour
White Cooking Chocolate (melted)
Instructions
Preparation
Beat butter, cream cheese, sugar and egg until combined.
Add plain flour and rice flour. Mix well.
Next, add Froot Loops and mix thoroughly.
Press dough into a 9×9 inch baking tin lined with parchment paper.
Baking
Bake in preheated oven at 160°C for 25 minutes.
Transfer onto a wire rack to cool.
Cut into 3x3cm squares.
Decorate with melted white chocolate and sprinkle Froot Loops on top.
9. Pizza Toast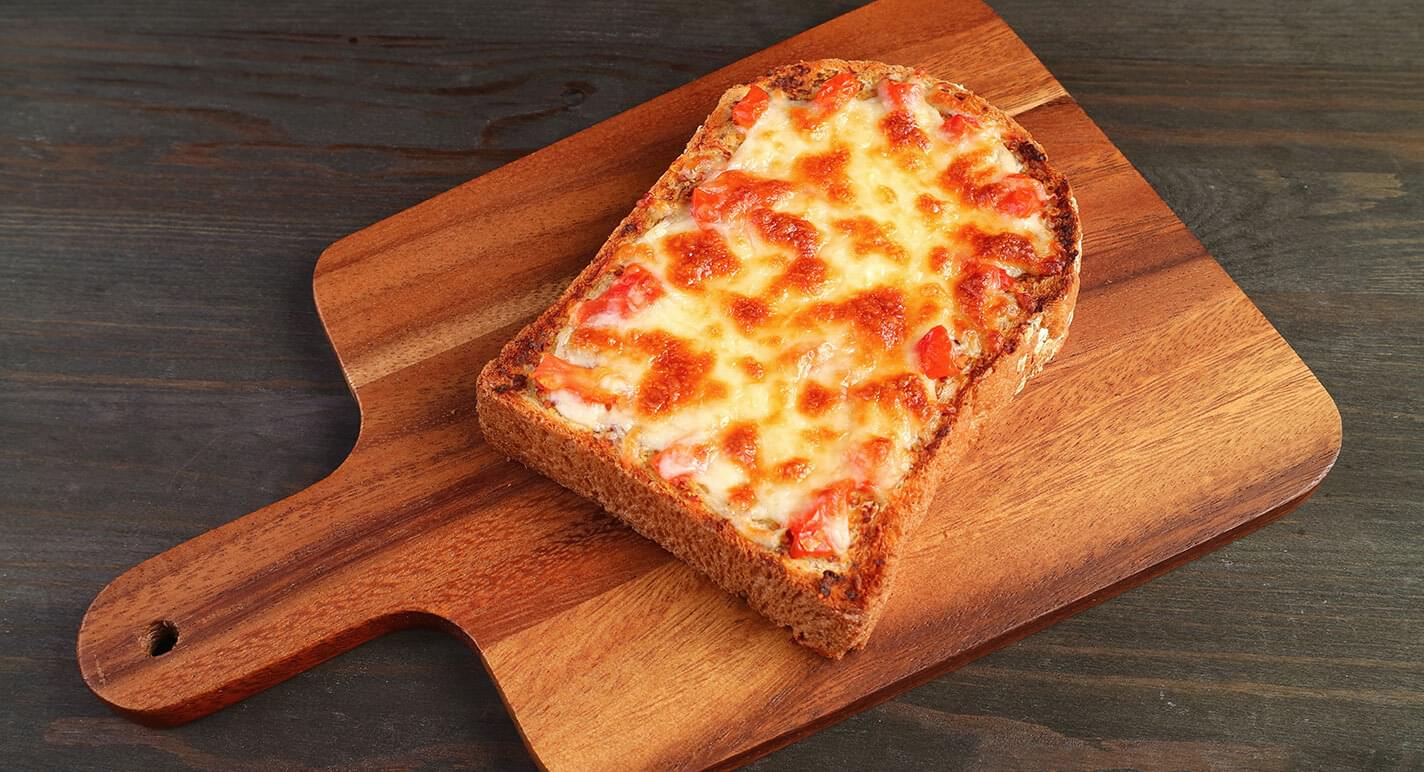 Cooking Time: 12min
Preparation Time: 40min
The preparation time for this the Pizza Toast can be shorten by simply placing the bread with toppings into the oven without pre-heating. Keep a look out for the cheese to turn brown.
You can also add additional toppings like ham, sausages, corn and more according to your child's preference. 
Ingredients
Bread
Pizza Sauce
Shredded Mozzarella
Mini Pepperonis
Parsley
Instructions
Preheat oven to 350° and line a medium baking sheet with parchment paper.
Place bread on the prepared baking sheet and spread with pizza sauce.
Top with mozzarella and mini pepperonis and place in the oven.
Bake until cheese is melted and pepperoni is slightly crisped.
Garnish with parmesan and parsley and serve.
There's our list of easy-to-prepare recipes to help you prepare meals for your school-going kids. If you have a recipe to share, do let share it at the Community Forum too!