Take a stroll with your kids through one of Singapore's many green lungs and let nature recharge you!
Nestled amidst the numerous attractions, malls and museums in Singapore are a horde of parks and reservoirs, providing a refuge away from the hustling bustling city life. Take a break from your daily life to visit these pockets of nature and indulge in the tranquil ambiance, scenic view, and colorful flora!
1. Bukit Timah Nature Reserve

Source: The Straits Time
One of the first forest reserves to be created, the Bukit Timah Nature Reserve is home to a high percentage of Singapore's native flora and fauna. In other words, you'll come across a variety of birds, frogs, monkeys, and vegetation. It is also where the highest hill in Singapore (163 m) is located at. Although, do note that some of the trails here can be a little tough for little feet.
2. Rail Corridor

Source: Channel News Asia
Formerly a railway line, the Rail Corridor, now an oasis of greenery, stretches from the Tanjong Pagar Railway Station to the Woodlands Checkpoint. While the entire trail that's 24 km in length might seem to be a mighty task to complete with kids in tow, you can actually start from different points. Your walk may lead you past historic sites, grassland, mangrove, and wetland, among others.
3. Kranji Marshes

Source: National Parks Board
The Kranji Marshes is one of the largest freshwater marshes in Singapore and is home to a great variety of birds, butterflies and dragonflies. If you're lucky, you'll be able to spot birds like the White-bellied Sea Eagle, Purple Swamphen and Common Moorhen along your journey. Get up to the Raptor Tower for an impressive panoramic view of the park.
If you're visiting the park anytime from November to March (raptor migratory season), you might also be able to spot birds like the Japanese Sparrowhawk and Black Baza.
4. Labrador Nature Reserve
Not only does the Labrador Nature Reserve provide a panoramic view of the coastline, but it also provides a look into Singapore's past. Keep an eye out for the remains of a fort, WWII bunkers, tunnels, fort, and a cannon as you navigate through the park.  
5. Lower Pierce Reservoir

Source: National Parks Board
The Lower Peirce Reservoir is Singapore's second-oldest reservoir. Along the edge of the reservoir is a series of boardwalks that bring you through one of Singapore's last remaining mature forests. Shaded by the lush foliage, you will be able to observe rubber trees and oil palms alongside a variety of flowers and animals, from squirrels to monkeys. If you're lucky, you'll even be able to spot White-bellied Fish Eagles soaring in the sky!
6. Singapore Botanic Gardens

Source: National Parks Board
You probably need no introduction to Singapore Botanic Gardens, home to an impressive collection of plants. A stroll through the Evolution Garden will take you on a journey through time with Dino Footprints, fossilized remains of ancient trees and earliest land plants. If you visit the Fragrant Garden in the evening, you will be able to enjoy the sweet fragrance of the plants.
The Rain Forest is one of the oldest remnants of primary rainforests in Singapore. This boardwalk trail will bring you across different species of trees and plants, some of which are either endangered or rare even in Singapore.
While visiting the Botanic Gardens, you will not want to miss a visit to the dedicated children's garden, Jacob Ballas Children's Garden, and the outdoor playground, Como Adventure Grove, both promises lots of fun for families!
7. Tampines Eco Green

Source: National Parks Board
An ecological park with open grasslands, freshwater wetlands and a secondary rainforest, Tampines Eco Green offers sanctuary to an array of birds and insects. There are three different trails—Diversity, Forest and Marsh Trail (the shortest)—each allows you to experience nature as it is. You can bird watch from behind the bird hide, a camouflage made out of twigs and branches. This environmental-conscious park has green roofs on its shelters, an eco-toilet and furniture made using recycled materials among other things.
8. Changi Point Coastal Walk

Source: Edwin.11/fllickr
Enjoy a picturesque view of the sprawling beach, lush greenery and the occasional bumboats at Changi Point Coastal Walk, also known as Changi Boardwalk. Consisting of six main sections—Creek Walk, Beach Walk, Sailing Point Walk, Cliff Walk, Kelong Walk, and Sunset Walk—Changi Point Coastal Walk is an ideal place for a leisurely stroll with your family. Although, do note that the boardwalk isn't exactly stroller-friendly.
9. Bishan-Ang Mo Kio Park

Source: National Parks Board
If we are talking about scenic landscapes then the Bishan-Ang Mo Kio Park cannot be left out of the list. The meandering river and Pond Gardens paired with flourishing greeneries paint an idyllic sight. You can let your eyes wander amongst the wide variety of flora and fauna as you stroll through the park. As an added bonus, the park is also home to three playgrounds – a water play area, an adventure playground and an inclusive playground. So, if a stroll is not enough for your energetic little tykes, you know where to go.
Please note that the water playground is currently closed till further notice.
10. Punggol Waterway Park

Therapeutic Garden/Source: National Parks Board
The Punggol Waterway Park is a treasure trove of photo opportunities and even if you're not the photo-taking kind of person, a trip to the park will not disappoint. While you're there, spot the uniquely-designed bridges scattered around the park and take a trip to the therapeutic garden to tease your senses.
The Punggol Promenade Nature Walk is a 2.4 km trail that lies between Punggol Point Walk and Riverside Walk. This seaside stroll will bring you past fishing platforms, rest shelters and scenic views. You can also play bird and fish-spotting with your kids along the way. Alternatively, you may wish to rent a bike from a bike rental shop in Punggol and cycle through the park!
11. Chestnut Nature Park

Source: National Parks Board
Located on the eastern end of Chestnut Avenue, Chestnut Nature Park, made up of two parts – the northern and southern portion – is Singapore's largest nature park to date. The park has several trails – separate for biking and hiking – each offering a different kind of view and ambience. There are three hiking trails, two in the northern part of the park and one in the southern part of the park, which consists of two sub-trails. There are shelters and pavilions along the way if you need to take a breather or two. This naturescape is home to flourishing native tree species and animals, like birds, which you might be able to spot on your hike.  
12. Sentosa Island Coastal Trail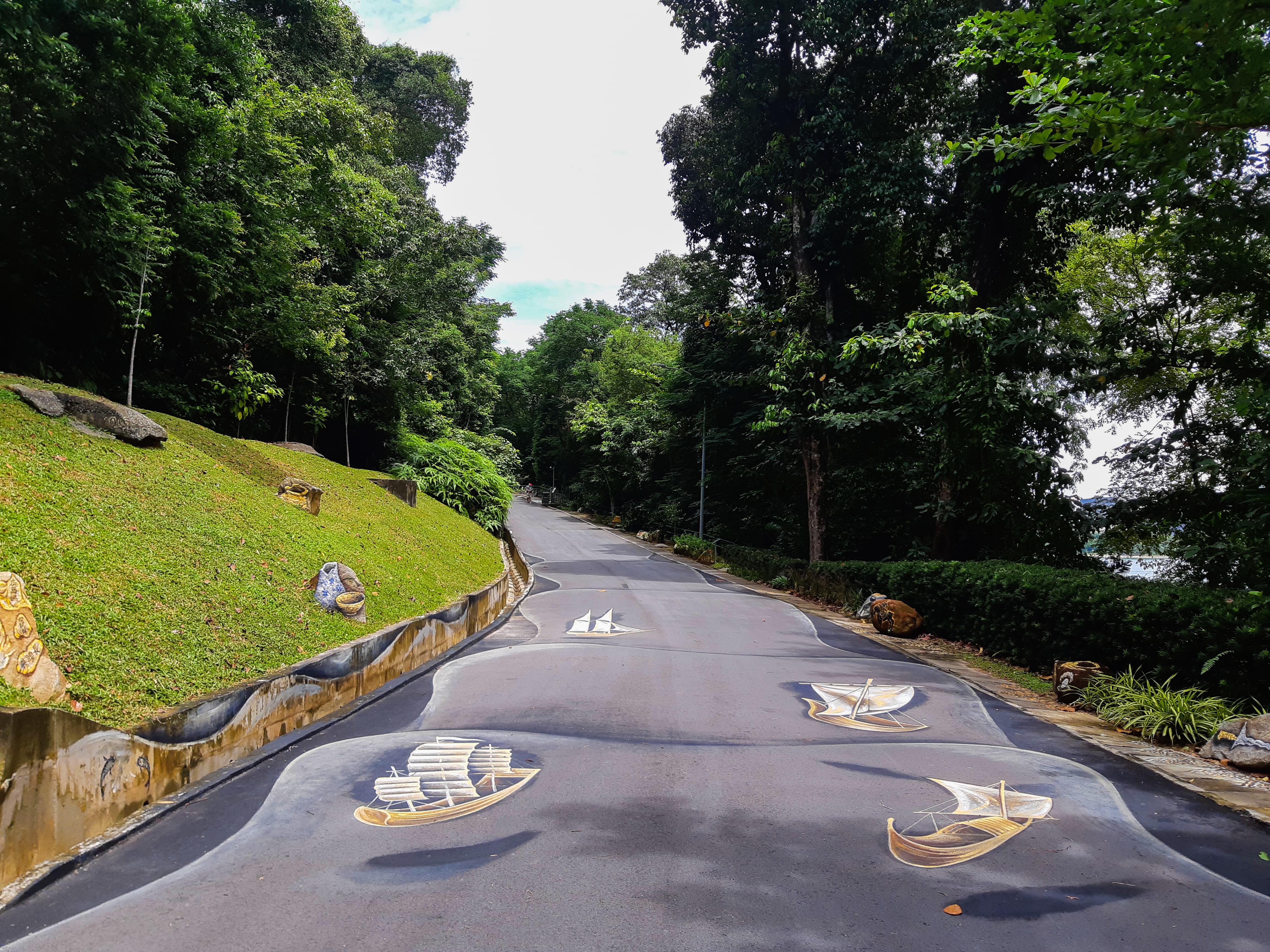 The Sentosal Coastal Trail will bring you from the historical site of Fort Siloso to the pristine shores of Tanjong Rimau. The walks are easy to navigate and you will get to learn lots about Sentosa's heritage and nature too. From the historical importance of Fort Siloso to finding endangered spieces of plants, the coastal trail will take about an hour to complete with footpaths to follow. 
For families looking to have added fun (and to win prizes), take part in BYKidO's Photo-Hunt while on the coastal trail too! Simply hunt for photo spots along the trail, take photos and post on Instagram, and stand a chance to win cash prizes too! 
For those looking for more hiking trails, here's a list of hiking trails around Singapore for you to discover!