As the March School Holiday 2022 approaches, we have compiled a list of unique experiences, holiday camps and workshops to keep the kids meaningfully occupied and for families to spend time together! 
Families will not be able travel this holiday due to the pandemic, and to help you occupy your kids' time (and save you from insanity), we have put together a list of unique experiences, holiday camps and workshops that the kids can take part in this school holidays. 
Included are also activities for family time, and parent/child bonding workshops too. We don't just make parenting easier, we make parenting more fun! 
Unique Experiences
Aeroviation - Duo Flight Experience 
Suggested Age: 7 Years Old and above
Venue:

 

Oxley Bizhub # 01 - 50, 

63 Ubi Road 1, 

Singapore 408728
Take over the controls of the flight simulator in this 1-hr guided flight experience for 2 person and with the guidance of the instructors at Aeroviation, you and your child will go through the steps of flying the aircraft, including taking-off and landing too! 
Let me warn you, it is not as easy as it looks! We done it ourselves, and highly recommend it as a parent and child bonding experience! 
Young Nautilus Nature Walks - Explore Singapore's Coastal Backyard!
Join Young Nautilus on a Nature Walk programme across Singapore's wetlands and coastal beaches. In these walks, your child will take a closer look at the amazing animals in our own backyard, and learn more about science and wildlife too! 
For the March holidays, Young Nautilus will be heading to Sungei Buloh Wetlands and Changi Sandy Intertidal, both walks are suitable for 2 years old and above. Don't just listen to us, see what other parents have to say about their experiences! 
Create Neon Art In A Glow-In-The-Dark Workshop
Arty Party is your Ultimate Abstract Art Jamming Studio that allows kids and adults to have splatter fun! Create incredible art pieces and unlock imagination's endless possibilities with 
Unique spinning machine
Swinging pendulum painting
Splashing canvas art
Marbling art
For a unique experience, check out the neon party session and enjoy art jamming moments with glow in the dark paint, adding a unique twist to your very own masterpiece! Available Fri and Sat after 7pm only!
Try Your Hands RC Model Car Racing
Suggested Age:

7 yrs old and above, younger kids can still enjoy the activity with help from parents.

Venue:

190 Middle Road, Level 6B of the Multi-Storey Car Park, Fortune Centre, Singapore 188979
Urban RC is Singapore's premier RC model car hobby shop and race track.
Conveniently located in the city centre, Urban RC offers the perfect environment to start in the hobby, including rental RC cars for those who wish to experience how a true hobby grade RC model car feels like.
Organise a Sleepover Campcation At Home!
Bring the camping experience into your own home this March holidays - have a campcation at home! Tents will be set-up at your home so that you and your family can enjoy a night of camping in your own living room! 
It going to be an out-of-home experience at home! 
Architectural Holiday Camp
Recommended Age: 7 - 12 years old
Venue: 195 Pearl's Hill Terrace, #01-15, Singapore, 168976
Dates: 16 - 18 Mar 2022, 9 am - 3 pm
Price: $450 on bykido.com
In this Arkki New Recycled City workshop, we translate important concepts about the environment, sustainable living and architecture into fun and age-appropriate projects to spark the children's imagination.
Here, the children will get familiar with concepts of masterplan design, explore the different district characters that they can create and learn to present their ideas in 3D drawings. They will further examine human interaction with the environment and the role of architecture in creating and conserving spaces. Get ready to re-discover the unique properties of recycled materials and use them creatively to build the next fantastic city. Together, the children learn how to reduce, reuse, recycle and revolutionalise!
Embark on a Family Escape Adventure Trail - Multiple Trails Available
Island Wanderer SG specialises in producing Escape Adventure Trails around iconic landmarks around Singapore. Through the use of chatbots, families can embark on the self-directed trail to discover clues and solve puzzles! 
Each trail will take approx. 1.5hr to complete, bringing the family to 8 to 10 different sites and for the family to learn more about these venues too. From the Telok Ayer area to the Raffles and Marina Bay area. 
It's not just about solving the puzzles, but to explore these venues and to spend time with the ones who matter most! Here's a review of the trail around the Joo Chiat area. 
VR Play + Playground For Young Ones @ HeadRock VR
Suggested Age: above 110cm
Venue:

 HeadRock VR, Southside Sentosa
Enjoy 1-hour play time at the futuristic children's playground, Hello! My Dino Dino + any 2 VR attractions at HeadRock VR. Great for kids who can enjoy both play areas!
Newly relocated at Southside at Sentosa, HeadRock VR offers adults and older kids 8 interactive VR games at the VR Theme Park Zone, and for the younger kids, they can have fun at the NEW Kids Interactive Zone with 4 different playing section
Experience Unstructured Play @ ForestPlay SG
Unlike the typical one-size-fits-all playground, Forest Play is a space uniquely designed for kids by kids. Here at Forest Play, children are given free rein to build whatever they want. From recycled wood, tyres to ropes, watch them be in awe as they bring their ideas to life. In this two-hour session, children will create collaboratively, build imaginatively and use tools safely in an adult-free zone under the facilitation of our experienced play-workers. Children will learn 21st Century skills to become creative problem-solvers and global change makers of tomorrow.
Family Indoor Mini Golf At Holey Moley Golf Club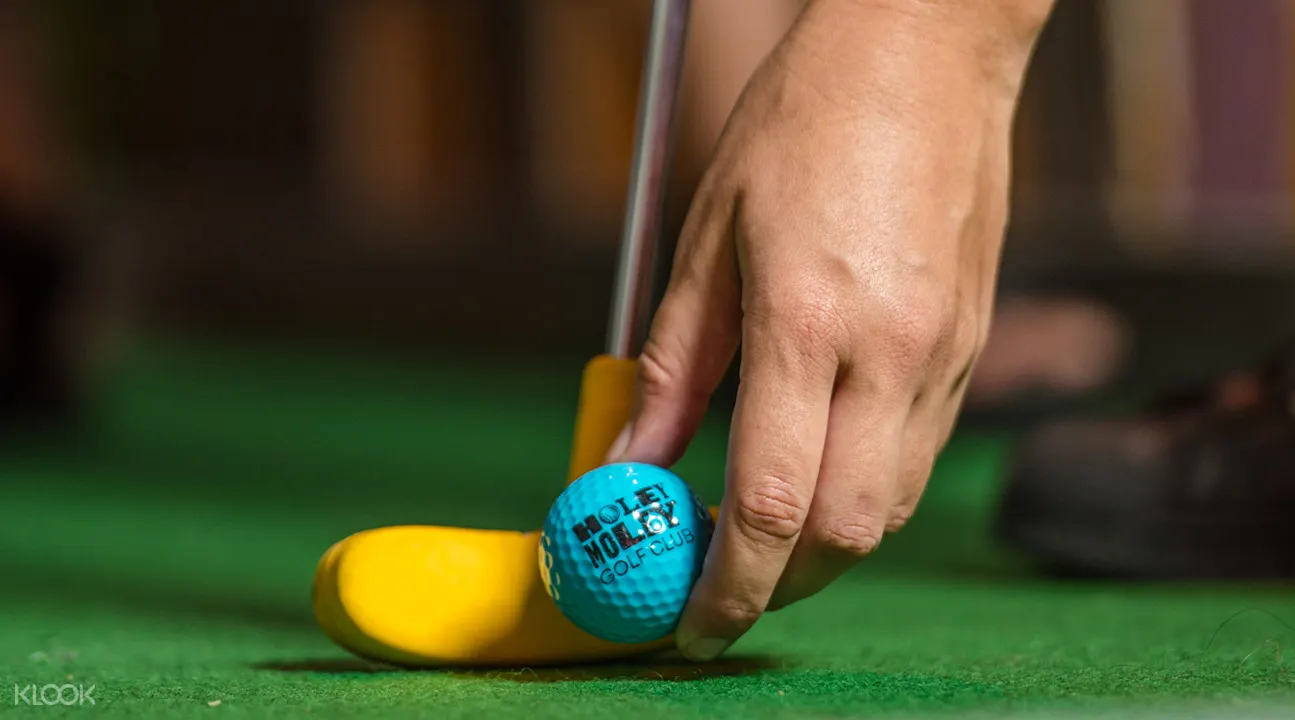 Suggested Age: 2 yrs and above
Venue:

3B River Valley Rd, Clarke Quay, Singapore, 17902
Enjoy a one-of-a-kind bonding activity at Holey Moley Golf Club, a wacky indoor mini-gold club! From the reviews on Klook, we can see it is definitely suitable for families, but do note that kids that are 17 years and below can only participate before 5pm.
Bowling For Bowling Fun
Suggested Age: 4

 

yrs and above
Venue

Jforte Sportainment Centre, 50 Hougang Ave 1 (S) 5538885
131 Rifle Range Road #04 - 01 Temasek Club Singapore 588406

Price
Looking for a fun and indoor family activity? Bowling is an option that is suitable for all ages. Even the youngest of the young, can roll the ball down the lanes! Make it a strike for family fun! 
There are many bowling centres around the island, but if you are looking for a deal, do check out our partnership with Forte Bowling @ Hougang and Singapore Bowling @ Bukit Timah. 
Water Sports at Ola Beach Club, Sentosa
Suggested Age: 5 yrs and above
Venue:

46 Siloso Beach Walk, Singapore 099005
At Ola Beach Club, you can choose to Kayak, Stand-up Paddle, or go on a Banana Boat Ride! While there is no stated age restrictions, we have seen families visiting with little ones from 4 yrs old! 
So if you are looking for Sun, Sand and Sea for the family, you know where to go! PLUS it is free entry to Sentosa until 31 Mar 2022 too!
Unleash Your Creativity With Art Jamming
Suggested Age: 4 yrs and above
Venue: Various locations 
Price: Mandarin Oriental: $20 Off 3-hr Art Jamming Session (U.P. $48)
If you have not tried Art Jamming, you may wish to take this opportunity to go on a creative art journey with your kids. These unguided sessions allow your kids (and you) to express yourselves creatively, and who knows, you may learn something new about your little ones through this activity too! 
There are many Art Jamming venues islandwide, but do check out the deals that we have our partners at Arteastiq. 
Exciting Holiday Camps
Learn Jungle & Medical Knowledge at the Wilderness Medicine Camp
Recommended Age: 5 - 12 years old
Venue: Goodman Arts Centre
Dates: 14 - 18 Mar 2022, 10 am - 4 pm
Sign-up here (Use Promo Code: BK5 to get 5% Off)
Discover the jungle & medical knowledge at the incredible 5-days STEAM-based Wilderness Medicine Camp! The camp organised by popular edutainment provider, Little Medical School, will cover everything from Snake Bites First Aid - Natural Disasters Survival Guide to Medical Knowledge in the Wild! 
Conducted by an incredibly fun teacher, children will get to take part in hands-on activities related to Science, Technology, Engineering, Arts and Math! The list of topics covered during the 5-day camp include
Snake/Insect Bites,
Water Safety,
Natural Disasters (Hurricanes/Tornadoes/Flooding/Forest Fires),
Survival Guides,
Edible vs. Inedible Wild Foods,
CPR & Heimlich,
Food is Fuel,
Broken Bones
All materials required will be provided. Children will also be provided with snacks and lunch, and get to bring home goodies from the Little Medical School too! 
Learn Magic And Performance With Mr Bottle's Holiday Camp
Recommended Age: 6 years old and up
Venue: Crafted by Peter Zwiener, 26 Beach Rd, B1-21 South Beach Tower, S189768 (right beside Esplanade MRT Exit F)
Dates: 19 & 20 Mar 2022, 3 pm - 5.30 pm
Through a fun magic holiday camp, popular magician, Mr Bottle's will teach your children to perform magic - and in the process confidence, creativity, and tips behind the tricks!
The theme around this camp is shapes and colourful magic. This is a versatile genre that will be easy for younger children to pick up and for adults to incorporate into a more sophisticated act. 
The camp is available as a 1-day or 2-day camp. Children will learn several magic tricks and to think of creative presentations - including building their own professional prop. Children will get to bring home professional magic props and materials, as well as recorded videos for parents to review too! 
Pick-up Design & Architectural Principals With A Design & Architecture Camp
Recommended Age: 7 - 14 years old 
Venue: 90 Goodman Road, Goodman Arts Centre, Blk B, Meeting Room 1, #03-13, Singapore 439053
Dates: 14 - 18 Mar or 4 - 8 Mar 2022, 9.30 am - 3 pm
Organised by DesignTinkers, the unique Design & Architectural Holiday Camp is available in 2 days, 3 days or 5 days camp options. During the camp, kids will explore design and architectural concepts through hands-on making - depending on the camp signed up, kids may be designing a mini-shelter, a home for themselves or both.
Through the camp, children will work on various disciplines in Art, Design and Architecture. These camps are designed to pique curiosity, prompt inquiries, challenge norms and to test ideas to get to unique outcomes through a design process - encouraging children to be creative in finding solutions.
Pick Up New Skills @ Ministry of Games, 3-in-1 Holiday Fun Camp
Recommended Age: 5 - 7 years old 
Venue: 33, Ubi Ave 3, Vertex Tower A, #05-57, S(408868)
Dates: 14 or 14 Mar 2022
Price: $80 per pax
In this 3-in-1 Holiday Fun Camp by Ministry of Games, children will get to attend the Money Whizz workshop to learn about financial literacy, Bento Cake Decoration to get the creative juices flowing and Emotions Run Wild Game for them to better understand their internal feelings and express themselves better. 
Also available (with varying workshops) for 8 - 12 years old and 13 - 17 years old
2- Day Holiday Programme With Multiple Workshops With Kiztopia
Recommended Age:

 

5 - 7 years old 
Venue: Kiztopia Marina Square or Kiztopia Club Punggol
Dates: 14 - 15 Mar or 16 - 17 Mar 2022
Price: $248 per pax
Let your child join Kiztopia on a 2-day educational journey - attend workshops such as Gymtopia, S.T.E.A.M Workshop, Emotional Regulation Workshop, Coding and Robotics, all under one roof! hese workshops will develop your child holistically; working on their heart, mind and body.
2 Days Programme includes:
Daily 4hrs of curated programme (worth $212)
Daily Kids Meal at Kith Kiztopia / Vibes Cafe (worth $24)
Daily 1hr fun playtime at Kiztopia / Kiztopia Club (worth $56/$39.60)
Complimentary Bonus Pack (worth $45)
Interesting Workshops
Money Whizz Financial Literacy Workshop
Recommended Age:

 

5 - 8 years old 
Venue: 33, Ubi Ave 3, Vertex Tower A, #05-57, S(408868)
Price: $80 per pax
Let your children join in the Money Whizz Workshop to learn financial literacy through an introduction to Money, Wise Spending and Importance of Savings. The workshop is not only informational, but also interactive! Children will even have the opportunity to practice shopping responsibly on their own. 
Learn To Bake With The Little Things's March Holiday Baking Camp
Recommended Age: 4 years old and above
Venue: 244N Upper Thomson Road, Singapore 574369
Dates: 15, 16, or 17 Mar 2022
Join The Little Things on a 1.5hour baking adventure! This March holidays, drop-off your little ones at the March Holiday Baking Workshop and let them whip up their own little adventures!
You may choose from one of 3 unique recipes or sign-up for all 3! Recipes available include Popcorn Cupcakes, Peach Mousse Tarts and Inside Out Red Velvet Cookies! 
Nurture Your Child's Interest In Performing Art
Suggested Age: 3 - 6 yrs old
Venue: 6 Raffles Blvd, #03-142/143/144 Marina Square, Singapore 039594
Nurture your child's talent and build their confidence on stage with Emerge Arts & Media Academy's trial classes for preschoolers at Marina Square. Class options include dance, singing and musical theatre.
Children who go through the course will be be introduced to music and movement in a fun way, infused with foundational vocal and dance techniques, music and storytelling. Props and toys are also used to cultivate the children's creativity and interest for performing arts.
Also available are Hip Hop Intro and Musical Theatre Classes.
Cook Up A Storm in a Parent/Child Baking Workshop
Suggested Age: 2.5 - 12 yrs old
Venue

HomeTeamNS Khatib: 

2 Yishun Walk #04-06, S(767944)

HomeTeam NS-JOB Balestier, 31 Ah Hood Rd, #01-04, S(329979)
These parent/child baking workshops, organised by popular baking school Genius R Us, are perfect for creating the shared memories between parent and child. 
Enjoy this special discount of $50 per pair (U.P. $75) when you visit either branch for the first time! Also available as a Child-Only Workshop. 
Create An Egg Jar Close Terrarium
Suggested Age: 3 - 6 yrs old
Venue

Funan, 107 North Bridge Road, #04-11, Singapore 179105
Great World City, 1 Kim Seng Promenade, #02-143, Singapore 237994

Price: $15 for 1 child on bykido.com (also available in other size for older kids)
The Egg Jar Close Terrarium Workshop by The Green Capsule is an easy activity for young kids between 3 to 6 years old to explore their creative side. This 9 x 7 cm jar will take approximately 15mins to finish, and will require parents to be around. 
Alternatively, The Green Capsule also runs Close Terrarium Workshops for older children using larger Jars too. These are available at 12 x 9cm (for 6 - 10 yrs old) and 19 x 9 cm (for above 10 yrs old) at $35 and $38 respectively. 
Create Your Terrarium At Home
Curated by Craftsforgreen, these Fittonia Terrarium DIY Kits are a unique bonding activity for families to do at home. It can be a parent/child activity, or for the older ones, an activity that they may do themselves over the school holidays. 
Each kit comes with a 12 x 12 cm open top glass container, the fittonia, pebbles, soil, and a figurine from the selected theme. It was a really popular home-activity in 2020, and we believe it will be popular for the school holidays too! 
Also available on bykido.com are the following Terrarium Kits
Go On A STEM Pirate Adventure With Storytelling
Suggested Age:

4 - 9 years old

Dates: 15 or 16 March 2022, 5 pm - 6.30 pm
Venue:

 

Goodman Arts Centre
Price: $70
Let the children role play as a pirate as they go on an adventure with Curiosity Kids to the storytelling of "The Treasure of Pirate Frank". They will be solving clues to find hidden treasures, dabbling with invisible ink and much more!
Dig For Dinosaur Fossils 
Suggested Age: 3 yrs and above
Venue:

 

at home
If your kids love dinosaurs, then the 12 Dinosaur Egg Digging set will be the perfect gift to occupy them for the school holidays! Each dinosaur egg comes with a dinosaur figurine toy, and the entire set is for 12 different dinosaurs. These dinosaurs are approximately 3cm in length.
As an extra tip for those with dinosaur loving kids, the Lee Kong Chian Natural Museum will be a must-go this school holidays to catch a glimpse of the actual dinosaur skeletons on display!
Learn To Shoot An Arrow on Sentosa
Venue: Palawan Green (Mar)

Dates: 17 Mar, 6 pm - 7 pm 

Price

: $5 per pax
Here's your chance to bring out your inner Hawkeye or Katniss Everdeen. Join the Archery by the Beach, a guided Target Archery programme with introduction & safety brief, practice rounds, followed by some games that will put your skill to test. Feel safe in the hands of trained instructors who will show you how to use your bow and arrow set.
Other unique workshops are also happening on Sentosa in March, including Cake Decorating, Latte Art and more! 
Use The Time To Experience New Things
Perhaps you will also like to use the March holiday as an opportunity for your kids to try new experiences and to see what activities he or she will like to focus on for the rest of the year. 
Check out our Trial Collection where we list trial classes from our partners focusing on multiple disciplines, including arts, music and sports.