As the March School Holiday 2021 approaches, we have compiled a list of unique experiences, holiday camps and workshops to keep the kids meaningfully occupied and for families to spend time together! 
Families will not be able travel this holiday due to the pandemic, and to help you occupy your kids' time (and save you from insanity), we have put together a list of 26 unique experiences, holiday camps and workshops that the kids can take part in this school holidays. 
Included are also activities for family time, and parent/child bonding workshops too. We don't just make parenting easier, we make parenting more fun! 
For more March holiday activities, check out our March Holiday Fun collection and get an exclusive 10% Promo Code too!  
Unique Experiences
Aeroviation - Duo Flight Experience 
Suggested Age: 7 Years Old and above
Venue:

 

Oxley Bizhub # 01 - 50, 

63 Ubi Road 1, 

Singapore 408728
Take over the controls of the flight simulator in this 1-hr guided flight experience for 2 person and with the guidance of the instructors at Aeroviation, you and your child will go through the steps of flying the aircraft, including taking-off and landing too! 
Let me warn you, it is not as easy as it looks! We done it ourselves, and highly recommend it as a parent and child bonding experience! 
Young Nautilus Nature Walks - Explore Singapore's Coastal Backyard!
Join Young Nautilus on a Nature Walk programme across Singapore's wetlands and coastal beaches. In these walks, your child will take a closer look at the amazing animals in our own backyard, and learn more about science and wildlife too! 
For the March holidays, Young Nautilus will be heading to Sungei Buloh Wetlands and Changi Sandy Intertidal, both walks are suitable for 2 years old and above. Don't just listen to us, see what other parents have to say about their experiences! 
Organise a Sleepover Campcation At Home!
Bring the camping experience into your own home this March holidays - have a campcation at home! Tents will be set-up at your home so that you and your family can enjoy a night of camping in your own living room! 
It going to be an out-of-home experience at home! 
Pangaea - Escape and Adventure Room for Families
Suggested Age: 6 yrs and above
Venue:

310 Joo Chiat Road (S)427561 (Enchanted Manor)

Price: From $50 on bykido.com (Use Promo Code: PANGAEA to get 50% off, limited to first 10 purchases)
Step into the world of Pangaea, a lost realm with danger to overcome, treasures to be found and mysteries to be solved! The team behind Pangaea manages one of the most successful escape rooms and created this family-friendly game to cater to the younger audience. 
The game is a merger of a traditional board game with live-action excitement. Parents and children will work together to solve puzzles and complete challenges! Read our review to find out more! 
Embark on a Family Escape Adventure Trail - Multiple Trails Available
Island Wanderer SG specialises in producing Escape Adventure Trails around iconic landmarks around Singapore. Through the use of chatbots, families can embark on the self-directed trail to discover clues and solve puzzles! 
Each trail will take approx. 1.5hr to complete, bringing the family to 8 to 10 different sites and for the family to learn more about these venues too. From the Telok Ayer area to the Raffles and Marina Bay area. 
It's not just about solving the puzzles, but to explore these venues and to spend time with the ones who matter most! Here's a review of the trail around the Joo Chiat area. 
Fam-Bam Cookout - Family Cooking Experience
Suggested Age: 4

 

yrs and above
Venue:

244N Upper Thomson Road, Singapore 574369
Enjoy a private and curated session of cooking, bakig and eating with the family at this Fam-Bam Cookout organised by The Little Things. Maybe it is your child's first cooking session (or maybe it is yours), but this family-bonding experience is more about the who you are cooking with and not the what! 
Facilitators will be available to assist you in creating two international recipes with your little ones. 
Family Indoor Mini Golf At Holey Moley Golf Club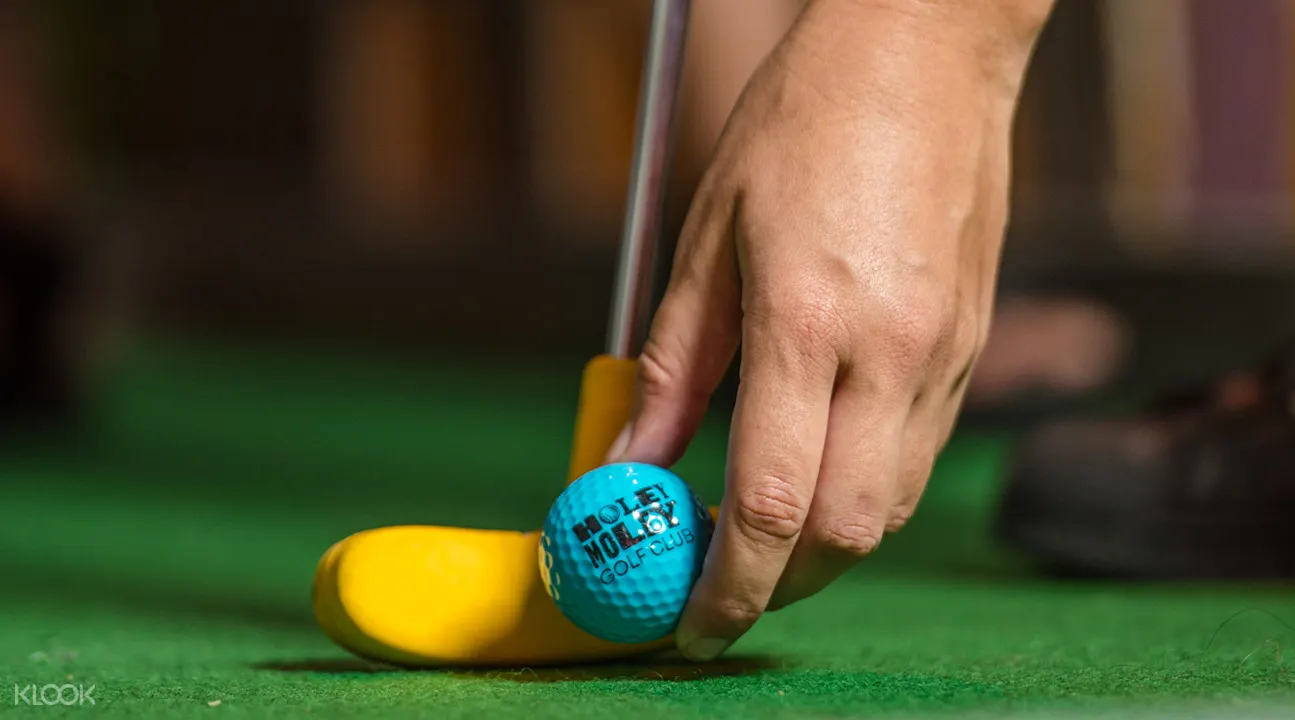 Suggested Age: 2 yrs and above
Venue:

3B River Valley Rd, Clarke Quay, Singapore, 17902
Enjoy a one-of-a-kind bonding activity at Holey Moley Golf Club, a wacky indoor mini-gold club! From the reviews on Klook, we can see it is definitely suitable for families, but do note that kids that are 17 years and below can only participate before 5pm.
Create Family Fun with Amazing Castle
Suggested Age: 5 yrs and above
Venue:

201 Victoria St #03-21 Bugis+, Singapore 188067
An indoor playground with a twist! At Amazing Castle, you and your family can expect classic arcade games with an indoor playground twist - from an IQ Basketball where you answer questions with hoop shooting, to Scream where you scream the loudest to get the most points! 
Bowling For Bowling Fun
Suggested Age: 4

 

yrs and above
Venue

Jforte Sportainment Centre, 50 Hougang Ave 1 (S) 5538885
131 Rifle Range Road #04 - 01 Temasek Club Singapore 588406

Price
Looking for a fun and indoor family activity? Bowling is an option that is suitable for all ages. Even the youngest of the young, can roll the ball down the lanes! Make it a strike for family fun! 
There are many bowling centres around the island, but if you are looking for a deal, do check out our partnership with Forte Bowling @ Hougang and Singapore Bowling @ Bukit Timah. 
Go Rock Climbing at the Newest Venue in the East!
Suggested Age: 3

 

yrs and above
Venue:

1 Pasir Ris Close #01-105, Singapore 519599
Upwall Climbing is the newest rock climbing venue to open in the East! It is a family and beginner-friendly facility with a focus on nurturing the young and bringing families together through this fun activity! 
You can enjoy this experience cheaper with the 10 Multi-pass visit at just $160. The pass has a 6 months validity and can be shared across family and friends too! Each 2hr climb will just be $16! 
Water Sports at Ola Beach Club, Sentosa
Suggested Age: 5 yrs and above
Venue:

46 Siloso Beach Walk, Singapore 099005

Price: starting from $22.50 on Klook (Eligible for SingapoRediscover Vouchers)
At Ola Beach Club, you can choose to Kayak, Stand-up Paddle, or go on a Banana Boat Ride! While there is no stated age restrictions, we have seen families visiting with little ones from 4 yrs old! 
So if you are looking for Sun, Sand and Sea for the family, you know where to go! PLUS it is free entry to Sentosa until 31 Mar 2021 too!
Try Indoor Skating at Hi Roller 
Suggested Age: 5 yrs and above
Venue:

1 Pasir Ris Cl, Level 5 E!Hub @ Downtown East, Singapore 519599
Bring the family for retro fun at Hi Roller! Here you can choose to skate in the roller or inline skates, perfect for participants of any skill level!
Unleash Your Creativity With Art Jamming
Suggested Age: 4 yrs and above
Venue: Various locations 
Price

East Coast, Sengkang and Jurong East: 3-hr Art Jamming for 2 with free flow drinks @ $38 (U.P. 120) on bykido.com
313 Somerset: 3-hr Art Jamming for 2 with drinks @ $49 (U.P. $110)
Mandarin Oriental: $20 Off 3-hr Art Jamming Session (U.P. $48)
If you have not tried Art Jamming, you may wish to take this opportunity to go on a creative art journey with your kids. These unguided sessions allow your kids (and you) to express yourselves creatively, and who knows, you may learn something new about your little ones through this activity too! 
There are many Art Jamming venues islandwide, but do check out the deals that we have our partners at MuzArt, Cafe de Paris and Arteastiq. 
Embark on a Local Private Tour And Discover Singapore
Suggested Age: 3 yrs and above
Venue:

 Various Venues
Join local tour operator, Let's Go Tour, as they bring you around Singapore and to learn more about our Sunny Little Island! Tours have an educational angle and includes activities to make the learning experience more fun too! 
These private tours include a discovery of Singapore race, language and religion, learning about Sir Stamford Raffles, or to visit the last remaining Kampung on Singapore!
Exciting Holiday Camps
Go On an Adventure with the Dynamic Sports Camp 
Suggested Age: 8 - 12 yrs old
Dates: 15 - 17 Mar
Key Activities:

 Mountain biking at Pulau Ubin, Scuba Diving in a swimming pool, laser tag and more.

Price: $360 per child on bykido.com
If you are looking for an adventure camp for your kids, check out the Dynamic Sports Camp by WOW Experience. This 3 day camp will bring the kids to mountain bike at Pulau Ubin, learn first aid and orienteering skills, experience Scuba Diving in a swimming pool and more! 
It sounds so exciting just by reading! 
Learn A New Language With Learn Indonesian
Suggested Age: 7 - 12 yrs old
Dates: 17 - 19 Mar
Key Activities:

 Learn essential Indonesian phases and cultures through craft activities

Price: $299 per child on bykido.com
Learning a new language can be daunting, but it may be easier when you start young. This 3-day camp will teach the kids essential phases in Indonesian, and share the Indonesian culture through various crafty activities.
A useful language in the region, learning basic Indonesian might be helpful if your kid wishes to take it up in the future too! 
Gain the Entrepreneur Mindset with Kidspreneurship Holiday Camp
Suggested Age: 8

 

- 14 yrs old
Dates: 15

 

- 19

 

Mar
Key Activities:

 pick up the practical know-hows of being a kid entrepreneur
The 5-day camp may be chosen as an online or in-class experience. It aims to impart a growth and entrepreneurial mindset to the kids through concepts such as empathy, confidence, self-esteem, observation, open-mindedness, critical thinking and creativity. Through activities, kids will learn to identify problems, focus on solutions and apply design thinking processes to solve them. 
Kiztopia March Holiday Camp - 
Leaders of Sustainable Environment Programmes
Suggested Age: 6 - 9 yrs old
Dates: 15

 

- 18

 

Mar
Key Activities:

 become aware of real-world environmental issues

Price: From $48 per child on KKday
A series of holiday programmes has been planned for your child! Kiz, Let's L.E.A.D is designed to ignite the children's love for learning from a young age by encompassing the themes of environmental sustainability, active lifestyle, healthy living and giving back.
Interesting Workshops
Sewing Workshops For Kids with BERNINA
Suggested Age: 7 yrs and above
Venue:

Funan #03-K03, 107 North Bridge Road, Singapore 179105 
Learn the basics of sewing with BERNINA in these beginners' workshops at their shop at Funan. Not just for the kids, but also for parents looking to pick up the skill. Each workshop is approx. 2 hours, and you may choose from creating a 2-way Tote Bag, a Pencil Case or even a Tic Tac Toe Game Set! 
Learn to Solve the Rubik's Cube
Suggested Age: 6

 

yrs and above
Venue:

NTUC Income @ Tampines Junction, 300 Tampines Ave 5, #05-06, S529653
The Rubik's Cube is the world's most popular puzzle and here's a 1.5 hour class with Little Earth Education that will teach your child to solve it! Great for practicing hand-eye co-ordination, memory, and more! 
Slime and Clay Art Making Workshop
Suggested Age: 2 - 9 yrs old
Venue:

41 Temple St S058586 (The Craft Room by Soaprise) 
This 1 hour workshop with Jolly Confetti will start with creating your Clay Art magnet using different colours of clay. And as you are waiting for your masterpiece to be baked and ready, the second activity will start where the kids will engage in the enjoyable activity of creating their very own slime! 
You will leave the workshop with your very own tub of slime and magnet! Here's a review of the princess-themed workshop with glittery slime and unicorn magnet!  
Cook Up A Storm in a Parent/Child Baking Workshop
Suggested Age: 2.5 - 12 yrs old
Venue

HomeTeamNS Yishun: 

2 Yishun Walk #04-06, S(767944)

HomeTeam NS Balestier, 31 Ah Hood Rd, #01-04, S(329979)
These parent/child baking workshops, organised by popular baking school Genius R Us, are perfect for creating the shared memories between parent and child. 
Enjoy this special discount of $50 per pair (U.P. $75) when you visit either branch for the first time! Also available as a Child-Only Workshop. 
Create An Egg Jar Close Terrarium
Suggested Age: 3 - 6 yrs old
Venue

Funan, 107 North Bridge Road, #04-11, Singapore 179105
Great World City, 1 Kim Seng Promenade, #02-143, Singapore 237994

Price: $15 for 1 child on bykido.com (also available in other size for older kids)
The Egg Jar Close Terrarium Workshop by The Green Capsule is an easy activity for young kids between 3 to 6 years old to explore their creative side. This 9 x 7 cm jar will take approximately 15mins to finish, and will require parents to be around. 
Alternatively, The Green Capsule also runs Close Terrarium Workshops for older children using larger Jars too. These are available at 12 x 9cm (for 6 - 10 yrs old) and 19 x 9 cm (for above 10 yrs old) at $35 and $38 respectively. 
Create Your Terrarium At Home
Curated by Craftsforgreen, these Fittonia Terrarium DIY Kits are a unique bonding activity for families to do at home. It can be a parent/child activity, or for the older ones, an activity that they may do themselves over the school holidays. 
Each kit comes with a 12 x 12 cm open top glass container, the fittonia, pebbles, soil, and a figurine from the selected theme. It was a really popular home-activity in 2020, and we believe it will be popular for the school holidays too! 
Also available on bykido.com are the following Terrarium Kits
Dig For Dinosaur Fossils 
Suggested Age: 3 yrs and above
Venue:

 

at home
If your kids love dinosaurs, then the 12 Dinosaur Egg Digging set will be the perfect gift to occupy them for the school holidays! Each dinosaur egg comes with a dinosaur figurine toy, and the entire set is for 12 different dinosaurs. These dinosaurs are approximately 3cm in length.
As an extra tip for those with dinosaur loving kids, the Lee Kong Chian Natural Museum will be a must-go this school holidays to catch a glimpse of the actual dinosaur skeletons on display!
Experience Multiple Medium Crafts In This ArtBox! 
Suggested Age: 3 yrs and above
Venue:

 

at home
Allow your little ones to experience a variety of medium including clay modeling, painting, collage, weaving and construction techniques to form a masterpiece on canvas. Created by popular art school, Artzillions, this artbox is not just a fun activity, it will also allow your child to use his creativity to create his own art piece too! 
A mosiac craft artbox consisting of mosiac tiles is also available. 
Use The Time To Experience New Things
Perhaps you will also like to use the March holiday as an opportunity for your kids to try new experiences and to see what activities he or she will like to focus on for the rest of the year. 
Check out our Trial Collection where we list trial classes from our partners focusing on multiple disciplines, including arts, music and sports.